Streeterville businesses that incurred damage and financial losses during a wave of widespread looting Aug. 10 have seen an outpouring of support from local residents.
Community members have launched GoFundMe campaigns to help affected small businesses, including Nail Perfection, a nail salon run by Vietnamese immigrants. 
Nail Perfection
Nail Perfection manager Christy Pham has been with the salon for 18 years of its two-plus decades in the community. She first learned about the damage to the shop from one of her clients.
The salon window was broken, and several items were stolen from the business, including a portable manicure machine and a barstool, she said. Jenny Ly, a friend of Pham and a Nail Perfection client, was inspired to launch the salon's campaign after Pham sent her photos of the destruction.
"It's my first time with a GoFundMe, and when I told employees that we had it, everybody was so excited," Pham said. "Any amount really helps us."
A GoFundMe page has also been set up for family-owned liquor and wine superstore UnCorkIt Chicago.
Independent businesses need help
Deborah Gershbein, president of the Streeterville Organization of Active Residents, said the community had "never had a situation like this before."
"I think the chains will survive okay, but the independent businesses are the ones that need help," she said. "But we don't want the chains to move out either."
Gershbein said businesses are concerned about reopening, as the events of Aug. 10 marked the second major looting incident in the area since June. The most important step the city of Chicago can take, Gershbein said, is to "prevent this from happening again and to create a sense of safety for businesses and residents."
City Scents Floral & Home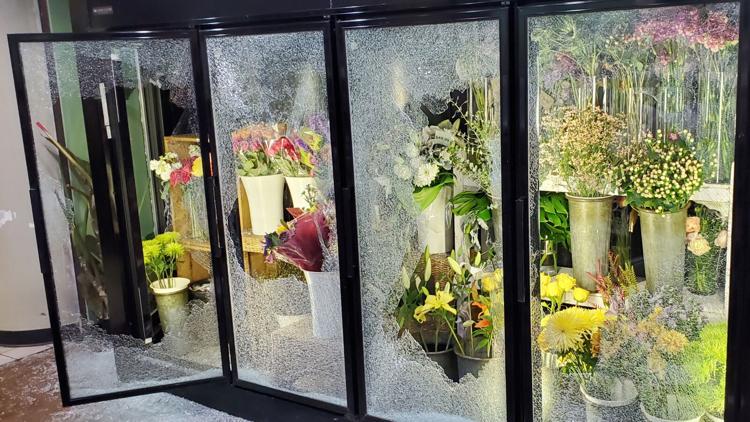 Gur Manhas, who runs Streeterville flower shop City Scents Floral & Home with his wife Nima, said the damage to the store included smashed windows in the storefront and the cooler in the back, as well as stolen iPads and money. The couple and their staff spent two days cleaning up before reopening on Aug. 12.
Manhas said he wanted to thank the shop's employees for all their hard work, adding he was grateful for the support City Scents had received from the community.
As minority business owners themselves, the couple has been dedicated to researching and supporting minority-owned and black-owned businesses from the beginning, Manhas said.
"We have items in the shop that we've been adding on, either in the city or in general, from black-owned, women- and minority-owned businesses," Manhas said. "So, we're trying to do more of that."