The third step in Mayor Lightfoot's plan to lift coronavirus restrictions begins in Chicago on June 3. Officially called "Phase Three," this stage allows certain businesses, public amenities and non-essential workers to resume doing whatever they were doing before the shut down. As long as they do it "cautiously" and, if possible, while wearing facemasks, remaining in small groups and staying six feet apart.
Riverwalk business owners and managers are doing their best to accommodate.
Island Party Hut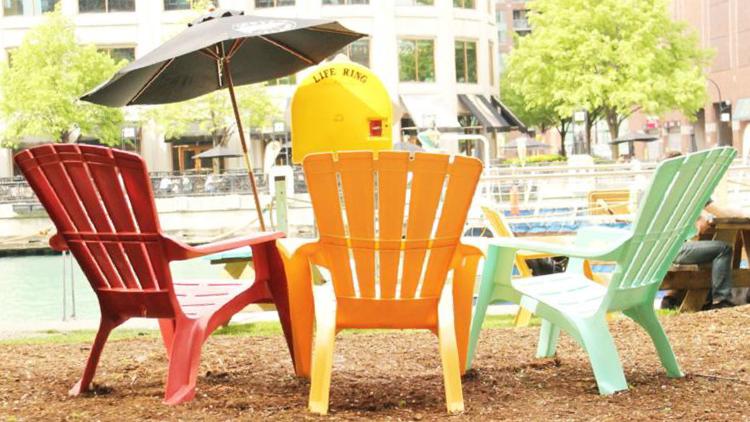 According to Steve Majerus, partner at Island Party Hut, the expansive tiki bar and grill with outdoor games and Adirondack chairs has always offered patrons an abundance of social distancing space because it occupies such a large area of the Riverwalk
"We're like your big backyard in the city," Majerus said. Still, the location will be ready for healthy rest and relaxation when customers begin to arrive.
"We've been doing a lot of cleaning and repairs and adjustments to compensate for COVID-19," he continued. "We are spacing our tables eight to ten feet apart and we've got dedicated play areas for our outdoor games."
Other hygienic improvements include a contactless payment system that allows customers to settle up by inserting cards into a chip-reading device.
"We can spin the screen around, and customers don't have to touch something that someone else has touched," Majerus said.
The venue's river-based sister company, Island Party Boats, also hopes to operate its fleet of recreational and touring vessels during Phase 3.
"They're saying ten people on a boat, so we anticipate being able to take out groups of that size," he said. "We're super excited to see all of our neighborhood friends enjoying the outdoors and having Mai Tais, margaritas and Riverwalk Ramblers."
Urban Kayaks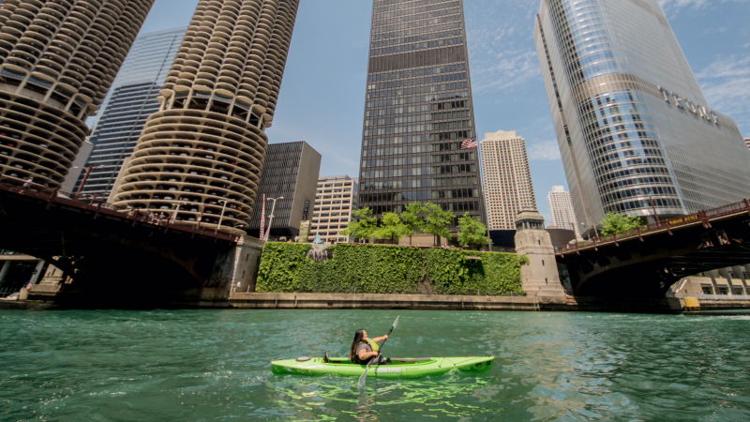 Melissa Anderson, general manager at Urban Kayaks, said that the rental operation intends to "follow the guidelines that the city is recommending" at both their Riverwalk and lakefront locations.
"That includes having employees wear facemasks, even though we're outside," she said. "We're also going to set up sneeze guards at the front desk and wipe down the kayaks and paddles between every use."
The life jackets that customers wear will be washed at the end of every day, she said, unless they are used more than once, which is a rare occurrence.
Other precautions include limiting groups to ten or less, placing social-distancing signage and offering disposable gloves to customers in the retail area.
Urban Kayaks also encourages customers to make reservations in advance to help minimize the amount of time and number of people at the indoor front desk.
Gordon Salon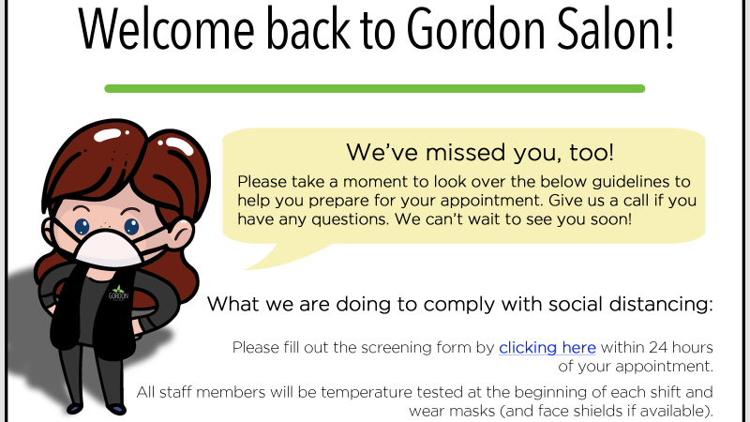 Customers visiting Gordon Salon will be required to complete a "COVID-19 Screening Form" within 24 hours of their scheduled appointments at all the business's locations, including the one at 333 E. Benton Pl.
Containing four basic questions about coronavirus symptoms and contact with people who might be infected by the virus, the form is one of several new procedures that the family-owned business will introduce when it reopens in June. Others include requiring guests to bring and wear their own face masks, arrive no sooner than five minutes before their appointments, and avoid touching retail items.
Gordon's requirements go beyond those issued by the government, but according to Manager Nicole H., they're worth the extra effort.
"Our motivation was really just making sure that our clients as well as our staff are as healthy as possible," she said. "All of us have been this whole week in the salon preparing for the guests."
Besidest stocking up on disinfectants and sanitizing products, Gordon employees have been perfecting their new procedures by "doing trial runs on each other and using Zoom for anyone who could not be physically present," she said.