Pinstripes at River East is expanding Halloween into a weekend-long "fang-tastic" celebration from Friday, Oct. 30 to Sunday, Nov. 1.
Parents and kids of all ages are welcome. 
Playing it safe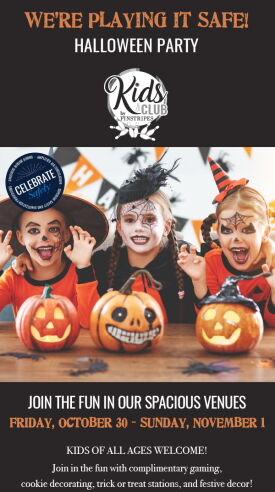 Besides offering "no tricks" and "only treats," the bistro / bowling / bocce venue at 435 E Illinois St. has announced that it will be "playing it safe" throughout the weekend. Pinstripes is an exceptional destination for social distancing. Situated within a 30,000 sq. ft. space that equals half the size of a football field, it is committed to helping ensure safety while serving up Halloween fun, food, and drink.
Activities planned for the weekend include games, cookie decorating, goodie bags and wicked surprises to "to delight you and your little ones." Seasonal fare includes "yummy" pumpkin gelato and fresh baked Pumpkin Pie. There is also a specially crafted Spooktacular cocktail for the grownups.
Activities leading up to the weekend include a chance to enjoy a free pumpkin pie or pumpkin gelato. Follow @PinstripesBBB to give it a try.
To make a reservation (recommended) click here. To learn more about Pinstripes' safety procedures, click here.