In a huge community effort to support Streeterville businesses that have been affected by the pandemic, local celebrities, businesses and musicians are joining forces to launch the inaugural Streeterville Week celebration.
The event, presented by Chicago Star Media, was created to lift community spirits, boost morale and encourage residents and visitors to shop locally. A series of deals will be on offer — including special menus — from Nov. 13-22 at participating restaurants, gyms, hotels and other neighborhood businesses.

Kickoff celebration at Ogden Plaza
Streeterville Week launches with a kickoff celebration at 12:30 on Nov. 14 at Ogden Plaza, 429 N. Columbus Drive. Marley Kayden of Chicago's Best on WGN-TV will host the event, which will be livestreamed on the Chicago Star Media Facebook page and run until 2 p.m.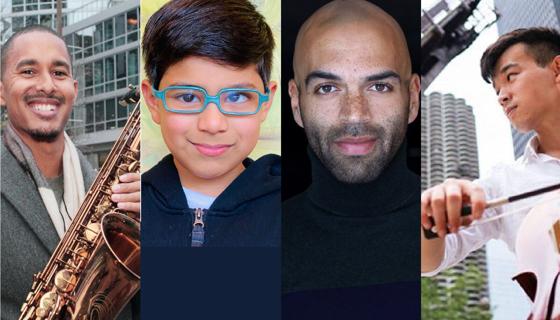 The program, designed to support local artists and brighten this normally gray area of Streeterville, features rotating appearances from Chicago performers and street musicians, including actor Vikram Konkimalla — known for his role as Tiny Tim in The Goodman Theatre's A Christmas Carol — and Andrew David, a street performer whose powerful cover of Hallelujah in Chicago's empty streets went viral this spring.
To ensure the safety of attendees and performers during the walk-by event, masks are required and signs indicating social distancing will be placed in front of performers. Each performer will display a QR code to receive tips from passersby. In the event of extreme weather conditions, the kickoff walk-by event will be canceled, and there are no rain dates scheduled.
Streeterville Week neighborhood deals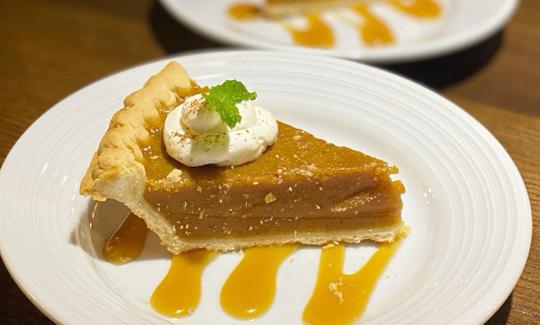 Among the participating Streeterville Week restaurants and specials are:
Beatrix Market, will debut a special $24 prix fixe take-out lunch Monday through Friday and a $35 prix fixe take-out dinner Monday through Sunday
Tallboy Taco will provide a special $24 prix fixe take-out lunch and dinner
Pinstripes will offer diners a free entrée and pumpkin dessert with the purchase of any entrée
Cupitol Coffee & Eatery, Labriola, Pinched on the River, Robert's Pizza and Dough Company, Rosebud Steakhouse, Saigon Sisters and Yolk will also take part in the event.
Other deals include a combined $164 in savings at the Orangetheory Fitness Streeterville location, discounts on room rates and valet parking at Loews Hotel Chicago and a discount on an Emsculpt treatment package, along with two additional free sessions, at North Michigan Ave Chiropractic.
A complete list of businesses and offers, as well as biographies of the performers, can be found online at chicagostarmedia.com/sw.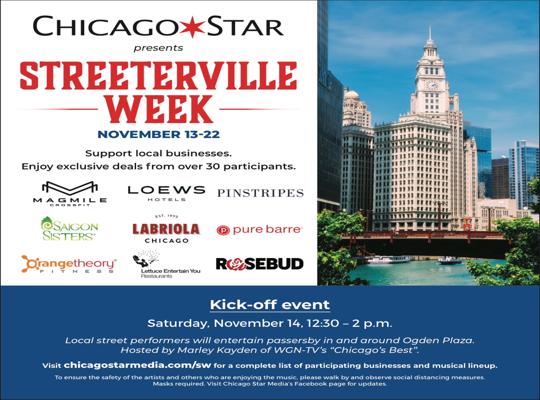 Chicago Star Media, which publishes Streeterville News, New Eastside News and West Loop News, is dedicated to providing a positive, informative and community-building presence in the neighborhoods it serves. The company's newspapers have a monthly print circulation of 20,000 and are distributed in the mailrooms of high-rise apartments throughout downtown Chicago.