The damage of Saturday night's George Floyd protests still lingers on Michigan Avenue, but less than before, thanks to locals and emergency crews who are determined to clean up and show their love for Chicago.
The avenue, free of traffic on Sunday afternoon because authorities had shut down roads and bridges leading into the city, was improved by repair crews and emergency board-up crews that worked all night.
"We started about 4:30 in the morning," said Jordan C. from A&D Property services. "Almost at half a dozen places, mostly windows and stuff. I've never seen this much damage before."
Young volunteers joined the effort by scrubbing graffiti from walls and windows. Among them were Mikala Thompkins and Pedro Guerrero, who had biked downtown from Buena Park with a group of like minded friends and a load of cleaning supplies.
"It's our duty to be here," explained Thompkins, who teaches high school in Blue Island. "We were here for the protests yesterday and we were empowered by everyone uniting and fighting for the injustices."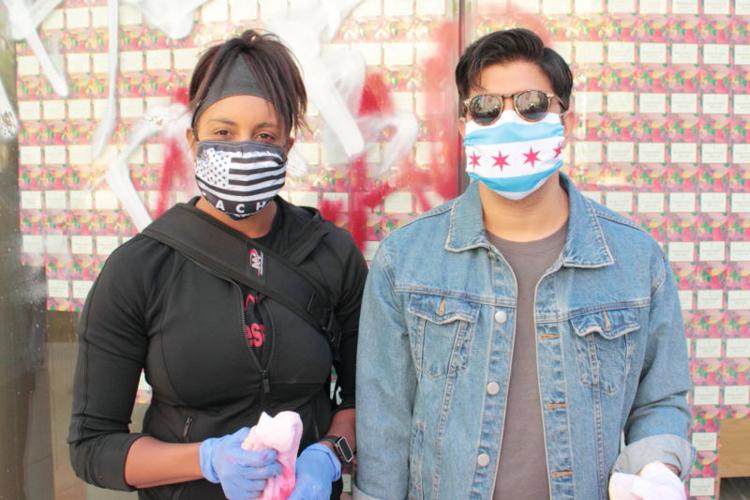 "We didn't really have a plan," added Guerrero, a fundraiser for Loyola University. "We just started tackling whatever surfaces we saw with obscenities."
Besides uniting people of color who were inspired to "do good in whatever capacity we can," Guerrero felt that many of the marchers enjoyed a healthy release from sheltering-in-place by joining the Saturday night protest.
"Everyone had so much pain and energy bottled up," he said. "What better way to let it out than at a protest protesting the injustices against unarmed Black people, one of the most vulnerable populations in our lifetimes?"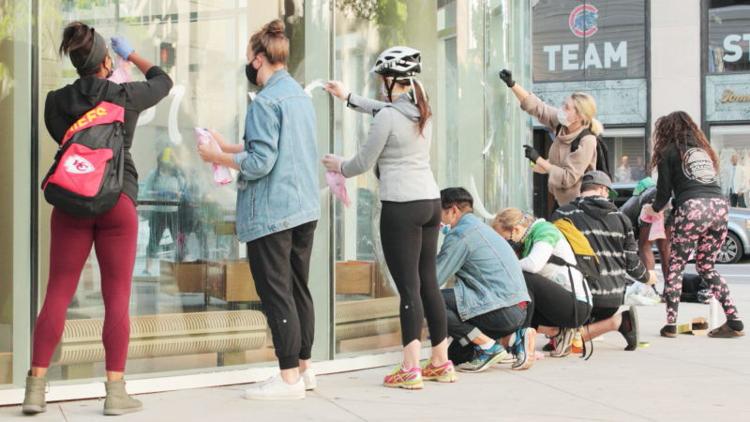 Thompkins felt that the media had "got the narrative wrong" by focusing on the violence of the previous evening. Her own experience was much different than the reports she had been reading.
"It was emotional. It was powerful. I had chills," she recalled. "As we got off the train at Monroe St. with a bunch of people coming down for the same cause as us, we felt as one. We felt united as one. We felt safe."
Retired Streeterville resident Mark Blasingam, who was taking his dog on a dinnertime stroll near the John Hancock Tower, agreed, explaining that the destruction and the protests "are two different issues."
"Smash and grabs take place here all the time," he said. "This is a broader issue. This is a culmination of lots of things that are going on for our entire society right now. The protests, I support. I don't support the vandalism, obviously."
Senese Hamilton, a Streeterville resident who works in retail sales, also described the issue in much larger terms.
"I respect the law," she said. "I respect people who are put in authority to serve and protect, whether you are a police officer, fireman, priest, pastor, preacher. But the way that they handle minorities and people who don't look like the majority … it's a problem that's been happening, and they wanted to turn it into the norm, but the people are tired."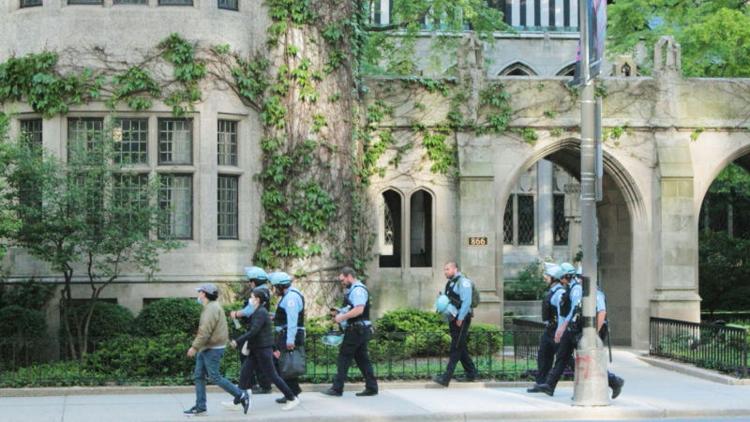 Groups of police patrolled the area all day and night. Several were standing guard in front of Water Tower Place and, further west, at every entrance to Trump Tower. They didn't seem to bother Thompkins, who said that she has "no hate for the police at all."
"Those guys did what they did, but that doesn't represent all the police force," she said. "I have family and friends who are police officers, and I love them just as much, but they also need to stand up like we are. We're letting them know that we're here from the beginning to the end and we're just going to keep pushing forward and spreading the love."