Chicagoland residents have plenty of outdoor opportunities to enjoy this fall, with trips to area farms and orchards, visits to scenic gardens and other seasonal activities available for the picking.
Harvest haunts
Bengtson's Pumpkin Farm, 13341 W. 151st St. in Homer Glen, has brought fall-themed fun to the community for more than 40 years. The annual Pumpkin Festival, which returned Sept. 18, offers attractions such as Tractor Town, train rides — and, of course, a visit to the pumpkin patch to pick out the perfect pumpkin. Guests can also sample classic fall treats such as cotton candy, kettle corn and apple cider donuts.
Times and prices vary throughout the season. A full calendar of dates and times is available online at pumpkinfarm.com.
Goebbert's Pumpkin Patch, 42W813 Reinking Road in Pingree Grove, started out as a roadside stand more than 70 years ago. Today, the farm offers an array of traditional seasonal activities, including wagon rides, choosing pumpkins and picking Honeycrisp apples. The newest attraction at Goebbert's is a carousel designed to bring back nostalgic childhood memories and help families create new memories together.
The farm is open from 9 a.m.-6 p.m. daily, and tickets can be purchased online at goebbertspumpkinpatch.com.
Heinz Orchard, 1050 Crest Road in Green Oaks, specializes in apple-picking and offers several varieties of apples that become available throughout the fall, depending on picking conditions. The family-run orchard notes on its website that a number of new safety precautions are in place this year, including no sampling fruit, only one picking stick allowed per group and no eating or drinking at the orchard.
Since the orchard anticipates a lot of "to be determined" dates this fall due to the pandemic and crop size, visitors are encouraged to check the website, www.heinzorchard.com, for the latest dates and hours.
Garden explorations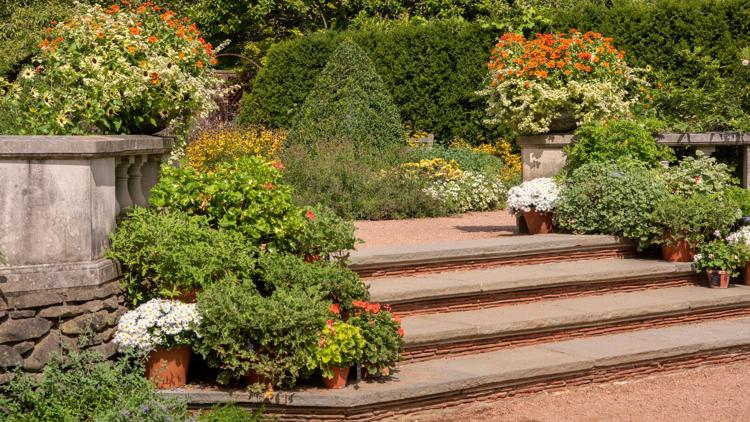 For more than four decades, the Chicago Botanic Garden, 1000 Lake Cook Road in Glencoe, has been one of the most scenic parts of Chicagoland. Visitors are invited to learn about its colorful plant collection by exploring dozens of gardens and natural areas, including a bonsai collection, fruit and vegetable garden and native plant garden.
Guests are required to preregister for a timed entry online and must enter the garden during the time frame listed on their ticket. For visitors seeking an interactive experience, the garden is offering both online and in-person classes throughout the fall, such as bird walks, walking workouts and watercolor and photography lessons.
Upcoming events include the Fall Bulb Festival, Oct. 10 and 11, which includes an outdoor market and more than 200 bulb varieties, and the 2.3-mile narrated Grand Tram Tours, held daily throughout October. The Model Railroad Garden exhibition will also be open daily through Oct. 11.
Additionally, the garden's annual Halloween celebration, Night of 1,000 Jack-o'-Lanterns, will return this year Oct. 14-18 and Oct. 21-25 with a few modifications for guest safety. The event features more than 1,000 hand-carved pumpkins, a garden trail and seasonal foods and drinks.
The Morton Arboretum, 4100 Illinois Route 53 in Lisle, offers 1,700 acres of diverse environments to explore, such as Meadow Lake, the Spruce Plot, Lake Marmo and the Hedge Garden. While some indoor facilities, including the Sterling Morton Library, are still closed to the public, visitors can still explore the arboretum's outdoor spaces, said Kara Silva, a public relations specialist at the arboretum. Guests must purchase timed-entry tickets to the arboretum in advance.
Upcoming in-person events and exhibits include the Scarecrow Trail, which features scarecrows designed by local Scout troops and school groups and runs from 7 a.m. to sunset Oct. 1-Nov. 1, and the Fall Color 5K Run and Walk, a socially distant race scheduled for 7 a.m. to 1 p.m. Oct. 3 or 4.
Starting Oct. 8, tickets will go on sale for Illumination: Tree Lights at The Morton Arboretum. The lights exhibit, traditionally a walking event, will instead transform into a driving experience that visitors can enjoy from the comfort of their vehicles.