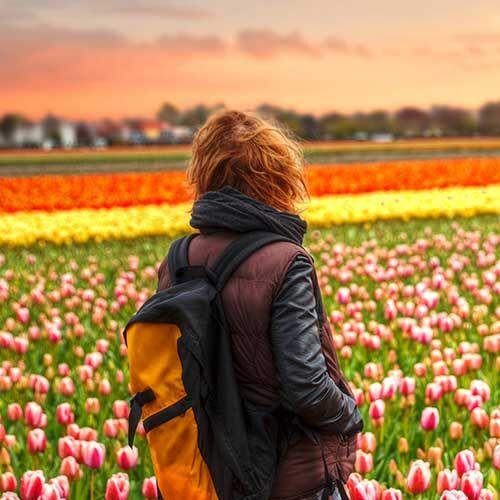 Enjoy 5 acres of tulips at the Richardson Adventure Farm in Spring Grove, Ill., where visitors can find 300,000 bulbs of 30 different varieties and 70,000 tulips of mixed colors in a pick-your-own area design, with 230,000 flowers arranged in colorful blocks with a central design for photos.
Since the weather determines the dates of when the tulips bloom, exact dates are unclear but the farm expects the tulips to be in full bloom or nearly full bloom from mid-April through mid-May. 
The farm is set on a private lakefront location and will include free games to play –  cornhole, giant checkers, Jenga, etc., as well as food trucks, beer and wine and picnic tables near the lakefront.  
The gift shop adjacent to Adventure Farm grounds will also be open for gifts, indoor restrooms, wine tasting, popcorn, kettle corn and donuts.
Guests can also enjoy live music from 1-5 p.m. Saturdays and Sundays. The Thompson Duo will perform April 17 and 25 and May 1, 2 and 8; and Bristol Junction will perform April 18 and 24 and May 9.
Richardson claims the slopes on their farm are within ADA guidelines but due to the uneven terrain, some guests in wheelchairs may need assistance getting their wheelchair uphill. 
Leashed dogs are welcome to attend. Check the Richardson Adventure Farm's Facebook page regularly for up-to-date information. Ticket prices range from $12-$15 and can be purchased here.