While the COVID-19 pandemic temporarily closed museums in Streeterville, Chicago residents can still take advantage of virtual museum events and activities geared toward educating children and appreciating the arts at home.
After closing its physical location March 13, the Chicago Children's Museum established "a place of learning online," said Twania Brewster, the museum's vice president of marketing, communications and guest services operations.
On June 26, Chicago moved into phase 4 of the State's reopening plan, which allows for limited reopenings of public attractions such as zoos, museums and performing arts centers, but as of late June, the Chicago Children's Museum had not yet scheduled an official reopening date, Brewster said.
"We're assessing what stage 4 means and what it will mean for us, and we're taking a look and seeing if we can make those parameters work," she said. "But right now, we are just in evaluation mode still."
Staff members who would typically handle activities at the Chicago Children's Museum developed activities for two new virtual resources, Recipes for Play at Home and Parenting Playbook.
Recipes for Play at Home, designed to help parents recreate an interactive museum experience with their children, offers about three dozen age-appropriate projects, such as making muffin tin crayons and cardboard robots.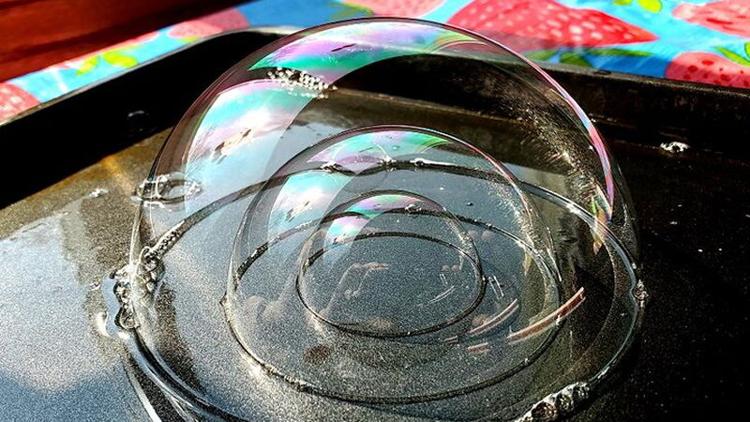 The Parenting Playbook also has activities families can do together, along with tips and advice for parents. Recent recommended projects include mandala drawing and making three-dimensional paint out of flour, glue, shaving cream and food coloring.
"It has specific videos about how to do something from beginning to end with their children, as well as other pieces about playing in the time of coronavirus and some of the anxiety-relieving and tension-relieving aspects and benefits of play for children," Brewster said.
Brewster said she was a big fan of the tabletop "bubbleology" activity, which encourages children to learn about geometry and science through a series of experiments with dish soap bubbles, such as stretching bubbles between a pair of tin cans and creating sculptures out of foam.
"I had a great time with it myself with my 8 year old and my 13 year old," she said.
Lombard resident Sooha Ahmad said she and her two-and-a-half-year-old son, Noah Raja, enjoyed taking part in the museum's Perfect Playdough activity, which involves creating and shaping a homemade batch of dough. Ahmad discovered the activity through the Chicago Children's Museum Instagram page, which she began following after the family's first visit to the museum in January.
"It was fun and easy," Ahmad said. "There were only four or so common ingredients, although I did have to make a quick trip to the store for flour and food coloring. No cook, one pot, and I got to play around with the amount of coloring I used. I like to bake, so it was a very easy recipe to follow."
The finished product held up well with the addition of a few drops of vegetable oil, and Noah was able to get several days' use out of the dough, molding the colorful concoction with the aid of kitchen tools such as cookie cutters and a rolling pin.
Ahmad said she appreciated that the museum's at-home projects get children away from the screen and give them something constructive and creative to do.
"With the playdough, he was sitting down, using his hands, rolling, creating something on his own," she said. "Any activity that gets them playing, even a sedentary activity, is better than the inevitable screen time they will get if they are at home all day with two full-time working from home parents."
The Chicago Children's Museum is awaiting further guidelines from the state on when its facilities can reopen, but in the meantime, it hopes to host an outdoor movie within the next few weeks, Brewer said, adding museum patrons can continue to support the museum through donations and participation in its online activities.
At the Museum of Contemporary Art Chicago, The Commons Online offers a digital space for the community to stay engaged with art and current cultural and social issues. Among the virtual events hosted on the platform are storytimes, studio visits with artists, art shows and open dialogues on themes such as generational inequality, as well as resources for families and teachers looking to discuss topics such as the Black Lives Matter movement.
The museum transitioned its "Duro Olowu: Seeing Chicago" exhibit into a digital format. The exhibit, featuring art incorporating the work of Olowu, a Nigerian-born British fashion designer, includes audio clips and transcriptions from interviews with artists participating in the exhibition.
Katy O'Malley, media relations manager at the Museum of Contemporary Art Chicago, said the museum is scheduled to reopen to the public Friday, July 24. The museum will offer free admission and be open from 11 a.m.-6 p.m. Fridays, Saturdays and Sundays through the end of August, she said.
In a statement on the museum's website, Madeleine Grynsztejn, the museum's Pritzker Director, said the museum plans to "continue to share and amplify resources, programs, and artistic content across our many platforms."
More information on the online programming at the two museums can be found online at their websites, www.chicagochildrensmuseum.org and www.mcachicago.org.