Three birds greet a woman in a garden on a mural spanning an entire wall of the Chicago Riverwalk. Part of a colorful new installation titled, The Radiance of Being, by Kate Lynn Lewis, the scene is just one of many that have recently come to life in the promenade's Community Marketplace west of Michigan Avenue.
The artistic style of nearby structures and buildings inspired Lewis to channel a complementary aesthetic when she painted the series.
"The Riverwalk is surrounded on all angles by art deco architecture, so it felt like a great opportunity to expound on the immersive experience of painting a deco collage inspired by motifs found in the area," said Lewis. "I love that this experience is just one of countless examples of how Chicago has invested in the creative culture that makes it so beautifully unique."
The Department of Cultural Affairs and Special Events (DCASE) in collaboration with the Department of Assets, Information and Services (AIS) made it possible for Lewis and other artists, including Dont Fret, to share their creativity with the public. 
"The new artworks on the Riverwalk continue Chicago's rich tradition of murals and public art," said Mark Kelly, Commissioner of DCASE. "These commissions support local artists and enrich our second waterfront, as Chicago welcomes visitors — and residents — back to our city, safely and responsibly."
The People in Your Neighborhood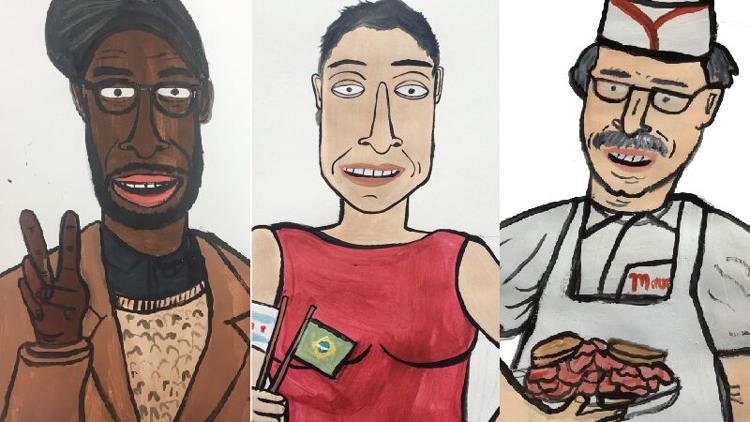 Other commissions will soon include 55 portraits of Chicagoans by street artist Dont Fret. Scheduled to appear at the Riverwalk's western end near Lake Street later this month, the images celebrate the artist's vision of people who "contribute to the hard work that defines our city."
"There are certain character traits that I think define a true Chicagoan," said Dont Fret. "Tough, full-browed with a sense of ingenuity and midwestern humbleness, but always toiling, working, moving forward with an almost absurd laugh and grin about this crazy, wonderful city … These are the people in your neighborhood."
The new artworks complement several installations that were added to the Riverwalk last year, including: Ebony Patterson's Between the below..., which hangs at the Riverwalk on Wacker Drive; and Alberto Aguilar's Echo Hecho Fresco, located under the Columbus Avenue Bridge.
To learn more about the Chicago Riverwalk, click here. To learn more about COVID-19-related guidelines, including the ones that apply to people visiting the Riverwalk, text "COVID19" to 78015, email coronavirus@chicago.gov, or visit chicago.gov/coronavirus.