An all-day rainstorm dampened Chicago's return to indoor drinking and dining on Friday, June 26, when the multi-part Restore Chicago plan allowed patrons to actually enter and sit down in restaurants and bars. Alternating between downpour and drizzle, it seemed to chase everyone away from the Riverwalk and Millennium Park during happy hour.
A couple visiting Chicago from West Virginia strolled down Michigan Ave. A handful of guests occupied tables at III Forks restaurant. But otherwise the celebration never quite got rolling.
The sun returned Saturday, shining on crowds throughout the neighborhood.
Antonio Shelton and Kellan Blankenship, West Virgina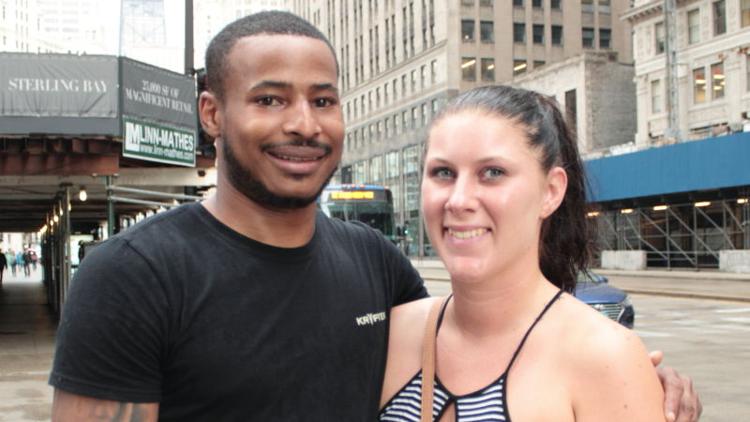 Construction Worker Antonio Shelton and photographer Kellan Blankenship traveled to the city from West Virginia to "visit family and see Chicago since it's been reopened," according to Antonio. "I like small restaurants. Like locally owned restaurants. So we're going to find some of them," he said. Kellan, who has never visited Chicago before, intends to photograph "the buildings and the lake and graffiti and stuff like that."  
Jeff Kenton, Hazel Crest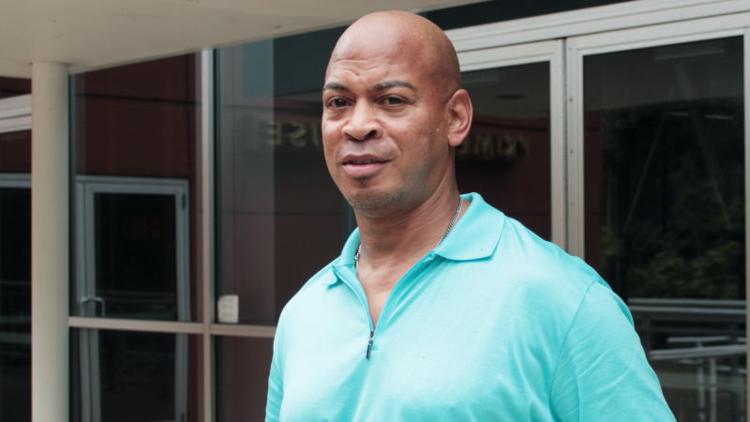 Chemical industry professional Jeff Kenton journeyed from suburban Hazel Crest to celebrate a friend's birthday at III Forks restaurant on Lakeshore East Park. An avid restaurant-goer, he is a fan of the venue's steaks and seafood. "I haven't eaten inside since the pandemic," he said. "But I'd rather be in the patio if the sun was shining."
Alex Hall and Adrian Corkill, III Forks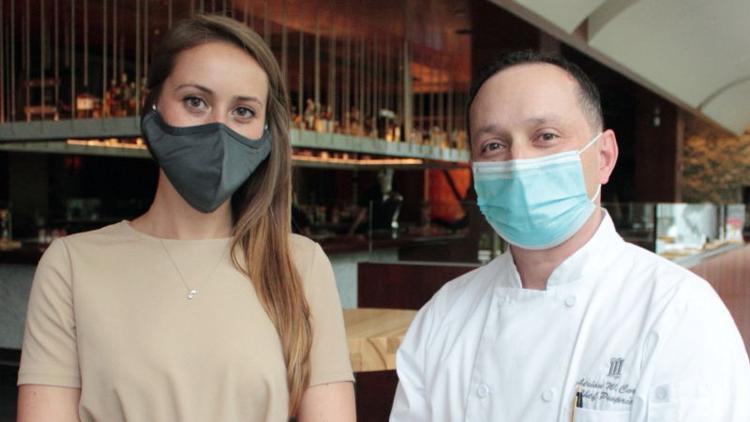 III Forks Manager Alex Hall and Chef Proprietor Adrian Corkill exemplified the venue's legendary commitment to food, drink and service during the rainstorm. "It feels absolutely amazing to be back," said Adrian, who has been with the company for twenty years. "It's all about passion — we love what we do, and we want to make sure our guests are happy and everything tastes great." His personal favorite menu item is the New York Strip, which pairs well with "any glass of wine that we've got." Alex is a "filet person" who prefers the classics. "Your filets, your ribeyes, mashed potatoes and asparagus are always amazing," she said. "I always get the parmesan crust on my steak."
Frank Curetti, Wildberry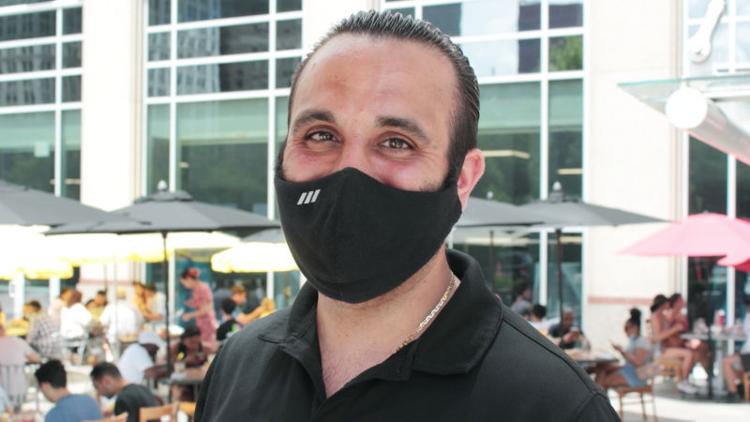 Wildberry was at capacity at lunchtime on Saturday, which helped Manager and New Eastside resident Frank Curetti finally have a chance to seat the open tables that have been nagging him throughout the pandemic."It feels like I finally got back into the business that I was put on this earth for," he said, adding that, "guests are our main priority." Frank is a fan of the entire menu, but said that the "hottest item" is "definitely the Berry Bliss Pancakes."
Iowa State University
Maddy Lakomek, Nora Sullivan, Ashley Reinhart, Lexie Carey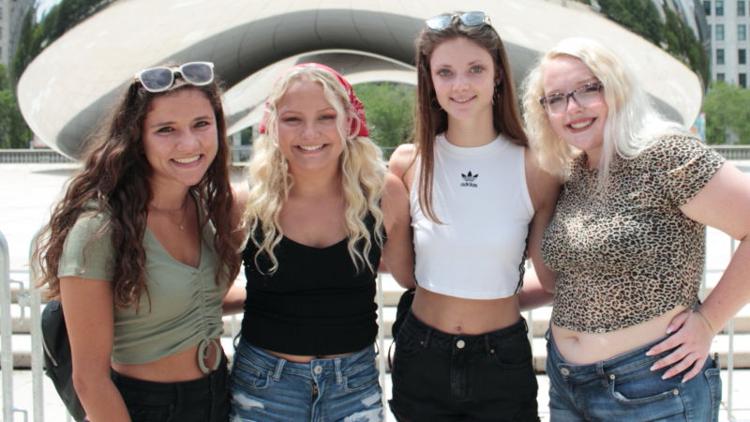 Iowa State University students Maddy Lakomek, Nora Sullivan, Ashley Reinhart and Lexie Carey decided to take their chances and see "what was going to be opened" on a recreational trip to Chicago. "We had to wear facemasks at The Bean, but it's fine," said Maddy. "I love the big city," said Nora, who added that Chicago "doesn't smell as bad" as New York city. Other stops on the agenda include eating pizza, visiting the Riverwalk and shopping.
Candace Hodge and Jake Hodge, Streeterville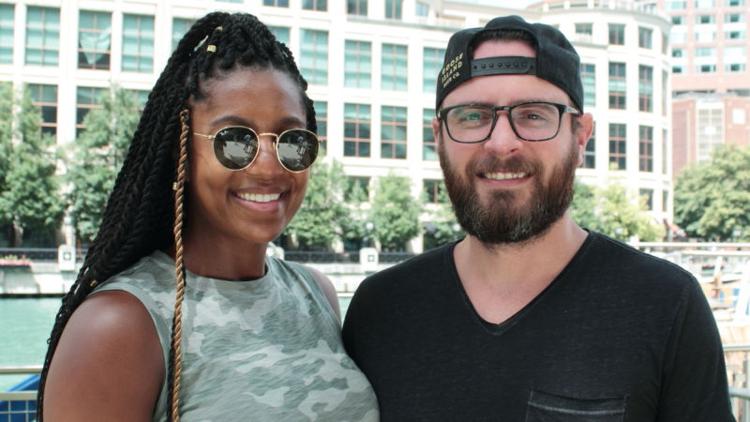 Streeterville attorney Candace Hodge said that she and her husband, project manager Jake Hodge, have enjoyed spending "a lot of time" in their kitchen during the pandemic, but they were delighted to lunch at Island Party Hut on Saturday afternoon. "It's beautiful," she said "We're happy to see our local spots opening back up." Regarding their choice of restaurant, Jake said, "It's right across the street. It's right on the riverfront. Why not?" 
Chelsea H., Atlanta
Atlanta native Chelsea H. (pictured above) decided to visit friends, clubs, bars, and restaurants in Chicago during a week of vacation from her job in the tech industry. On Saturday morning, she enjoyed pancakes, eggs, and a Bellini (or two) while dining inside at Remington's on Michigan Ave. She also followed up on the travel advice offered by the "attentive" staff. "They told me I need to see The Bean, so I came over here."