New Eastside resident and entrepreneur Mary Kuiper has become a fashionable force in the effort to reduce coronavirus by introducing a colorful new line of facemasks called Cool Shield.
Cool Shield face masks are made with two-ply, moisture-wicking, antimicrobial fabric that is breathable, washable and reusable. They also come in dozens of styles including floral, tie-dye, leopard print, and a blue flame pattern that "male customers seem to like," according to Kuiper.
Her company, Raindrops Resort, manufactures and ships thousands of the items to businesses and consumers every day from a cut-and-sew factory in Downers Grove. A third-generation, Chicago-based operation, Raindrops focused primarily on resort and souvenir apparel before developing the new line, which was inspired by a late-night television news report.
"I saw an interview with someone who was making masks in her house," Kuiper said. "She said, 'it used to take me 15 minutes but now I can do it in 12.'" Besides feeling a strong dose of compassion for "the people working on home-sewing machines," she also realized that, "we've got the equipment to do it faster."
A native Chicagoan "born into the industry," Kuiper grew up on the city's south side, started working in the family business when she was 16 years old and moved to 400 E. Randolph in 2013. A proud supplier of stores throughout the continental U.S., Hawaii and the Caribbean, she summarized Raindrops' ongoing recent expansion with an invigorating and patriotic observation.
"I'm not a health care worker but I'm contributing to the front line effort," she said.
Although customers recognized Raindrops as a purveyor of customized t-shirts, socks and hoodies, they were quick to show appreciation for the new line.
"We do love 'em," exclaimed David Wiley, owner of Decatur, Alabama-based independent outdoor specialty retailer Wiley's Trading Company. "For people who want to or are required to wear masks, these are much more comfortable and a lot more attractive than what I'm seeing with most of the cloth masks."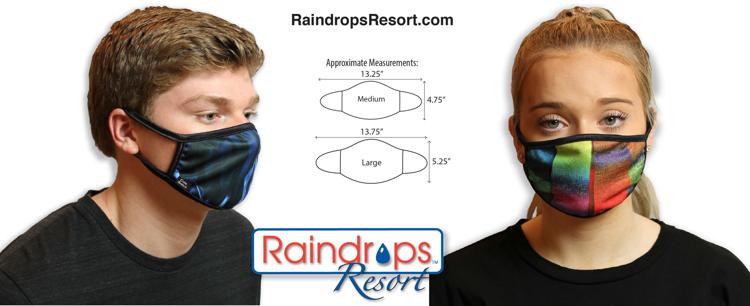 Kuiper said the Cool Shield line was developed in about two weeks. Since then, it has helped Raindrops earn a spot on the essential business list and generate an abundance of new business.
"On average, I am working 14 to 16 hours a day cutting, sewing and shipping," she said. "I have also hired more employees."
Other than adding more American jobs, she said that the company is not taking advantage of the situation.
"We're not profiting on the crisis," she said. "We're fulfilling a need."