Mariano's is devoting its legendary innovative finesse to a customer wellness effort that goes beyond even today's new standards for retail excellence. Besides introducing a dozen Safety Protocols, the store will soon begin delivering its signature events straight into shoppers' homes.
Director of Strategic Brand Development Amanda Puck spent time on a recent afternoon to tell New Eastside News about the plan to keep quality and service at the levels that have helped Mariano's become a New Eastside favorite.
What is Mariano's doing to ensure the wellness of employees and customers?
We've always taken the safety of our associates and customers very seriously, but in light of the pandemic, we have upped the measures and precautions. We have increased our cleaning schedule. We are coaching employees. We are working with customers and employees to maintain distancing guidelines. We are installing plexiglass barriers at check-out stands and floor decals that say please wait here so customers know where to stand… Every day there's a new development because no one was obviously prepared for this anywhere. And the protocols may end up being permanent because we don't know what the new normal is going to be. Mariano's is very innovative in general as a retailer, and this is pushing us all to really deliver. It's the way things have to be done.
What about your in-store classes events?
We are actually bringing that all online starting in April. We're going to have wine-tastings, chef classes, and "Live at Mariano's" with musical talent streaming performances and kids concerts.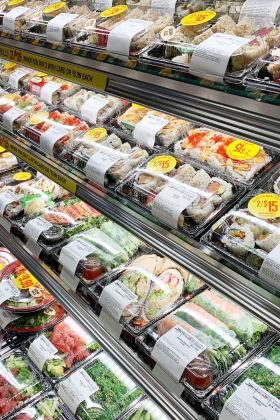 How has the situation affected Mariano's daily routine?
Hiring for us is the biggest challenge, because pickup and delivery are more in demand than they've ever been before, especially for seniors and people at home. We're hiring at all stores to increase those operations. We've already hired 500 new associates, and we're looking to hire 500 more. So if anyone's interested, they can apply online now.
How have Mariano's employees responded to the new safety protocols?
Our associates are the real heroes — well, obviously, in addition to the first responders handling medical emergencies. But the associates are totally ramping it up. They really feel like they are playing their parts in this whole crisis by helping people. Our staff comes in every day, every night, unloading trucks. We are there around the clock. We have overnight teams replenishing stores. The produce comes in very early morning and, by 6 a.m. the whole store is getting stocked. We've all had to make decisions and adapt very quickly. I'm lucky we're such a close team.
How are the customers dealing with the changes?
The customers have been unbelievably supportive! Of course, they're concerned about food supply and wondering if they are going to get their groceries, and the answer is yes. But as a community we also have to realize that we can't be hoarding. Mariano's places limits on waters, bread, dairy, eggs, sanitizer, and toilet paper. We're also expecting large shipments of toilet paper soon. This may change all of our lives forever and, in some ways, it's humbling and gratifying to know that we can deliver what our customers need.
What do you intend to do when the stay-at-home order is lifted?
My husband and I miss our restaurant friends and community. We've been doing pickup. We just picked up from a place and the manager said I really miss you and come back as soon as you can.
In the meantime, what's your favorite thing to eat from Mariano's?
I love Mariano's fried chicken. I think it's the best. And I love our Poke Bowls, which are made-to-order. We just launched a new salmon teriyaki bowl and it's healthy, fresh, and delicious.