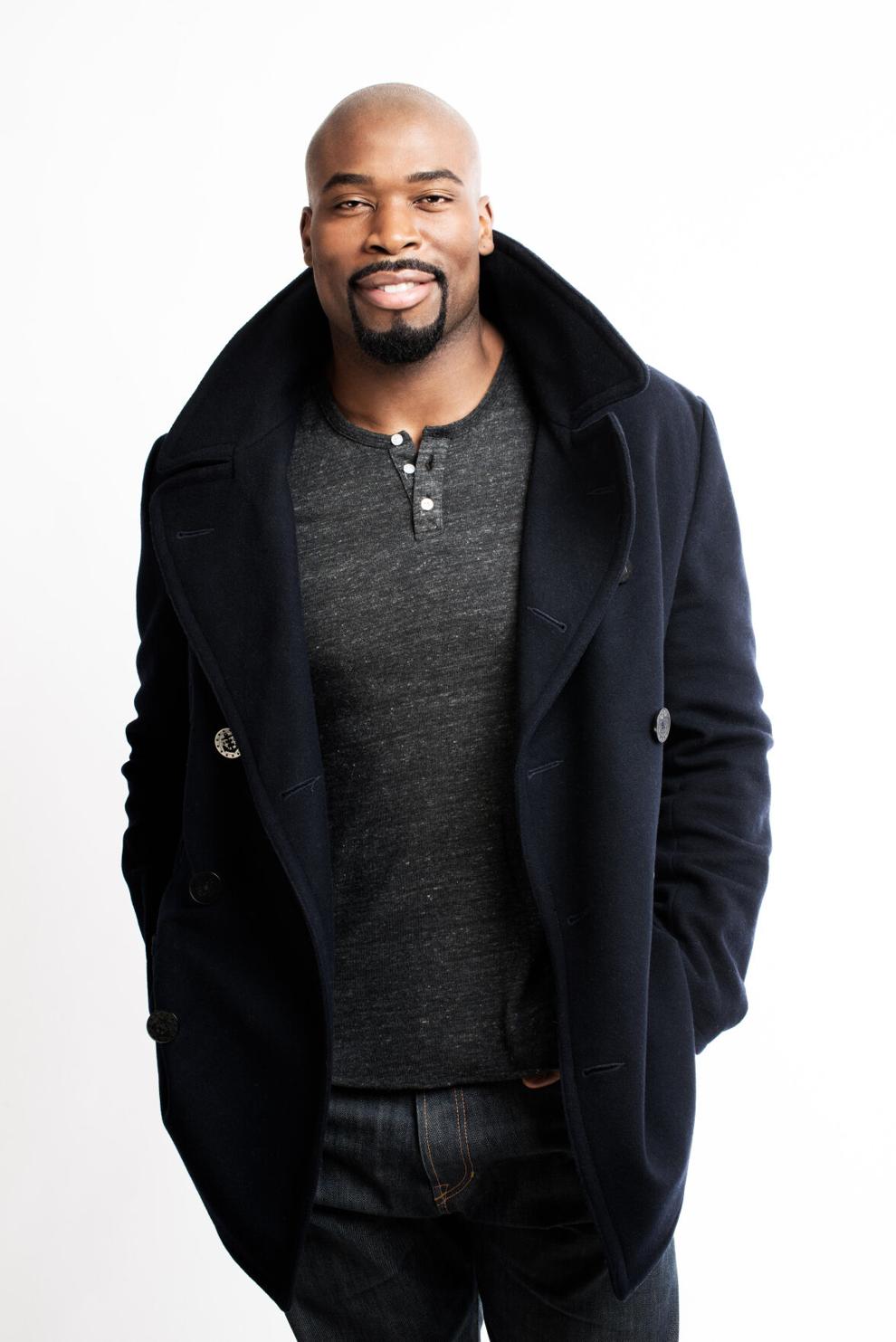 Israel "Izzy" Idonije finds that the beauty of sports lies in a simple truth: the lessons learned on the field are equally impactful when it comes to charting one's path in life. 
The years Idonije spent with the Chicago Bears taught him to have a clear vision, persevere despite obstacles and challenges, adapt and pivot as needed — and, perhaps most importantly, create value.
"Your boss, coaches, parents and your teacher aren't always going to tell you what you need to do to be successful — they're not always going to tell you what you need to do to make it," he explained. "You've got to be intentional about finding that value yourself." 
Born in Nigeria, Idonije moved to the Canadian city of Brandon, Manitoba with his family as a young child. He got his start in football as a student at Vincent Massey High School, later joining the University of Manitoba Bisons and eventually being drafted by the Ottawa Renegades. 
Idonije's NFL career began in 2003 with the Cleveland Browns. He subsequently spent nine years playing for the Chicago Bears, returning in 2014 following a year-long contract with the Detroit Lions, and went on to play briefly for the New York Giants.
The former defensive end has led a remarkably eventful life since retiring from professional football. His nonprofit organization iF Charities has shaped the lives of youth both locally and abroad, and he has played a founding role in ventures as diverse as Athlitacomics, a comic book company that produces stories combining the worlds of sports and superheroes, and FBRK Impact House, a Chicago philanthropy hub. 
As a teenager in Manitoba, you had a dream of one day moving to Chicago and playing for the Chicago Bulls. When you finally moved here, how did the city compare to your expectations?
Israel Idonije: It was amazing. Chicago is a much bigger city than anywhere I had lived. I arrived here when I was 21 years old. To play basketball in the NBA for the Bulls was my childhood dream, so having been able to make it here to play for the Bears was special. To have achieved it, to have made it, is better than I had dreamt. My first NFL team experience was the Cleveland Browns, and then coming here to Chicago was completely different. It was very exciting. I had a great sense of urgency as far as what the opportunity meant and the importance of making the team. Getting signed to the practice squad was just the first step. The real goal was to be a contributing member of the team, so to have a career beyond 10 years has just been an incredible experience.
When you were first introduced to football in high school, you weren't the biggest fan. What changed your mind about the sport, and how did you find your passion for it?
II: I've always been extremely competitive, so I think football, which is a game of physical competition and a brilliant game of strategy, is kind of where the love came from as my experience in the game developed. But yes, originally I did not enjoy it. I went out for one practice in ninth grade — it was raining, it was cold, it was wet — and I just didn't love the game. I went to one practice and I was like, "no, this isn't for me." The drills and everything that they had me doing — it just was not my speed. I was a basketball player primarily, so I went back to training and working to achieve my dream of getting to the collegiate level in basketball. A few years later, when I was a senior, my boss at the YMCA, where I ran after-school programs and summer camps, came to my high school to run a football league and to start our football division at Vincent Massey. He convinced me to play, and after that season, he convinced my mother to take me to try out for Team Manitoba, the provincial team, which is like a state team here in the USA. I made that tryout, and I played for Team Manitoba and my football journey continued from there.
Who was your biggest hero growing up?
II: I had a number of heroes. I'd say a personal hero is my mother. Without her, I would not be where I am. She has always been my champion, regardless of what I was going through. I was ready to quit football after my third year, and she was like, "hey, an opportunity is going to come, son, continue to work, continue to stay focused." We're Christians — and she would always pray with me and remind me that God was faithful and that although in my current situation I might not be able to see the opportunity, there would be good ahead. Externally, my biggest hero was always Michael Jordan. I loved Michael Jordan as a kid. In my journal at 13, I wrote that I was going to play basketball for the Bulls with him. That was my dream. I always loved what he represented as far as excellence, and work ethic and rising up to the occasion to be able to lead and win.
How did you decide what direction your life would take after retiring from football, and what advice do you have for current pro athletes considering a similar philanthropic or entrepreneurial path?
II: I've been fortunate to be surrounded by really great people. When you have a good network, when you have good people around you, it makes all difference to achieving and moving in the right direction. To young athletes, the first piece of advice that I'd give is for them to see themselves as entrepreneurs. It just so happens that their first business is in sports, and that this first business is one that they've been working on from the time they were kids, even though they were not getting paid. They've been practicing, working and investing in this business for a long time, and finally, at the professional level, they begin reaping benefits. But it is their first "company," and while they are in that business of playing the game, it's important to set a time one day a week, maybe their day off, just to think about what their second business is going to be, what their second revenue stream or endeavor will be, so when the professional athlete career is over, they are able to pivot to that and not lose a step.
One of the primary focuses of your nonprofit, iF Charities, is enhancing children's social-emotional learning. How did you first develop an interest in this cause and in working with youth?
II: I've always wanted to support that kid who was a version of me in our community. I was fortunate to have a ton of support and love that allowed me to achieve and get to where I am currently, and I still receive a lot of support and love as a grown man. iF Charities is about focusing on solutions. For example, if we are able to teach the language of coding to a handful of kids who may have not otherwise had that opportunity, we can help them be prepared for engineering jobs that will be available in the future. If we do X, Y, Z, what will that outcome look like down the road for these kids? So, iF Charities was built around the notion of focusing on these solutions, and over the years, we've been fortunate to solve some real issues in Chicago, Winnipeg and West Africa.
How do you personally define leadership?
II: The first thing that makes a great leader or defines great leadership is great vision. The best leaders are very clear on the why and the how of what needs to be done. I also think a great leader knows how to connect the vision, the mission and the work to the right people on the team or in the company. Leaders take responsibility and accountability for what needs to be done to achieve the defined goals.
Do you have a mantra, and what is it?
II: The statement I live by is "Dream Big," and then "be relentless about the daily pursuit of those dreams."
How did you find inspiration for the concept for Athlitacomics, and what is your favorite series to come out of the company?
II: I grew up reading comics. We had to read an hour daily at our house, and I did not love reading. When I was first introduced to comics, I was like, "oh, OK, this is something that I can actually read" ... I always felt like there was an opportunity to tell the narrative of sports through the lens of comics. I don't necessarily have a favorite — it's like trying to pick a favorite child — but I love "The Protectors." It was the first story that we created, and its premise is the origin story of athletes in our world. 
You helped create FBRK Impact House as a hub for Chicago's philanthropic community to connect. What role would you like to see the organization play in the city long term?
II: I think Impact House is just a really special place, because ultimately these organizations have focused all of their resources, their time and their energy to try to build and strengthen Chicago's weakest areas and the people who need the most support and love. These organizations, family foundations and individuals are the givers of the city. Impact House was created to provide these groups a collective place to mindshare, to collaborate, to innovate and just to call home. It's the headquarters for Chicago's top givers. I believe we're just at the beginning of what this community can do. We have a collective vision of solving some real issues that are here in our city of Chicago.
You also opened a boutique gym called RSTR in the South Loop. What is your vision for the gym and what philosophy do you hope to instill through it?
II: We just really focus on helping people become their best selves. A better version of you makes every other aspect of your life better. The healthier you are, both physically and mentally, allows you to be better all around — when it comes to your family, relationships, work or the things you're creating. We believe that you can transform your body with 30-minute workouts, so we run programs focused on building strength and endurance while pushing you to grow. 
What does being a Chicagoan mean to you, and what is one aspect about the city you would like to see improve?
II: I'm thankful that Chicago is a city of people who care. That's what Chicago has always represented to me — a real city of people who really care and support one another. The pandemic has also shown that through these tough times, people have rallied and come together like none other during this difficult period that we're going through as a human race.  I look at Chicago as a team — and on our team there are areas that need to improve and be better. A chain is only as strong as its weakest link. I think what we need to work on as a team, as a city, is really spotlighting those areas that need the most support. Let's focus on strengthening those areas throughout our city, regardless of what that might look like.