The Archdiocese of Chicago has a regular time slot in the local Sunday morning TV lineup.
Cardinal Blase Cupich, archbishop of Chicago, celebrates the weekly Roman Catholic mass from Holy Name Cathedral, 730 N. Wabash Ave., which airs from 9:30 to 10 a.m. Sundays on ABC Channel 7.
Response to the broadcast has been phenomenal, according to Very Rev. Gregory Sakowicz, who concelebrates the liturgy with Cupich.
"The goal is to get the community back together," Sakowicz said. "It's (just) different how we get together. The church finds new ways."
When Illinois churches were closed by Gov. J.B. Pritzker's shut-down order in March, Director of Liturgy Rev. Marek Smolka and Assistant Liturgy Director Michelle Peltier found a way to get the video of mass at Holy Name for March 14-15 on the parish website, Sakowicz said.
"I was celebrant," he said. "We brought TV cameras into the cathedral from the Office of Radio and TV of the Archdiocese of Chicago."
The video racked up 25,000 views.
Following that auspicious start, ABC offered the archdiocese air time to broadcast the weekly service with Cardinal Cupich presiding.
The mass has aired every Sunday since March 22 guided by Jim Disch, Brian Brach, Javier Garcia and Micheal May from the Office of Radio and TV.
Sakowicz, who recently marked his fourth year as rector at Holy Name, said working with Cupich is "a joy."
"The cardinal is a great shepherd with a laser-sharp mind and a great sense of humor," Sakowicz said.
Sakowicz said Cupich has done very well leading the archdiocese during the COVID-19 pandemic.
"The cardinal really enjoys presiding," he said. "It's his way of shepherding Chicago."
Celebrating in front of the TV cameras hasn't been a problem, Sakowicz said. "I hardly notice they're there." But working in the current environment offers a different set of issues.
"I must wear a mask," he said. "Our hands are sanitized."
While celebrating, they keep an eye on the clock to make sure the mass stays within the half-hour time limit.
"The camera crew counts the time down for the cardinal," Sakowicz said. "He likes to be at the 'Our Father' with five minutes to go."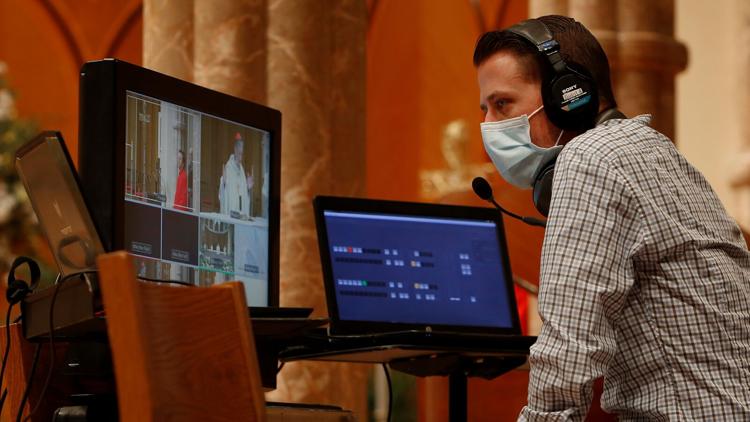 As the few people attending the mass actually receive communion, Sakowicz recites the "Act of Spiritual Communion" for the viewers. The prayer, written by St. Alphonsus Liguori (1696-1787), according to VaticanNews, makes sense for those unable to be in the church.
"People watching and praying (the mass) on TV are united with us spiritually," Sakowicz said.
Sakowicz said the exposure has people recognizing him outside the parish.
"Mask and all," he said. "People say 'I saw you on TV.'"
Does he watch the broadcast?
"I've watched a few times, but no," he said.
Sakowicz said he has received many letters from people thanking them for airing the mass on TV, which is taped Friday afternoons to be shared on the website by 4 p.m. Saturday. Viewers tell him that they respond out loud to the prayers because it makes them feel like they're at the mass.
"But you don't want people getting too comfortable," he said. "You're missing the sense of community and receiving holy communion. It's not meant to be a forever stop gap."
During the pandemic, the archdiocese has connected with parishioners through social media, according to Public Relations and Communications Manager Susan Thomas.
"Our parishes are also using technology for streaming of masses, for virtual prayer groups, bible study groups and posting inspiring videos," she said.
Holy Name has opened its doors for mass on a limited basis. Participants are capped at 200 in the cathedral that can hold 1,200 people.
Smolka, Peltier, Lori Doyle and Ryan Pietrzak, along with "many parish volunteers" from Holy Name, were instrumental in getting the doors open, Sakowicz said.
"Presiding at mass is different," he said. "Smaller numbers with a sea of masks out there."
"The biggest fear is COVID-19 rears its ugly head again," Sakowicz said. "We'll have to close again or capacity goes down to 50."
When people can't go to church, "We have to reach out to them," Sakowicz said.
He believes the TV mass has brought people back to church and others will come back when they're ready.
"Churches are not closed, buildings are," he said. "You are the church. We are the body of Christ."