Celebrating a unique holiday season should include unique gifts. Sellers in the city have the perfect present for your favorite Chicagoan and a special way to remember 2020.
For those sheltering in place during the pandemic, a new culinary guide offers downtown diners a chance to get discounts on takeout orders while supporting local charitable organizations.
"DineIt4ward," a guide with deals from more than 70 restaurants, includes special codes allowing the buyer to direct a portion of the purchase price to a variety of area nonprofits, including Lurie Children's Hospital, Green City Market, the American Cancer Society and Pilot Light.
"We're hoping people will see (the guide) as a good gift, for themselves or for anyone who likes food," co-founder and Chicago resident Laura Goodman said.
In April when COVID-19 brought restrictions on dining out, Goodman saw eateries struggling to stay open. At the same time, she said, charitable organizations were struggling to raise money. So she created a way of "dining it forward." Most restaurants were happy for a chance to get people in the door to charities' benefit.
"The idea is to give charities an additional tool to raise money," she said. "And restaurants needed the business."
With the guide, Goodman said, people can buy something that helps the community, and with the latest restrictions, the take-out discounts will come in handy beyond the holidays.
The Dine It 4ward Culinary Guide is available for $50 plus shipping at dineit4ward.com. Use the code PILOTLIGHT20, LURIECH20, GCM20 or ACS20 for an $11 discount and 20% of the sales proceeds will go back to one of those organizations.
From the gift shop
The city's museums offer online shopping with a variety of gift ideas that are uniquely Chicago, including a few that particularly reflect this crazy year.
Sue the T Rex face mask

Face masks are a safety precaution that also works as a fashion statement. Chicagoans and dinosaur fans can get a mask from the Field Museum featuring Sue, the museum's 40-foot long Tyrannosaurus rex skeleton. There are three styles to choose from. $24.99, store.fieldmuseum.org.
Banned books face mask

The American Writers Museum offers wearers a chance to "show your support for all published books" with a face mask that features banned books, according to the museum's website. $12, americanwritersmuseum.org.
To reflect the recent coronavirus shutdowns and closures of the season, a coffee mug from The Art Institute of Chicago shows each day of the week as "closed." The mug features a design by artist David Shrigley, whose "work conjures up ironic comments on everyday situations and human interactions," according to the website. $12, shop.artic.edu.
The Chicago Hot Dog Puzzle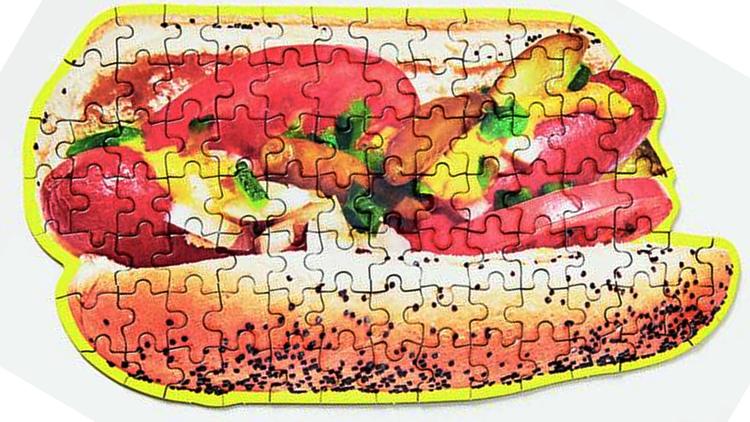 For those stuck inside doing puzzles, The Museum of Contemporary Art (MCA) has a Chicago Hot Dog Puzzle. The image shows an all-beef frank with all the toppings except ketchup, "which is of course completely unacceptable on a Chicago hot dog," according to the MCA website. Cards, $20, puzzle, $15, mcachicagostore.org.
The MCA also has items to let everyone know where you live. A box of 15 holiday cards, titled "A Chicago Christmas," parodying the song "The Twelve Days of Christmas," includes Windy City-themed lines such as, "Nine Cubs a-Batting," "Eight Aldermen Schmoozing," "Three Screeching Els" and "A Picasso in a Pear Tree."
Chicago has been called a city of neighborhoods and the Chicago History Museum has a T-shirt that features more than 100 of them. Each neighborhood is displayed in a unique logo or style. $24.99, shop.chicagohistory.org