The Illinois mask mandate is reshaping the way Chicago stylists perform traditional beauty services—and the way their clients approach make-up.
While in-salon makeup application may be limited to above the mask line, there are still plenty of techniques to make clients' eyes stand out, said Jordyn Olawumi, owner of Salon Snob in Streeterville.
"It's what we look at first," she said.
"But I'm a firm believer that even if you don't wear any makeup, eyelashes are everything, because if you have limited eyeshadow, or none on, or no makeup, eyelashes make you look awake and alive, and it opens up the eye. I think that's very important, especially now that we all have to wear a mask."
Olawumi has a line of cosmetic lip products — lipstick, lipliner and lipgloss — but she noted these items have seen less demand lately because of the mask requirements. She still helps clients with their hair needs by creating customized Salon Snob hair kits for at-home use.
"They're geared toward anything that a client needs," she said. "Obviously, they can't do their own highlights. But a root touch-up, a gloss, an Olaplex treatment, everything they can do at home."
As a small boutique, Salon Snob has made significant changes following the reopening, Olawumi said. In addition to requiring clients to wear a mask, Olawumi spends 30 minutes between appointments disinfecting the salon and takes clients' temperatures at the door. She limits procedures such as blowout treatments to only when strictly necessary.
"Once upon a time, I took eight to 10 clients a day, and now I'm limited to four to five, sometimes three, depending on the services," she said. "It's changed the game tremendously."
'I always did eyes first'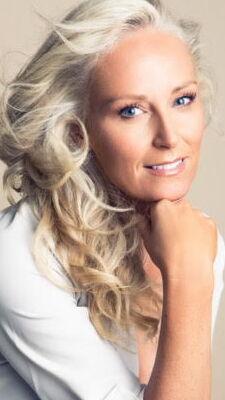 Traci Fine, owner of Fine Makeup Art & Associates, said her makeup techniques have largely stayed the same since the pandemic began, but she is more cautious about maintaining a sanitary environment. Fine goes to her clients to perform hair and makeup services, which requires extra safety measures.
"Funnily enough, as a make-up artist, I always did eyes first for the client," Fine said. "So, I still do. The client is wearing a mask, and the eyes take (at least half) of the amount of time I would spend on makeup."
Because the makeup she uses is designed to last for 10 to 12 hours, clients don't have to worry about it rubbing off or transferring onto their masks during the day, she said.
Even prior to COVID-19, Fine said, she would mix foundation and other products on a stainless steel palette to prevent cross-contamination.
"I've revamped my entire makeup kit," Fine added. "So, some of the things I was using before, they have cloth fabric or something in my bag—I no longer use it. I switched everything to hard plastic that can be cleaned with soap and water."
Fine said she hasn't yet had a client ask to coordinate their look with their mask, but it's a factor she could certainly take into consideration.
"If they're going out, or wearing a certain color or a certain outfit, I would always ask the client what they're wearing, so of course that would be part of the attire I would consider for my choices of color and things," Fine said.
'My makeup stayed on all day'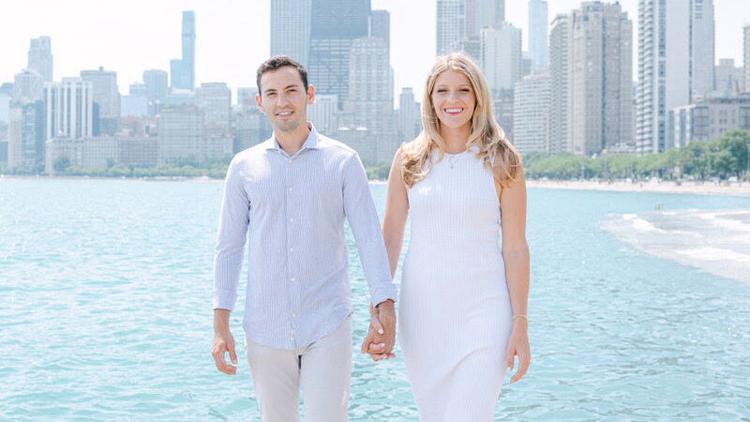 River North resident Lisle Berndsen hired Fine to do makeup for Berndsen's engagement photos this summer. Both stylist and client wore masks for the majority of the appointment, and Berndsen said she felt comfortable briefly taking off her mask so Fine could apply makeup to the lower half of her face.
"My makeup stayed on all day and looked absolutely flawless despite the sweltering heat and the fact that we were outdoors for most of the day," Berndsen said.
Typically, Berndsen said, she doesn't wear much makeup unless she's going out.
"When I go out to dinner and I am wearing a full face of makeup, I use a ton of makeup-setting spray so that my makeup stays on under my mask," she said. "I also have started bringing powder and lipstick out with me to make any touch-ups."
Sarah Andersen, a broker who specializes in Chicago home sales, relocations to Florida and lake homes in Indiana, Michigan and Wisconsin, used Fine's hair and makeup services during a photoshoot at the end of July.
"She was great to work with and did an amazing job understanding and delivering the concept we wanted to achieve," Andersen said.
Andersen said she tends to wear make-up less often than she did prior to the state mandates, partly because she goes out less often these days and partly because she prefers a more natural look in the summer.
But when she does go out, she said, she applies a small amount of YSL foundation to cover imperfections and blends the product with a clean make-up sponge. She said she also opts to add Aquaphor with a touch of lip liner to her lips so there "really isn't much to mess up."
"I sometimes will apply shadow and liner; however, for the shoot I recently tried eyelash extensions by Amber at Salon O Sixty-Five on Huron and State Street, which made me feel really good," she added. "I didn't apply mascara or liner the entire time I had them on, which lasted a tad over two weeks."
Andersen said she normally wears a simple CVS mask or a white handkerchief that doesn't touch the lips much. She noted the way some masks are structured, with a seam vertically down the middle, allows for more breathing room and prevents the material from affecting the wearer's makeup.
"I don't actually give much thought to the style of the mask, but they do look like you are wearing underwear on your face, so I see people playing that up—lingerie for the face where there is a mysterious sex appeal to not knowing what you might be hiding," Andersen said. "However, I haven't played along with that game with my CVS mask."