Creating custom cookies for neighbors, a booming business
For many, the holidays bring out a natural desire to bake. For New Eastside resident Megan Morgan, last year's holiday baking season led to a new hobby.
"Last Christmas, my mom and I attempted to make and decorate sugar cookies. We kind of became obsessed with getting better, so we made cookies for every holiday and sometimes just randomly so we could practice," Morgan said.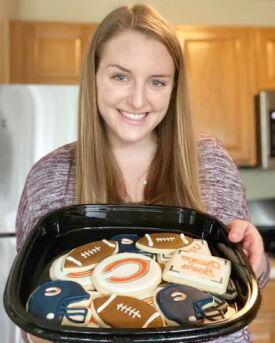 For the past year, Morgan has worked to perfect her baking and cookie decorating skills, and she now offers her delicious customized creations to the neighborhood, which she delivers locally.
"Typical requests include birthdays, graduation and gratitude," Morgan said. "A recent order I did was a large order for National Coffee Day. I thought that was a really cool idea and had fun baking them because I could get creative with designs."
Though Morgan can accommodate almost any request, she says she finds herself making a lot of gratitude-themed cookies to give to family and friends. She recently fulfilled an order for an apartment complex that wanted to thank their residents for sticking with them this year. "The cookies were a fun, safe way to do so since they are individually wrapped," Morgan said.
The start-to-finish process for creating the cookies usually takes a couple of days and can be "pretty lengthy," Morgan said.
"The baking is the quickest part of the process," Morgan explained. "The decorating takes a couple of days since most batches include multiple layers of frosting that need to harden before moving onto the next. The base layer goes pretty quickly, and the details in the top decorative layer take a little bit longer.
"I think that this will remain a hobby, as I have a full time job, but I hope to continue making cookies for people to enjoy," she added. She especially enjoys getting creative with designs and seeing the finished product after a long process.
Originally from Crown Point, Indiana, Morgan moved to Chicago almost a year ago and works downtown as a consultant. Contact Morgan at morganmeg22@gmail.com for more information or to place a cookie order.