Community groups, corporate teams and individual volunteers can help keep the city's 600+ public parks clean by joining a new initiative called Pitch in for the Parks!
Guided by the Chicago Parks Foundation (CPF), in partnership with the Chicago Park District and communities across the city, Pitch in for the Parks! invites individuals and groups to focus on specific parks or join larger park cleanups across the city. The season-long program equips volunteers with trash pick-up supplies, coordination and safety guidelines provided by CPF.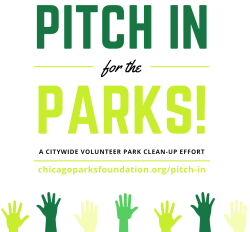 In just the past few weeks, more than 1,000 people have volunteered their time and nearly 60 Park Advisory Councils, local businesses and community organizations have stepped up to adopt a park. Arriving at a time of budget cuts and staff reductions, they add a welcome complement to the city's efforts.
"Pitch in for the Parks! shifts the stewardship opportunity back to the communities so they can build a stronger sense of pride and ownership of their parks by helping to keep them clean, while modeling giving back to others," said Willa Iglitzen Lang, executive director of the Chicago Parks Foundation. "When you invest in a park you are investing in the communities who love and use them. And for that we say thank you!"
"Pitch in for the Parks!" is supported in part by the Chicago Bears and Chicago Association of REALTORS®, with in-kind support from Boxed Water.
Volunteers can learn more and get involved by clicking here. Safety guidelines are aligned with the Chicago Park District's response to COVID-19 and the latest City of Chicago information.