Urban Kayaks, Island Party Hut and Shoreline Sightseeing's Architecture Boat Tour are among the Riverwalk vendors that will welcome customers today, the first time they have conducted business since the city closed the entire location to fight the pandemic in March. 
Mayor Lori Lightfoot announced this morning that "the Riverwalk can safely reopen and operate throughout the summer months" in a news release that also listed a face-covering requirement for "anyone using the Riverwalk and its facilities." See the full list of regulations and guidelines below.
The Riverwalk will be open to the general public from 5 a.m. to 9 p.m. Recreational activities will occur between 5 and 10 a.m., and concessions will operate between 11 a.m. and 9 p.m. It will close briefly at 10 a.m. for cleaning.
Island Party Hut partners Steve Majerus and Mark Stern joined employees to disinfect all tables and surfaces hours before serving patrons. Although the tiki bar and grill is situated on an expansive lot that naturally lends itself to social distancing, they assembled a crew to "be as clean as we can be," according to Stern.
ALSO READ: Businesses prepare to 'cautiously reopen' during phase 3
During the recreational hours, people using the Riverwalk will be able to run, jog, walk and bike along the path between Lake Shore Drive and Lake Street. The lakefront trail remains closed and will not be accessible from the Riverwalk until it officially reopens for public use.
Other new Riverwalk rules and regulations include:
All persons using the Riverwalk and its facilities will be required to wear a face covering in accordance with public health guidance
Access will be limited to points of entry at Lake Street and through ADA compliant ramps between Franklin and Lake Street and State and Columbus streets
Entrances will be guarded by attendants who will confirm reservations and count the number of people to ensure capacity limits are not exceeded
Riverwalk Ambassadors will be monitoring the space to ensure social distancing is being maintained
"The Riverwalk is one of Chicago's architectural gems and the rare 'instant-classic' in our already illustrious lineup of public landmarks," said Mayor Lightfoot. "It's also an important economic engine for our city, drawing an array of residents and visitors to its many bars, restaurants, and recreational activities."
Riverwalk venues and points of entry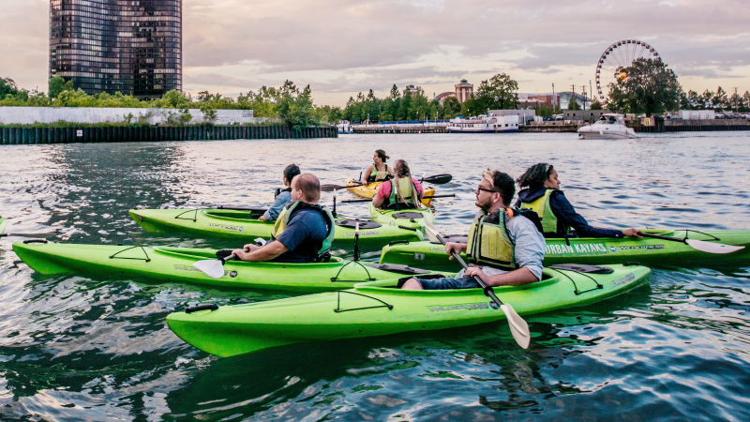 Tiny Tapp & Café- West Dearborn
City Winery – East Dearborn
Chicago Brewhouse- West Wabash Stairway
Beat Kitchen and Community Marketplace West Michigan Avenue
Chicago's First Lady and Mercury Sightseeing Cruises East Michigan
Urban Kayaks, Island Party, The Northman- Columbus
O'Briens's Riverwalk Cafe East Wabash 
Limited passive recreation areas
Lake Street and LaSalle Street- Access at Lake Street, ADA ramp between Franklin and Lake or East LaSalle Street.
Vietnam Veterans Memorial- Use State Street ADA ramp
Michigan Plaza- Use West Michigan Avenue- this will also allow access to the Community Marketplace vendors
Columbus Plaza- Use Columbus Stairs
Sweet Home Gelato- West LaSalle Street – Walk up service
Concessions Program Vendors and the Community Marketplace will begin a phased reopening tomorrow between the hours of 11 a.m. and 9 p.m. Each will be available by reservations made by contacting the establishments directly. There will also be limited passive recreation areas for people looking to spend time outdoors. The paths will be blocked at the under bridges between LaSalle and Columbus and users should use stairways.
For more information about the Riverwalk, click here. For more information about the City's response to COVID-19, click here.