Mayor Lori Lightfoot eased a major parental concern by ordering Chicago Public Schools to take a remote-learning route for the beginning of the school year, but she still has a number of related issues to address, according to nearly 20 organizations that endorsed an "Occupy City Hall Protest and Car Caravan" on August 3.
Hundreds of people and dozens of vehicles joined the event on Randolph St. between Clark and LaSalle Streets. Responding to cues from Journey 4 Justice National Director Jitu Brown, who introduced several speakers during the event, they cheered and honked for a variety of topics.
"Today, in cities all over the United States, we're demanding equity or else," Brown declared. "When I say 'equity,' you say, 'or else.'"
Besides keeping students and teachers out of crowded classrooms, the attendees urged the mayor to take action on a number of urgent issues including indigenous rights, community development, fair housing, and police conduct.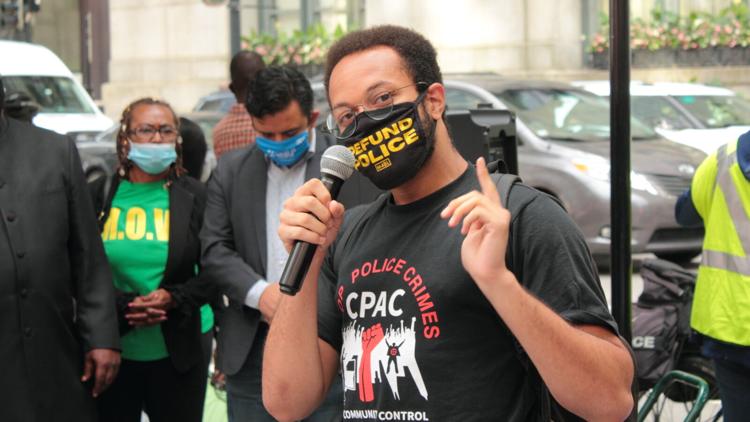 State Representative Lakesia Colins suggested that, "instead of investing into the police, we have to invest into social workers, counselors, librarians, teachers, nurses."
Cook County Commissioner Brandon Johnson described Mayor Lightfoot's administration as "absolutely pitiful."
"In the midst of a global pandemic where Black unemployment has run through the roof, the only thing she can do is TikTok and dance and Tweet at Trump while we got problems right here in the city of Chicago," he continued. "I find that leadership to be pitiful."
A woman from Lift The Ban Coalition explained that rent, mortgage, evictions and foreclosures should be cancelled during the pandemic because, among other things, "unregulated real estate speculation is driving the cost of housing way up."
A mother from the Pilsen Alliance decried the "avalanche of evictions" that will soon engulf the community, declaring, "We have a leadership right now that is not listening to us."
A man from the Black Abolitionist Network described his frustration with the mayor's alleged claim that there are no funds for protective equipment but plenty of money to buy tear gas.
A list of demands accompanied the demonstration's Facebook invitation. Among them: a moratorium on new charter or voucher programs, direct cash assistance to the unemployed, a moratorium on evictions, additional counselors, nurses and community/parent outreach workers, and "massive infusion of federal money to support the reopening funded by taxing the billionaires and Wall Street."