The City of Chicago conducted a public safety drill last night from 6-9 p.m. in the Loop and adjacent neighborhoods. Describing the operation as part of an "ongoing effort to engineer security measures" in a press release, the city stated that, "critical infrastructure assets will be staged at various access points."
At approximately 7 p.m., a group of bicycle police officers stood shoulder-to-shoulder at the southern end of the Wabash Ave. Bridge and vehicles from the Streets and Sanitation Dep't lined the Magnificent Mile. Traffic and commerce appeared to be unaffected by the presence of the assets, but a handful of crews were boarding up stores on the Magnificent Mile.
Participating departments included the Office of Emergency Management and Communications, Chicago Police Department, Chicago Fire Department, Chicago Department of Transportation, Streets and Sanitation, and the Department of Water Management, among others.  
The drill took place on the eve of the 52nd anniversary of the "Battle of Michigan Avenue" that occurred during the 1968 Democratic National Convention in Chicago. Inside the Hilton Hotel, delegates selected then-Vice President Hubert Humphrey as the party's presidential nominee. Outside on Michigan Ave., a violent confrontation between police officers and protesters shouting "the whole world is watching" was filmed and broadcast by several media outlets.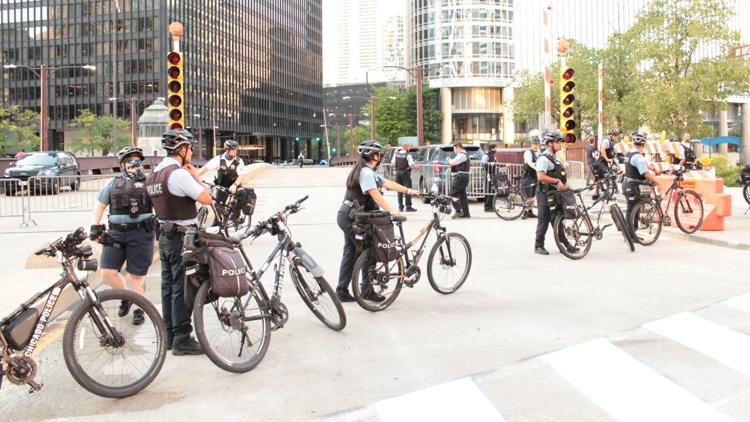 Weekend protests in Chicago
Protests schdeuled for this weekend include a "Gun Violence March For Peace" starting today at 5 p.m. at 900 N. Cambridge.
On Saturday, the Magnificent Mile will be the location for at least two demonstrations. A 4 p.m. Back the Blue Mag Mile Shopping Spree at the Tribune Tower will show support for the shopping district while, an hour later, several groups will attempt to shut it down.
Beginning at 5 p.m. at the Wrigley Building and proceeding along Michigan Ave., the "Justice 4 Jacob Blake: Shutdown our Magnificent Mile" event hosted by the Chicago Activist Coalition for Justice is being publicize in a Facebook invitation that states, "Magnificent Mile is not magnificent when we are murdered …  shut it down."