Magellan Development has announced that a Lakeshore East Beer & Food Garden will be coming "very soon" to the corner of E. Benton Pl. and N. Park Dr. 
Boasting nearly 75 picnic tables arranged at least six feet apart, the garden will occupy Parcel O between the Aqua Tower and the Blue Cross Blue Shield building.
Food and drink will be provided by Eggy's Chicago Diner and Gordo's Tiny Taco Bar, which is taking over the space that has housed Mezcalina for the past eight years. They will offer a mixed menu available seven days a week from 7 a.m. to 10 p.m.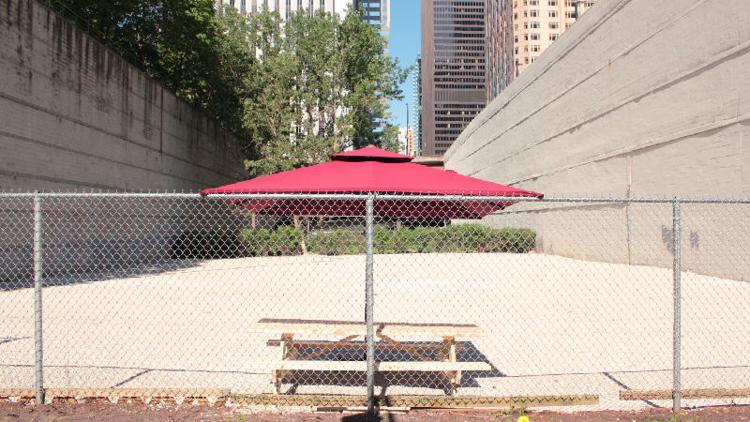 The rectangular lot is located on North Park Dr. directly across from Lakeshore East Park. It is bordered by windowless, three-story concrete walls to the north and south. A tree and a patch of shrubs grow at the western end, which extends to a section of guardrails and i-beams that support upper and lower Columbus Ave.
Unobstructed sunlight fills the area from mid-morning to mid-afternoon. 
Currently, there is a lone picnic table and umbrella standing on the Garden's leveled, cinder floor. Stay tuned to New Eastside News for further information about exactly when the beer will begin flowing.