Looting raged up and Michigan Ave. in what appeared to be an orchestrated act of theft and destruction that began at approximately 12 a.m. today. Resulting in damage and burglary to several stores, the incident prompted Mayor Lori Lightfoot to issue a strong declaration during a press conference this morning.
"To those who engage in this criminal behavior, let's be clear: we are coming for you," she said. "We are already at work finding you and we intend to hold you accountable for your actions."
The incident began when police responded to a call about a man with a gun in Englewood yesterday afternoon, according to Chicago Police Superintendent David Brown. "The seeds for the shameful destruction we saw last night were sewn in the 5700 block of S. Racine last night," he said.
The suspect fled when was spotted by police.
"As this person was running away, a gun held by this person was pointed at our police officers, who gave chase, and this person fired shots at our officers," said Brown.
The officers returned fire and shot the individual, who is expected to survive. Afterwards, a crowd gathered on the south side and "tempers flared, fueled by misinformation," Brown said. "CPD became aware of several social media posts encouraging looting downtown."
The criminal activity began at a store near 87th and the Dan Ryan. It continued with "car caravans" heading towards the loop, where surveillance videos filmed groups of individuals entering retail locations through smashed storefronts, exiting with merchandise, and leaving the area in cars waiting nearby. Police made more than 100 arrests, with 13 officers sustaining injuries along the way.
After reporting that there were 31 shootings throughout Chicago over the weekend, Brown said that a perceived lack of punishment motivated the people responsible for last night's incident.
"Criminals took to the streets with confidence that there would be no consequences for their actions," he said.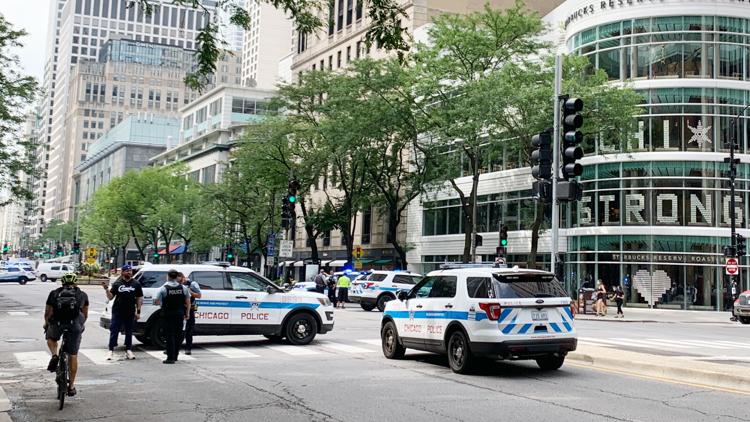 "Nothing to do" with the First Amendment
The mayor said that the early morning spree "had nothing to do" with rights protected by the First Amendment, describing it instead as "brazen and extensive criminal looting and destruction."
"I don't care — I do not care — whatever justification was given for this," she said. "There is no justification for criminal behavior ever. You have no right — no right — to take and destroy the property of others."
Mayor Lightfoot then called out to the State's Attorney and courts to hold the perpetrators accountable.
"Put your best people on this. We have made the case. We have the video. We have the officer testimony," she said. "These people need to be held accountable and not cycled through the system … No one wants to hold people in jail because they are poor. But people who engage in this kind of criminal activity, they need to be held accountable, and we can't do it alone. We need the prosecution and we need the courts to step up and do their part as well."
According to Superintendent Brown, the suspect who originally shot at police in Englewood "is a 20-year-old man with four previous arrests for charges including burglary, child endangerment, and domestic battery."