When not battling blazes,
firefighters at Engine Co. 13
work their culinary skills
Besides saving lives, the members of the Chicago Fire Department's Engine Co. 13 observe another great American tradition: They try to always eat together.
"If one of the trucks is out on a call, we'll all wait," said Capt. Chuck Kinnerk, a 20-year veteran who leads one of three teams that rotate in 24-hour shifts at 259 N. Columbus Dr. "We got a nice little view outside and, you know, we all gather for lunch and dinner."
The dining area, located in the rear of the fire station, includes a long rectangular table lined with a dozen chairs, a TV, a pool table, and additional seating to allow for proper distancing. "Everybody spreads out. It's pretty deep back there so, you know, all the little kids have to go to the card table in the back," Kinnerk joked.
ALSO READ: Chicago's Air & Sea Rescue team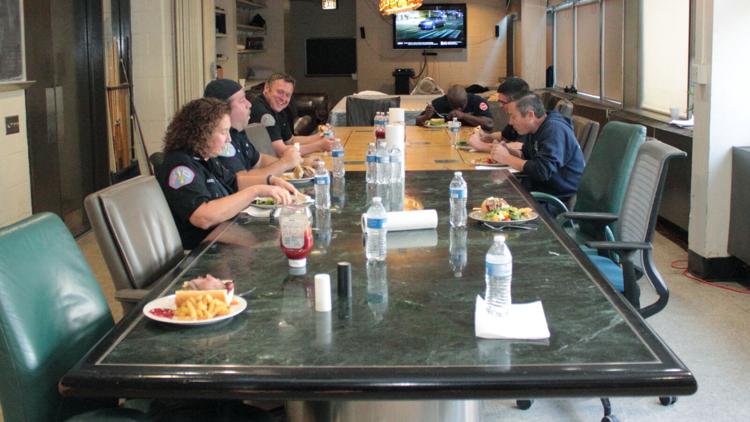 Built in 1981, Engine Co. 13 is a one-story glass and metal structure that also contains Chicago's Air–Sea Rescue unit and Battalion Chief Roman Paluch's office. In addition to the dining area, it is outfitted with a stainless steel kitchen and a garage that houses two fire trucks and an ambulance. A memorial to Firefighter Walter Watroba, who died in the line of duty on Nov. 22, 1976, stands near the entrance on Columbus Dr.
Being dedicated to emergencies occasionally prevents everyone from eating together, but when they do, Kinnerk estimated "it's usually about 17 people."
Firefighter Rob Parks does most of the cooking, but he was on furlough for a few weeks in September. The next choice was Firefighter Steve "Norm" Norman, a culinary school graduate whose "go-to" is the shrimp po'boy sandwich with homemade Remoulade sauce. But with Norm on driver duty, the company turned to Mike Stelmach, who began his firefighting career on the same day he arrived at the station, March 1, 2019.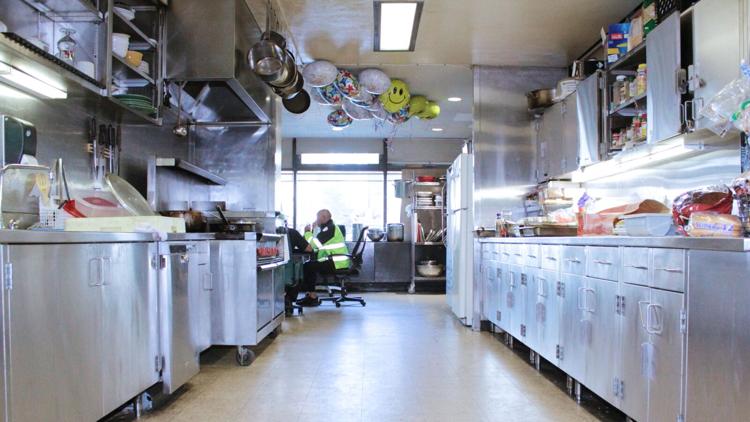 According to Kinnerk, Stelmach would be the point person in "a group effort" with "four or five people" helping to ease the burden.
But on the afternoon of September 10, Stehlmach said, "I got forced to cook." He was in the kitchen mixing batter for cornbread casserole with Serrano peppers. A handful of smiling coworkers were there to lend a hand by, among other things, giving him a hard time. 
"It just goes back to–you're a family," said Paluch, a 30-year veteran who oversees four firehouses and the department's fire boat. "You're together. You take care of each other. You goof around. You joke and you enjoy the meal together."
ALSO READ: Honoring Firefighter Walter Watroba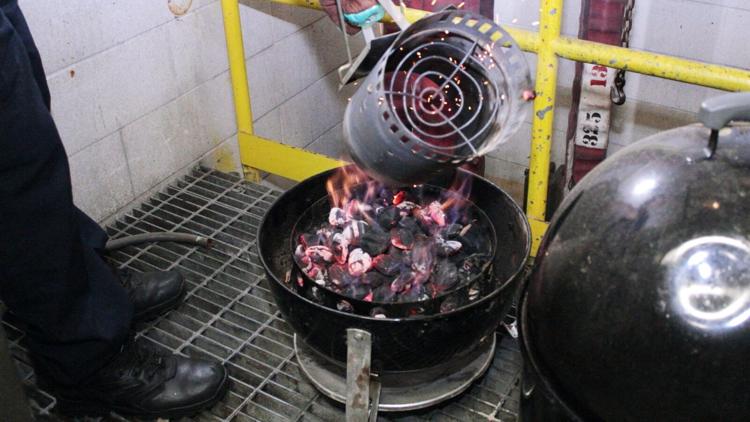 Preparation that day began at 5:30 a.m., when Firefighter Mike Grabarek arrived with two ten-pound beef briskets he had purchased from R. Whittingham & Sons Meat Co., a butcher shop on 127th St. in Alsip.
"A bunch of us came in early and got the smoker going," he said. "We rubbed a dry sweet seasoning over one of the briskets. Then we rubbed another spicy dry seasoning over the other brisket. We threw the meat on the smoker at about 6 o'clock this morning."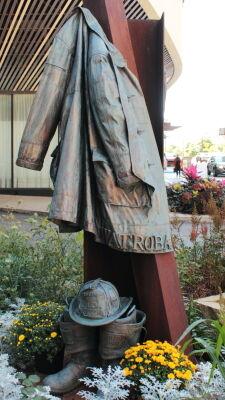 The smoker is a waist-high, oblong apparatus that looks like a giant black metal pill. It is stored in a well-ventilated utility room connected to the main garage.
There are three compartments inside the smoker. The top one holds a grill for the meat. The middle section is a longish tube. The bottom is a bowl that stores the source of the smoke — on this occasion, smoldering charcoal briquettes and, once they begin smoking, apple wood chips.
While Grabarek seasoned the briskets, Stelmach placed the first load of briquettes into a hand-held metal container called a chimney and heated them up on the stove. He chose this method because the group seemed to agree that lighter fluid should not be used with charcoal. "It leaves a bad little aftertaste," Kinnerk said.
After allowing the briskets to marinate, Grabarek put them on the grill and kept the temperature of the smoke close to 275 degrees. "USDA minimum temperature is 145 degrees," he said. "If you want it to the chef's temperature, it would be anywhere from 190 to 205."
From there, it took 12 to 15 hours to cook. "Low and slow," he said.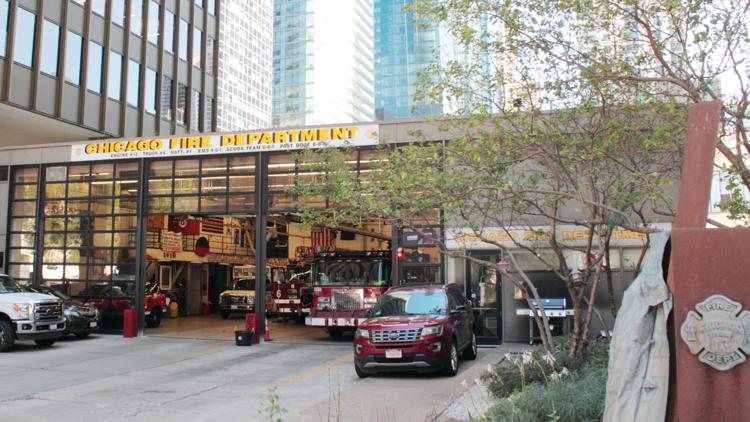 Somewhere around the 12-hour mark, Stelmach made the cornbread casserole.
"It's one and one and one of everything," he said. "One box of JIFFY (Cornbread Mix), one can of whole kernel corn, and one can of cream corn. Then chop the peppers real fine and throw them in."
The dish is a hybrid of a recipe for JIFFY Spoon Bread Casserole that Stelmach had found online and modified by adding Serrano and Jalapeño peppers "to make it spicy." It is also a departure from the Polish food that he is known for cooking.
"You have one person whose specialty is Italian. Another is Mexican. Some people bring in their own recipes," Kinnerk said. "I learned a lot about cooking at home from recipes that I learned in the firehouse."
When it was time to eat, Stelmach shredded the spicy briskets and sliced the sweet one.
"I tried a little of both," said Engineer Daniel Baumgartner, who was a Chicago police officer before becoming a firefighter 12 years ago. "They were delicious."
Like the preparation, the cleanup was a group project as well.
"Everybody tries to play a part and then do something to help get it done faster," Baumgartner said. "Many hands make light work."