The world looks different these days. Our homes have taken on a new meaning: My home has become my workplace, home-school for the kids, fitness studio, and hair salon. Just ask my husband, who is now our kids' stylist!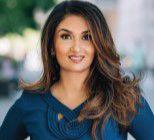 This adjustment to the "new normal" gives us an opportunity to refocus on what matters the most: gratitude, those we love, and the things that bring us joy, both big and small.
I am grateful for the people who support us on a daily basis. My condo building's door staff have always impressed me with their professionalism and kindness. During this stay-at-home mandate, they have surpassed expectations to keep residents comfortable. From changing their daily procedures to being as contact-free as possible,to checking in on our senior neighbors, they are essential workers keeping us secure, positive and healthy.
The sense of community at Lakeshore East is what I love most about this neighborhood. Fellowship with our neighbors and local businesses is more important now than ever before.
Let's support one another. It can be as simple as a check-in phone call to a friend or neighbor who lives alone. While we eagerly wait for our favorite Chicago restaurants to reopen, we can support local eateries by ordering takeout or purchasing gift cards.
An experience that brings me joy is the nightly Lakeshore East "Shout-Out" that honors our first responders and essential workers. I have a front-and-center view of this celebration from my living room. The squad cars, fire trucks with sirens blazing, laser light show on the surrounding buildings and people cheering their support is a reminder that we are not alone, and together we are stronger.
Sheetal Balani is a senior broker at Compass, with over 15 years experience in residential real estate. Contact her at (312) 863-9555 or Sheetal.Balani@Compass.com.
Top image: sofa from pngtree.com.