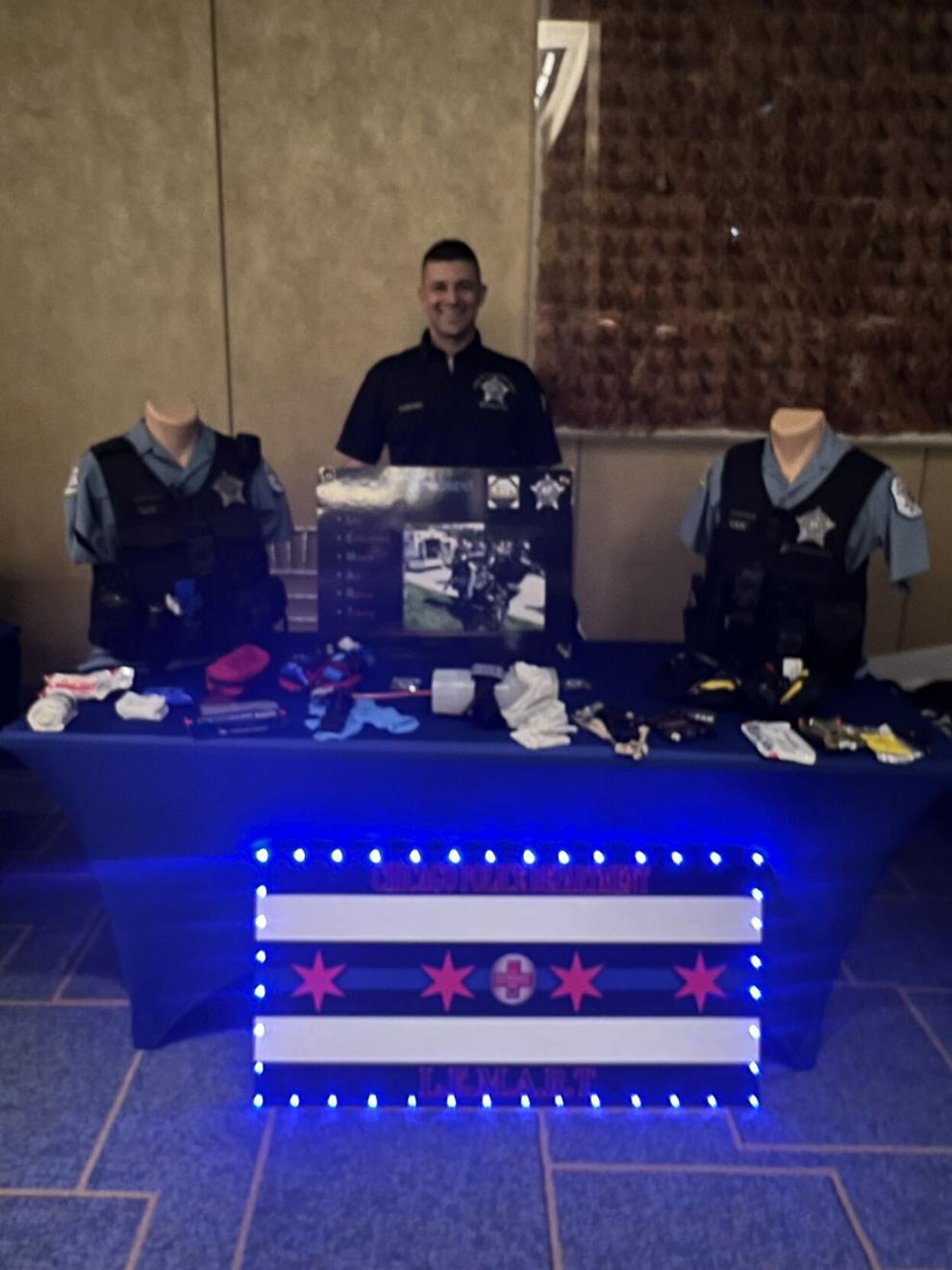 The Chicago Police Foundation hosted its 7th annual True Blue Event at the Hyatt Regency November 15. A sell-out crowd turned out to support this nonprofit that helps to improve the city of Chicago's public safety by funding programs that supplement resources and equipment available to the Chicago Police Department (CPD). Officers in attendance shared information about the work they do including Officer Orlando who was there with his police dog Rich, members of the bomb squad who demonstrated the use of their heavy equipment as well as a robotic dog and others.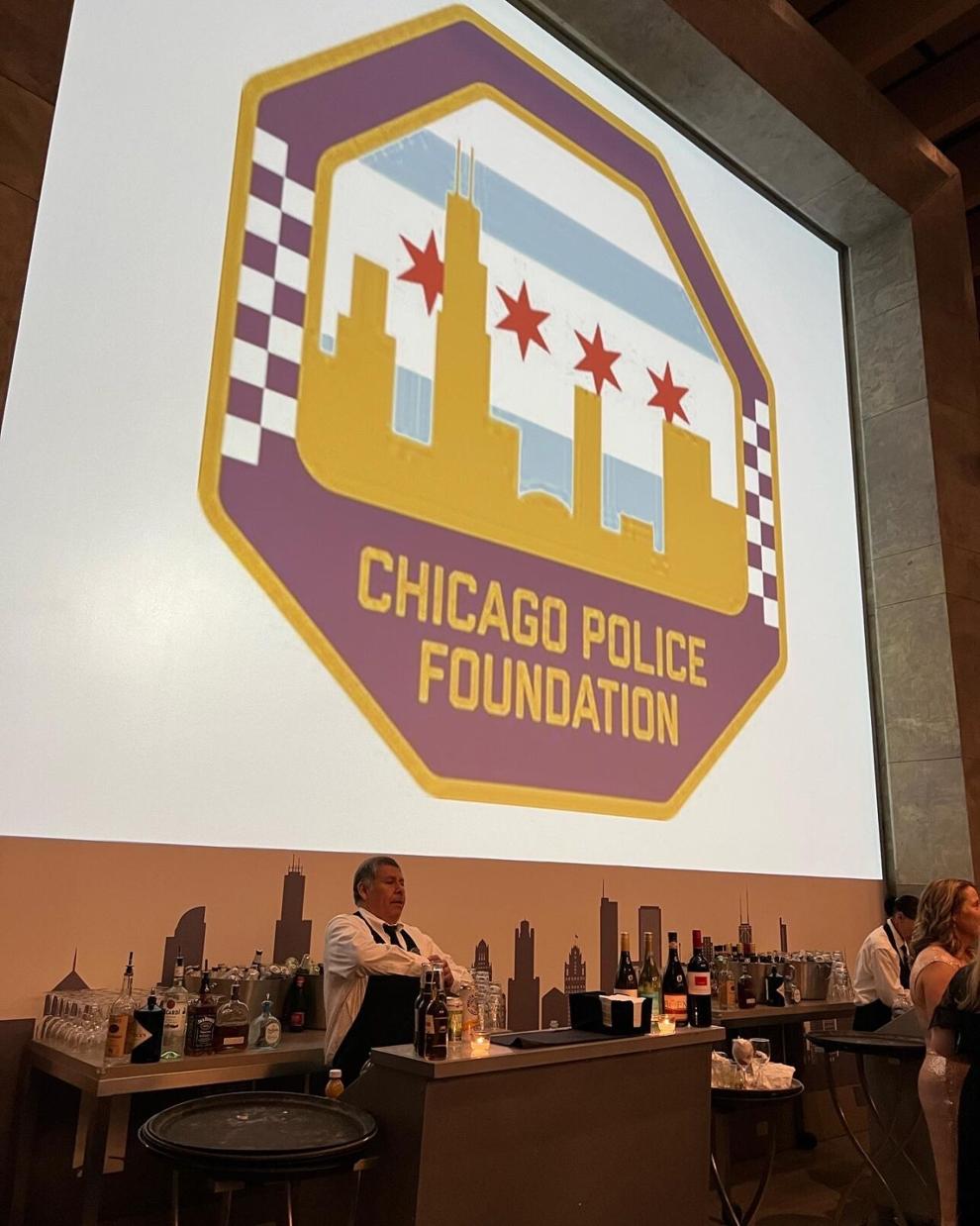 The room was decorated by Tamar Productions in shades of blue in honor of the police department's colors. Two speakers stood out who inspired the room and made everyone feel proud to be Chicagoans. Here are their speeches in their entirety from Rick Simon, Chicago Police Foundation Board Chair, and Chicago Police Superintendent David O. Brown.  Mary Ann Rose, as CPF executive director, coordinated and planned the event to perfection.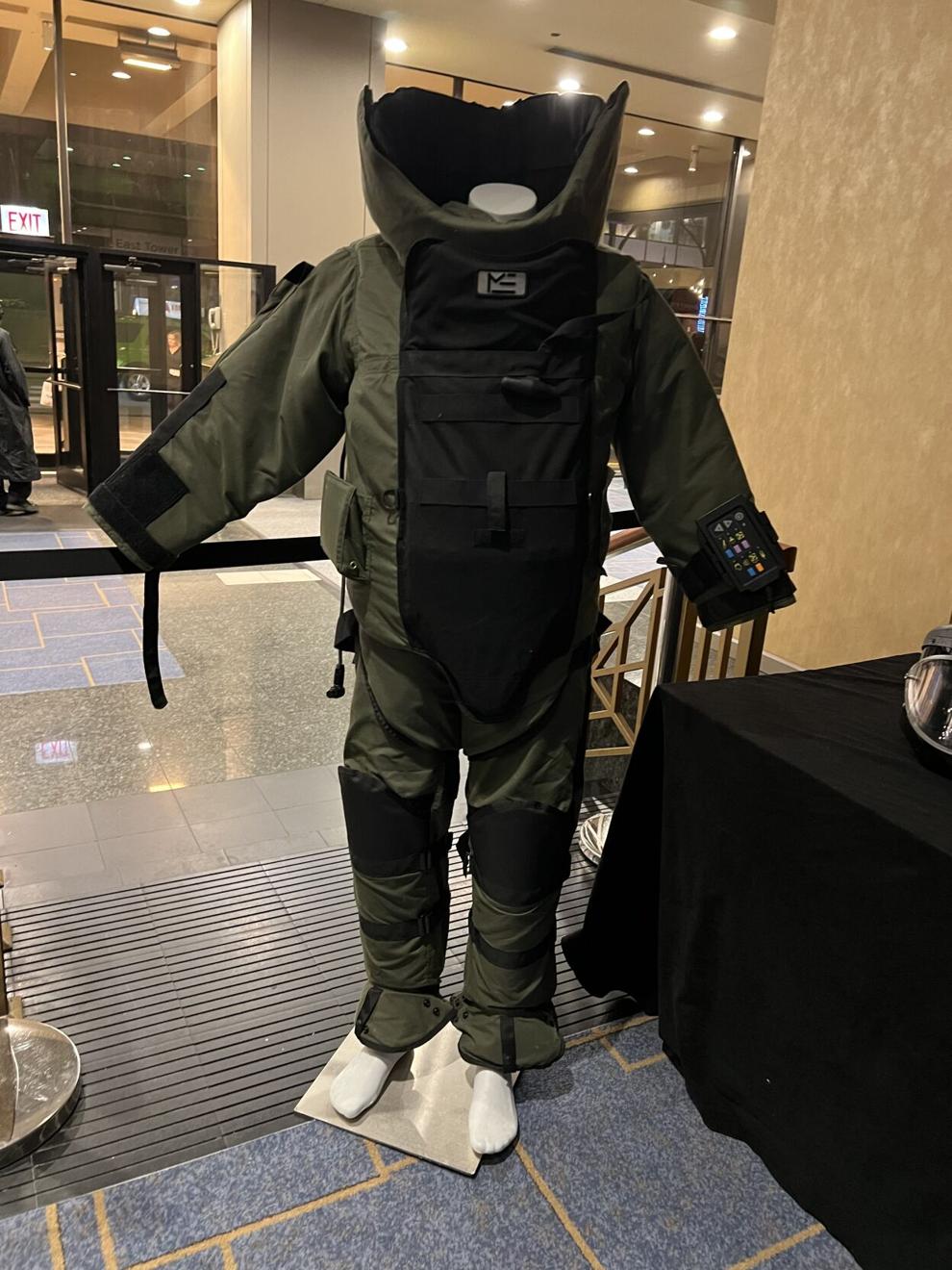 Rick Simon, Chicago Police Foundation Board Chair addressed the crowd following Father Dan Brandt's invocation and a presentation of the colors: "That man [Father Dan Brandt] goes out and picks up the lives of people. His evenings would start sometimes with a phone call late at night saying, "Father we need your service." That man goes out and picks up the lives of people. And this dovetails with what I want to say tonight.  
There's something about Mary Ann Rose, our executive director. She's had a life of service that started way back before her work with the Chicago Police Department. Way back when, in her misspent youth, she was in the entertainment field. She travelled with Bob Hope in the USO Tours, entertaining troops in the theater of combat. Anyone who can do that, put on a helmet and a flak jacket and get on a helicopter as a civilian and do this as a young lady, takes a lot of guts. Thank you, Mary Ann.
To our guests tonight, thank you for being here and for the paddle you are about to raise. What is the Chicago Police Foundation? There is a Chicago Police Memorial Foundation and Father Dan blessed the wall that has 595 names on it. The CPMF built a park which is across from Soldier Field and there is a place of honor for the fallen. The CPMF is separate from the CPF. CPMF serves the families of the fallen and the catastrophically injured which is very noble. They have been around for about 12 years longer than CPF and get a lot of funding through the CPD members themselves with payroll deductions as well as support from corporations, communities, and others-- who have donated millions to this organization.
What do we do? We serve those who serve us. Those who walk the thin blue line every day. If you have the opportunity, go to the park across the street from Soldier Field and, in the park, you will see a blue line in tile about half a block long. That's what every police officer walks every night when they go out to work—they walk that thin blue line that separates you from those who want to do you harm. The police officer that walks that line makes sure you don't come to harm.
So, I say to you, what will we do for them? Well, some of the things we've accomplished and funded are things that make life easier, we've brought in all-terrain vehicles, equipment for the mounted units, and a number of other creature comforts that the city can't provide. We were on CBS at Camp Pendleton and Camp Lejeune doing very successful recruiting missions because we are woefully short of police officers. It's not a secret. And what better candidates? I spell military M-A-R-I-N-E. It's a great pipeline for us to find recruits.
We've funded things to make cops feel the warmth of the community like lunch. Guaranteed Rate bought lunch for all the police officers—numbering about 6000. In the lunch boxes was a note that thanked them for their service, it was like a pound of lunch and ten pounds of dignity. What a morale booster, right at the height of civil unrest.
Other things we do for creature comforts is to provide supplies during times of civil unrest when we have to deploy 1000 officers and they have no food or water. We give seed money for mental health, and we donated a six-figure fund to the National Association of Mental Health to help our police officers when they need it.
A LEMART [Law Enforcement Medical and Rescue Training] kit, that I'm holding here, costs about $100 and we've supplied thousands of these life-saving pieces of equipment to police officers. By supplying these, not only are we saving citizens, but the officers are looked at someone who is a savior, partner, and friend.
We're working with family foundations for grants and are seeing some success in bringing the kids and cops closer together. Tonight, we're launching a scholarship program which will be named in honor of  the late officer Ella French, The Ella French Scholarship Foundation. Thank you very much for your time." ---Rick Simon, Chairman of the Chicago Police Foundation Board.
David O. Brown, Chicago Police Department Superintendent, addressed the crowd with this inspiring speech: "Let me go off script just a little bit—it just warms my heart to see people like you who are okay in supporting the police. Now, why I say that is because this has not been the case for far too long. Last couple of years has been the most difficult and most dangerous time to be the police. The forces of hypercriticism have been very discouraging for people who risk their lives every day for strangers so the encouragement that you give is no small thing. So I want to say thank you. I also want to recognize Mary Ann Rose, her dedicated work not only helps Chicago's brave men and women but also impacts so many communities in the city. We are all committed to being a better Chicago—there are difficult, complex challenges not just here but everywhere in the country. What you do holds together the fabric of  our democracy. Policing is what happens to ensure that everyone has a fair chance to have a safe neighborhood, a place that you go to work and enjoy the fruits of your labors safely. Is it imperfect? Yes, officers have to make split second decisions many times to save lives. But often, not much appreciation for what they do.
Here's some of the things you've done to help our officers—your foundation have stepped up to provide LEMART kits, which are tourniquets that have saved so many lives in this city. BTW, more officers have been shot or shot at in this city's last 2 ½ years than ever in the history of the police department. We are grateful to each and every one of you because your funds have helped us not only save lives but have helped our officers return home safely to their families.
The foundation also brings civic and community leaders together. So you are a model for others to follow. Tonight, every table is full so you're setting an example that says it's okay to support the police. The men and women of the CPD are focused in the most challenging neighborhoods in this city who need us. Many times, our officers are the only functioning adult mentor for these young people so they can be on the straight and narrow. So, what you're doing is not only saving lives, you're transforming lives, helping us to build trust in the communities.
I'll close with this. There's a great quote I love by Maya Angelou for people like you, people who do great things that often go unnoticed—like the police. "People don't remember what you say or what you do as much as people remember how you make them feel." And YOU have made Chicago Police Officers feel appreciated. You have. You help us build trust when we risk our lives going into some of the toughest neighborhoods. You make us feel like our jobs are not in vain. You have made us feel like the loud voices are not the majority, that YOU are the majority and are the examples of what society really feels about us, and that they appreciate our sacrifice."  
(To learn more and to support The Chicago Police Foundation, please visit: www.chicagopolicefoundation.org )  
You might also like: True Blue events supports safety programs for CPD.