Chicago's 'L' is as quintessential to the city's identity as the skyline that graces our shores. Since 1892, it's been a living chronicle of our city's story, bearing witness to our evolution, our triumphs, and our hardships.
Yet, as integral as it is, the 'L' is not without its flaws. It's a rough-edged gem that sometimes feels more like an eccentric relative—the kind who hasn't quite figured out the concept of timekeeping or self care. It's an adventure that can take you from the vibrant murals of Pilsen to the bustling streets of Andersonville, but occasionally leaves you standing on a platform, peering down empty tracks for signs of hope.
I've had my fair share of adventures on our capricious transit system. I grew up taking the Red Line to Cubs games, transfixed by the sprawling city as it whipped by the windows. As a ten-year-old, nothing was more exciting than boarding a CTA train. Now, nealry 25 years later, the feeling has degraded to pure dread. There have been times this year where my daily trip on the Blue Line, from my River West condo to the Loop, felt less like a commute and more like a pilgrimage. Google Maps promises a 20-minute journey, yet there were days when I found myself caught in a limbo of delays and overcrowding that turned those 20 minutes into an hour.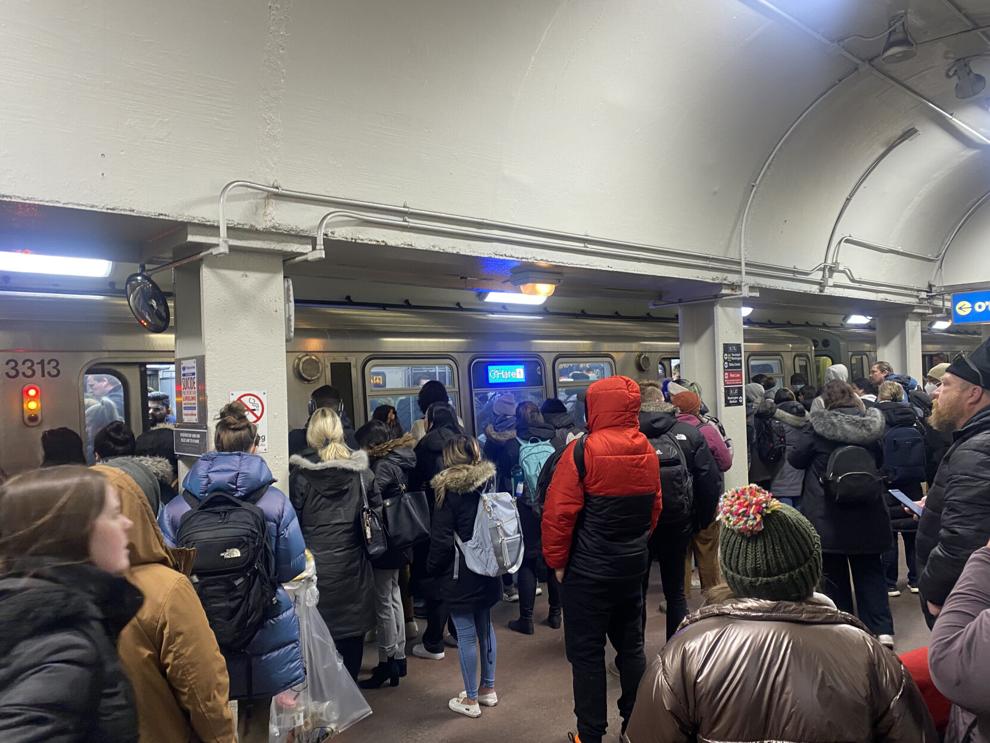 I've stood on platforms, watching a train approach, their windows revealing a scene that would make bees call their hives roomy. Humanity, packed so tight it was as if the carriage had inhaled and forgotten to exhale, frustrated faces pressed against the glass. The sight was enough to make you want to don hiking boots and make a go of it on foot, even in the biting Chicago winter.
Our city's guests, bound for the airport, must look upon this spectacle and wonder, "What kind of dysfunctional city is this?" The truth is, it's a city that's trying. Trying to balance the demands of a bustling metropolis with an outdated, ill-equipped system.
Ridership has bounced back from the pandemic, with the 'L' now serving about 800,000 riders per day. Yet, this resurgence has illuminated fresh challenges. The 'L', once celebrated as a marvel of urban transit, now wears labels like "smelly," "unreliable," and "unsafe." Perception of safety on the CTA has hit rock bottom, further complicating staffing and budget issues.
So, how do we improve the 'L', this vital artery of our city's life? It starts with reliability: increasing the frequency of trains, investing in infrastructure upgrades to reduce delays, and implementing better maintenance programs to keep our transit system running smoothly. We need to know that when we step onto that platform, our journey won't be an unpredictable game of chance.
Safety must also be a priority. Enhancing security measures, such as increasing the presence of law enforcement officers and implementing advanced surveillance systems, will reassure riders that the 'L' is a secure way to navigate our city. The CTA also needs more than just engineers and conductors; it needs social workers on the platforms. It needs compassionate individuals to connect with unstable riders and link them to essential services, including mental healthcare.
As long as we're making improvements, let's not stop at the practical. Let's add a touch of the culture that makes our city so unique by having local celebrities' record stop announcements. Imagine Chance the Rapper telling you, "Next stop: Fullerton."
Transportation is a critical issue for Chicago, perhaps the most significant one we'll face in the coming years. The 'L' will play a crucial role in that narrative, carrying the weight of our city's aspirations on its steel shoulders. And so, we forge ahead. Navigating the trials and triumphs, the delays and detours, always moving, always enduring. Here's to the 'L', our stalwart companion on this journey.