Sarah Spain has risen to the top of a male-dominated industry by wielding an abundance of knowledge, humor, and righteousness. Besides writing for espnW and co-hosting Spain and Fitz on national ESPN Radio, she hosts the podcast, That's What She Said, and makes frequent appearances as a guest on Around the Horn and Highly Questionable.
Words like "game-changer," "trailblazer," and "disruptor" can be used to describe her success. But the truth is that Sarah Spain has earned it all by being Sarah Spain, a Cornell graduate and track team co-captain from Lake Forest who gets paid to be herself.
At least, that's the short version. For the longer one, read on.
When you were younger, what did you want to be when you grew up?
I wanted to be a cast member on Saturday Night Live, and I still do.
Who do you admire?
My mom for sure. She is a full-time lawyer who could also run a 5K and weave a quilt and bake and do all those things. Michael Jordan is my biggest sports inspiration.
Your father and sister are also lawyers. How has that shaped your personality?
We had a very healthy respect for logic and facts in our house. My parents were really into thoughtful media, so I grew up being really curious and intellectual. Probably because of that whole vibe, I've always been very intrigued by debate. Not in a litigious way so much as in asking questions and finding out why. I had a few occasions in my youth when I petitioned to not do what the authorities were saying, including not attending every physical education class in high school because I was on three varsity sports, was getting all the P.E. requirements from those and didn't have enough time in the day for band, chorus and my academic classes. I used Illinois state law to write up why it was not necessary. Eventually, the school said you can take it as sort of a pass/fail.
You're a Chicagoan: Cubs or Sox?
Oh, Cubs, for sure.
I know someone who celebrated the White Sox 2005 World Series victory by driving through Wrigleyville and taunting Cubs fans. How excellent is that?
That's just so dumb. You know what I mean? I'm much more interested in being excited about my team than in taking out the other one. I was living in LA when the White Sox won the series, but I still felt this tie to Chicago so I was happy for them. When I came back and went to Crosstown Classics, I got it: it's not really about not liking the other team, it's about the opposing team's fans. [laughs] But I've never disliked the White Sox.
What are your predictions for the Cubs and Sox?
The Cubs and Sox are two of the best teams out there. There is a chance for the first Chicago crosstown World Series since 1906. That would be insane. The Cubs have a lot of holes, so I don't know if they're destined for postseason success. The White Sox look like a team on a mission. (Ed. note: the original interview was conducted on Sept. 17, before the start of the MLB playoffs). 
What about the Bears?
With the Bears in Week 2, it was a tale of two halves. You watch that final quarter and they score three touchdowns. It's also about the Lions being able to blow it. The division's pretty weak. No other team is so great as to not have a chance, so it's hard to get a gauge. I think somewhere around 9-7 is likely.
How do you stay excited about a team after it has been eliminated from postseason play?
It's my job. From the end of 2008, when I moved back to Chicago, until 2014 or so, I was mostly doing Chicago-based sports. Six or seven years ago, I started doing only national radio on Around the Horn. That switch made it much more difficult to keep up with Chicago teams, especially when they're not very good. We're not talking about teams nationally if they suck. I'll only defend Chicago teams when they deserve it, so when I take shots at Knicks fans I can point to my criticism of the Bulls, too.
How has your work life been affected by the pandemic?
I've been doing a lot of work from my house. Every night I have Spain & Fitz on national radio, a weekly podcast, two days of Around the Horn, and Highly Questionable tapes late in the morning. I'll be co-hosting the espnW Summit next month, so there's that kind of prep. In between, there are meetings and calls and I've been doing virtual yoga and working with a physical therapist via Zoom. I've been lucky enough to get to go to some Cubs games because I'm friends with someone who owns one of the rooftops near Wrigley. It's been 20 people in a space that holds 250. That's been interesting and different, but better than no games at all!
Which parts of your media career came naturally and which were challenging?
I never really envisioned doing radio, and local sports radio is not really inclusive. It's the last bastion of the old boys club. It's all white dudes, and when you listen, it doesn't feel like you're invited or wanted for that job. ESPN 1000 heard me on a WGN show based off of the Chicago Now website and hired me to do sports updates. The more immersed I got into sports broadcasting, the more I learned about details. You don't say, "Cubs won three to zero;" you say, "the Cubs won three to nothing."
I think TV came pretty quickly. I had done some for Chicago's Best, but when ESPN gave me a shot, it was far from perfect. The first studio show I did was filling in for Jemele Hill on Numbers Never Lie (April 2014). I didn't know which camera to look at, but by day two, I was using my finger and saying come closer. I called out the East Coast bias of one of the topics, and it ended up on Deadspin.
Naturally, fearlessness, but in a playful way, came out. I did the Second City conservatory in LA, and that helped. Confidence is so big in this business. It is so easy to have a flub and own it; but if you're insecure, it's much more difficult. Your face gets hot.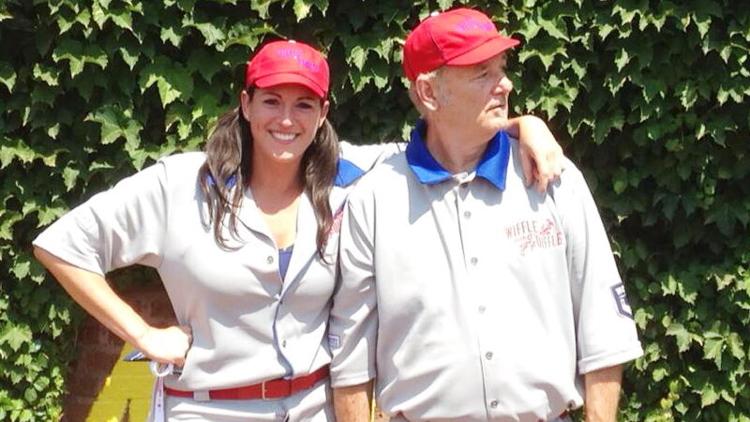 When did you feel confident enough to address topics outside of sports?
When people would crack jokes about women or talk about how hot some female athlete is, I would turn on my microphone and talk them down. That was a pivotal point for me. Do I want to be the person that guys like to grab a beer with or do I want to be heard and help other women get in the industry? Equality drives me the most in terms of what I talk about: gender, orientation, race. Those issues come up in games, and sports is the ultimate unifier.
What are your thoughts on political expressions in professional sports?
There's been politics in sports forever. I understand that occasionally people feel it's too much. Some say I want to put my TV on and I want it to be mindless. But no matter how much respect people of color have on the field, they still have to walk off it as a person of color and deal with all that comes with that.
How have you evolved since you became a media personality?
I feel much more confident in giving my opinion and rocking the boat and not being everyone's favorite. I'm much more forward about clearing a path for other women. The confidence that you get from being validated by fans is comfortable, but the "imposter syndrome" occurs to the greatest and most accomplished in the industry, no matter how much you feel that you've earned your spot.
What's "imposter syndrome"?
The constant feeling that you are inadequate and somehow, sometime, you're going to be figured out. Maya Angelou kept thinking, "they're going to find me out on this one," when she wrote her second book.
How has the industry's treatment of women evolved since you became part of it?
The ceiling has gotten much higher, but the basement has remained the same. Women can do play-by-play and call games, but there is still disrespect and harassment and a belief that they're not there for the right reasons. In a lot of ways, I know it hasn't "gotten better." Thankfully, the conversations are beginning to be had, and the "boys-will-be-boys" thing is not really happening any more.
What will make it better?
It involves a consistent calling out. When people ask, "why does x or y exist in sports," I always say, "because it exists in society." Why don't people respect female athletes? It's because we've been told not to. It goes back centuries.
What are the most pervasive microaggressions that men inadvertently commit?
Making everything about appearance, even when intending to be kind. I've heard people say, "this person just left her job as a sideline reporter, and you're pretty enough to do that." There's also a condescension and a sort of infantilizing of women under the guise of "taking you under my wing" — it strips away credit for any earned expertise. They're not necessarily doing it on purpose. And if a man carries himself in a certain way, it means he is deserving of respect; but if a woman acts the same way, she's considered bitchy. I should be respected, but I don't want to be considered not easy to work with.
What makes Colin Kaepernick a great quarterback?
There were plenty who clung to the idea that he just wasn't good any more, despite all the statistics. But the absurdity of some of the people who ended up getting called in to play became indefensible. He was a starting quarterback in the Super Bowl. Had the NFL handled that situation correctly, years of what we're dealing with — with the president getting involved, with people saying I don't watch anymore because of the way they treated him or because of what he did — if they had listened to what he originally said instead of spinning it into the flag or whatever, if they had not been so disingenuous, it would have been over.
Why do college athletes deserve to get paid?
They're supporting a billion-dollar industry. We monetize their talents for all the people who aren't them. Every other student at the school pursuing anything can get paid. Predominantly Black athletes are driving the funds that support the experience for the non revenue athletes who get more of an education and don't have to skip classes to practice. Name, image, and likeness is a massive step forward. (Last year, the NCAA Board of Governors voted unanimously to allow college athletes to profit from their names, images, and likenesses.)
How can people become more familiar with and excited about female sports?
By understanding the stakes, the stats, and the stars. If you learn the stakes — do they always make the playoffs or do they never make the playoffs? — it's a much bigger deal. The Chicago Red Stars have the longest running playoff streak in women's professional soccer. That's exciting. Also, the stats: is it a sixteen-game season or are there 161 games? Then there are the stars. We get into curling when the Olympics come around by learning about the players: they're an orphan from Alaska, or whatever.
Along those lines, how do you learn how to count the number of flips and twists that Simone Biles completes in midair? 
I cannot do it. I wait until someone explains it. But it's always amazing.