The end of a summer that never really happened is approaching. Although it passed without a lot of fanfare, many Chicagoans are determined to make the most of the dog days before nodding into autumn.  
Streeterville resident Fred Gipson was preparing to ride to a Tinley Park motorcycle rally when he paused to reflect on the seasons. As owner-operator of an 18-wheeler, he has spent much of the summer transporting automobiles to destinations in the Midwest. Orders "slowed down a little bit" due to the pandemic, he said, but there were still enough to make it almost business as usual. 
Gipson's bluish-tan 2017 Harley Davidson Road Glide boasts a 30-inch rim on the front and a pair of woofers in back. Unencumbered by social-distancing requirements, it helped him add a lot of mileage to one of his favorite summertime activities, riding through downtown. 
When asked about what he wants to achieve before fall, Gipson said, "Just relax and enjoy the rest of the summer with my girl."
Rachel Kijak and Azalia Ellis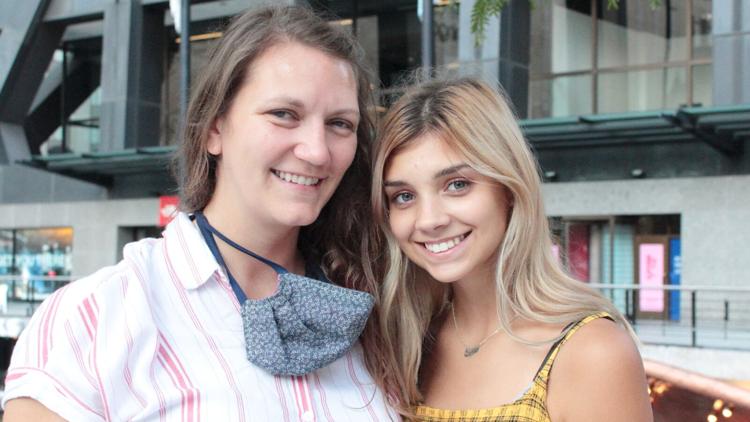 Freshly satisfied by a Margherita pizza from Loconda on Walton Street, Rachel Kijak and her second cousin Azalia Ellis were at the start of a busy weekend. 
"Azalia's here visiting me because her trip to the Netherlands was cancelled," said Kijak, a nurse from Bridgeport. "So this is her getaway for something to do."
Ellis, a high school student from LaCrosse, Wis., was supposed to live with a Dutch family and "experience the culture" through the Rotary International program. Although the trip got nixed, she and Rachel were making up for it with a tour of Chicago.
"We're going to go down to Chinatown to have dinner tonight. We're going to go to the Museum of Science and Industry tomorrow, take a bike tour up through Lincoln Park. We're doing everything," Kijak said. "In a Chicago bucket list, we will complete it (during) our whole weekend here."
"It's a lot different than where I'm from," Ellis said. "So it's nice to see how things are here."
Priya Praveen and Ian Exline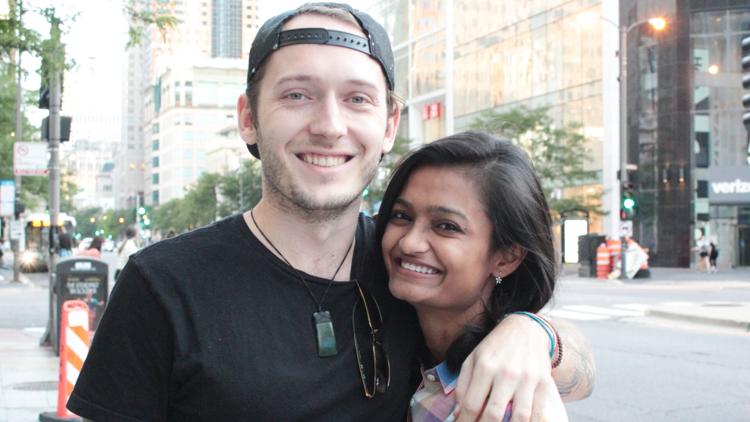 Statistician Priya Praveen and chef Ian Exline have been taking advantage of the local pandemic-busting charm.
"One thing which we started doing this summer was having a lot of picnics," Praveen said. "Very social-distancing picnics with our friends, like one or two: grab a blanket, pack lunch or dinner, and go and sit there and eat." For leisure in the great outdoors, they prefer North Avenue Beach, Lincoln Park, Old Town and Navy Pier.
When it comes to staying in, Exline likes to "mix it up" by learning new tricks of his trade in their Streeterville home. "You've got to try to find ways to keep it interesting, keep yourself busy, pick up new hobbies, start baking bread, make pastries," he said. 
Before the summer ends, they've got their sights on the water. According to Praveen, the activity that would really complete the summer is "going to the beach." Exline agrees. "Actually swimming probably would be the bucket-list item," he said. 
Dominique Johnson and Mykeal Hood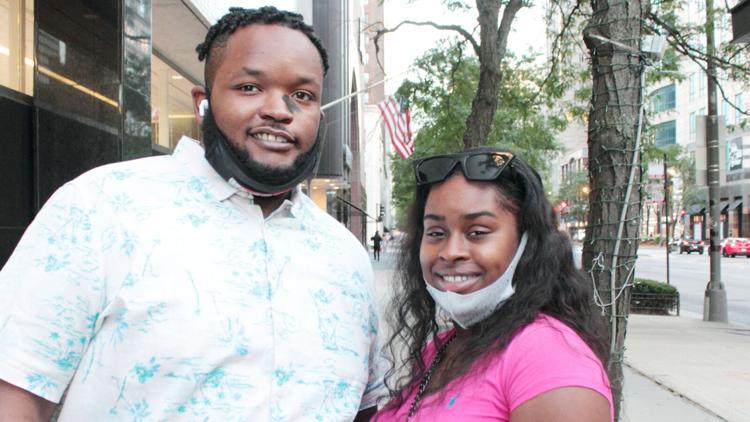 Chicagoans Dominique Johnson and Mykeal Hood were waiting for an Uber on Michigan Avenue after making an impromptu purchase during a casual trip to the Magnificent Mile.
"We bought some hot sauce," said Johnson, who works as a surgical assistant. "It's from Pepper Palace in Water Tower Place."
Both have sacrificed travel for the pandemic. Johnson skipped a trip to Las Vegas and Hood gave up a cruise, but they're determined to make the best of it in Chicago.
"Before the summer ends, I want to go paintballing," said Johnson, who often enjoys the activity with friends and family. "I would like to actually go jet-skiing," said Hood, who works in a hospital in the city. 
Johnathan Howell
Musician Johnathan Howell is chasing an ambitious summer goal. "I just put the video for my song, 'Follow Your Dreams,' on YouTube," he said. "If I can get a million views, that would be great."
A smooth R&B track with a groovy bass line, "Follow Your Dreams" has earned nearly 6,000 views since premiering on Aug. 2.
Howell is an entrepreneur who resides in the Loop, but he prefers composing, recording and playing music. He studied music at the Chicago Conservatory when he was "a little kid" and got his professional start as the drummer for Chicago Express, launching a career that has intersected with artists such as Chaka Khan and Kool & The Gang. On weekends, he likes to set up his guitar and play for the people strolling along the Mag Mile. 
"This is my love," he said. "If they took this away, I don't know what I'd do."
Steve Majerus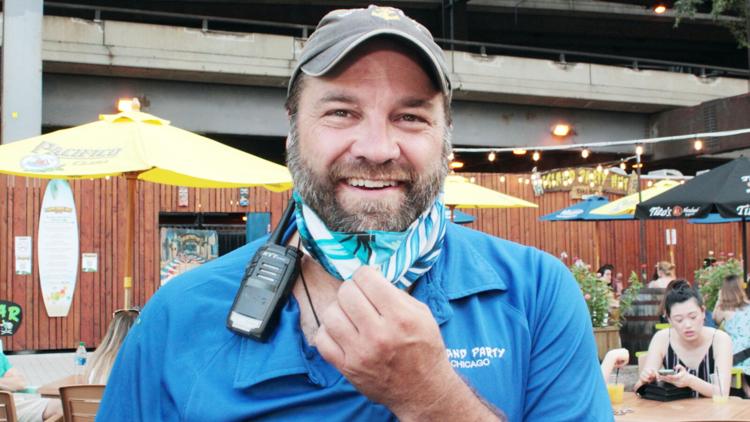 It took a while for Steve Majerus' summer to get rolling. As a partner at Island Party Hut, he kept his establishment closed to comply with city and state pandemic orders. Now that the venue and its fleet of party boats are up and running, he said nearby residents are providing a regular source of relief. "We love having the neighbors come down," he said. 
One of the Party Hut's goals for the summer is all about the fall.  
"We're still looking at having a pumpkin patch," Majerus said. "We're trying to activate October to get people to come down, draw a face on a pumpkin, carve a pumpkin, pick up their pumpkin for the season."
Kion Huggins and Alexandra Kopot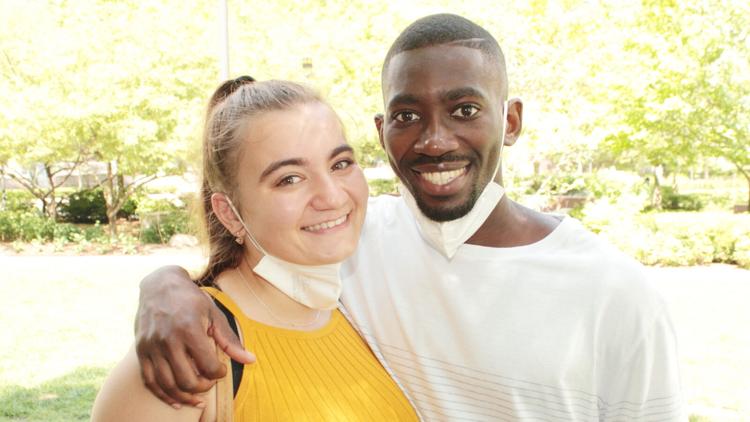 Pembrook Pines, Fla. native Kion Huggins and Ukranian Village resident Alexandra Kopot fulfilled their summer bucket list in mid-August. The Ross University in Barbados medical students wanted to spend a weekend together in Chicago.
"I usually don't make bucket lists," Kopot said. "I just live in the moment. But now that I think about it, my whole goal was to get him to Chicago."
Huggins surprised her to make it happen. "I've been thinking for the last two or three years that I need to visit Chicago," he said. "It surpassed my expectations. I love it so far."
In the Park at Lakeshore East, they were able to have something of a vacation within a vacation. "It's so beautiful and peaceful and family oriented," Kopot said. "It's like you're not in Chicago, but you're in Chicago."
After graduation, Huggins wants to go into cardiology. Kopot plans to become a surgeon. 
"My summer bucket list is complete," she said. "My next one is to have him stay in Chicago."