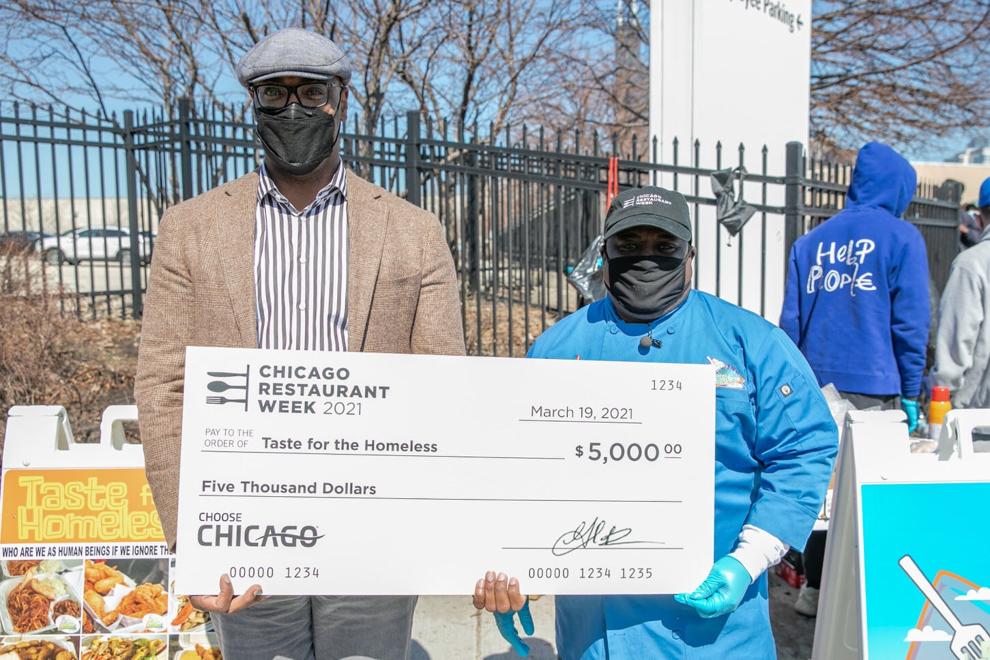 Choose Chicago kicked off Chicago Restaurant Week 2021 by presenting Chef Michael Airhart, founder of Taste for the Homeless, with a $5,000 check. 
The gesture was a novel twist on the annual First Bites Bash, which traditionally includes tastings from participating restaurants. The 17-day dining extravaganza features nearly 300 participating restaurants throughout Chicagoland offering specially priced prix fixe brunch, lunch, and dinner menus. 
"While much has changed this year, it was so important to keep our key traditions alive, including our incredibly popular annual Chicago Restaurant Week," Glenn Eden, Board Chair of Choose Chicago, said in a news release. "Our local restaurant community needs us now more than ever, and it also important to utilize this space to celebrate someone helping those in greatest need."
Airhart serves more than 1,500 meals daily to men, women, and children in need of a warm meal seven days a week at four locations starting at 5 a.m. and has partnered with North Side Housing and Supportive Services for weekly meal-giving and countless fundraising efforts.  
Michael Airhart began his life's work as an 8-year-old in a single-parent apartment in the projects on Chicago's South Side to teach himself how to cook, sew, and provide for his family.
Chef Mike Airhart plans to soon launch a mobile food truck for Chicago's homeless community. 
Taste for the Homeless was chosen by Choose Chicago to be part of the annual Chicago Restaurant Week and First Give. To learn more about Taste For The Homeless and how to support its critical efforts, visit www.tasteforthehomeless.org.
Restaurant Week 2021
Nearly 300 restaurants are participating in Chicago Restaurant Week 2021 (91 first-timers and 35 suburban locales). Prices for brunch and lunch will be $25, and $39 and/or $55 for dinner (excluding beverages, tax, gratuity and delivery). 
Choose Chicago has also announced a new ancillary campaign, "Lunch Is On Us," in collaboration with leading Chicago hotels. Guests staying at one of the participating hotels will receive a $50 value – the equivalent of a Chicago Restaurant Week lunch for two – as part of the campaign. The fund has distributed more than $260,000 to those in need, and fundraising efforts are ongoing.
Visit eatitupchicago.com to make reservations.