Social distancing has pushed people a lot further away from one another than the six-foot recommendation issued by the Center for Disease Control. In-person activities have gone online, but declining entertainment revenues suggest that fans are not buying into the virtual substitutions. So where exactly is all of the extra "me time" going? Downtown residents and visitors explain how they're making isolation productive.
JP and Renee Phillips, Memphis, TN
AT&T Technician JP Phillips and his wife Renee, dental assistant, are essential workers from Memphis, TN. They came to Chicago for a weekend vacation because it was their anniversary and, according to Renee, "I'm a Bears fan." They stopped for a chat on their way to brunch on the Magnificent Mile.
Other than wearing a lot of personal protective equipment, they said that their lives have not change much. "I went to work everyday," said Renee. "PPE all the way," added JP.
Regarding the lack of close personal contact, Renee said, "it didn't really bother me not to have people around, to be honest." Her husband felt the same way. But for Thanksgiving, Renee said they plan to celebrate just like they always have. "I'm most definitely gathering at the table with my family," she said. "I risk COVID for them, so we're going to be at the dinner table."
Erik Greeno, Chicago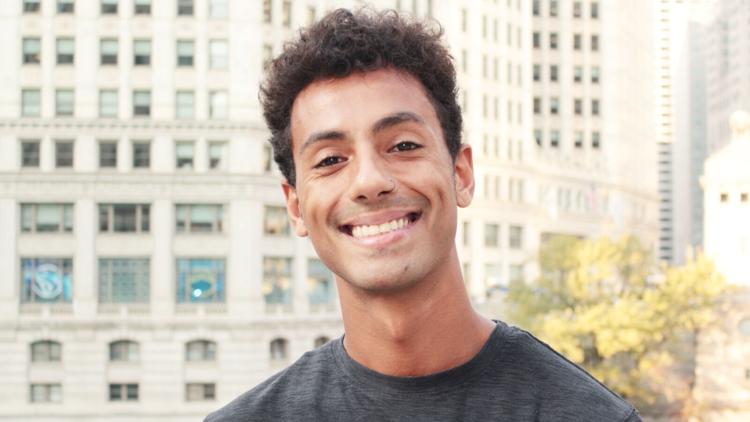 Musician Erik Greeno is a pianist and composer who creates music inspired by the classic and hip-hop genres — "Like, if you took The Cure and fused it with a little Metallica and some NWA with modern-day beats." While preparing to perform near the Michigan Ave. Bridge, he said that the initial shock of the pandemic had "affected the people around me and their energy and how they feel about the world and themselves and their jobs."
"It was kind of disbelief that all of this could happen," he continued. "Regardless of what political side you're on, just the intensity of everything — whether it's like the riots or whether it's like COVID or whatever — just the whole magnitude."
To compensate for the lack of personal contact with others, he has picked up a habit that "a lot of people are encouraged not to do."
"Independent political research," he said. "It sounds corny, but it helps when you have proven documents, you know, public documents or redacted documents from the FBI that people should be seeing. But I will say that my overview and my approach isn't one way or the other. It's just about looking into politicians and their true motives, regardless of which side they're on. Like, who are they, where do they come from, what are they all about, and what are their ulterior motives?"
For Thanksgiving, Greeno intends to be with his family, but he's not sure about doing it in person. "I haven't thought that far," he explained. "Like I said, with everything going on, it's, you know, even the next day sometimes isn't necessarily planned."
Ellen Medeiros, Printers Row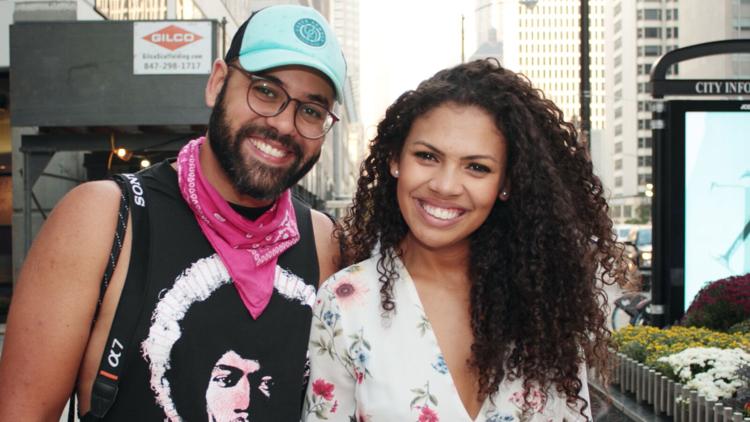 Ellen Medeiros is a student at Midwestern Career College who relocated to Chicago from Brazil in 2016. She and her friend Jose were walking her Golden Retriever, Sage, along Michigan Ave. when she explained how the pandemic has changed her life.
"Once you're used to living in Chicago — and it's a city that is always busy during summer, it's one of the best — being away for every single event that the city is always giving us, it's complicated," she said. "Our life, it's not the same. I don't feel safe on public transportation. I don't feel safe walking in public."
On a positive note, she said that being away from other people has allowed her to improve in "so many ways."
"I think that I learned how to be alone a lot better," she said. "I like reading more. I pay attention to music more. I learned new things, especially cooking a lot of complicated Brazilian dishes." She's also found time to reconnect with an old friend. "Before COVID, I wasn't spending as much time with my dog," she said. "Now he goes everywhere with me."
Jose, a Brazilian-born photographer who lives in California (where "everything's closed)," expressed hope that the isolation will fuel noble inspirations. "Coronavirus is bad, but it's an opportunity to save the world."
For Thanksgiving, they each plan to attend "Friendsgiving" celebrations. "We are going to follow the American culture with the types of food and all that," said Ellen. "But we will put in a little bit of the Brazilian culture."
Kevin Smith, Uptown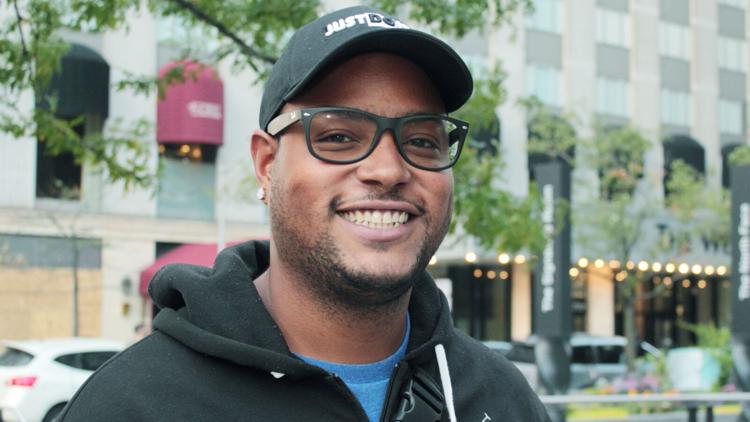 Kevin Smith is a construction worker from Uptown who refuses to let the pandemic interrupt his regular routine. He explained as much on the way home from a trip to the Michigan Ave. Louis Vuitton store. "I really feel like the COVID is bull—," he said. "Everybody gets sick once a year."
Much of his confidence stems from the fact that he contracted the virus last year. "I got sick in November," he said. "There was no COVID then — you had the flu in November." It started with basic symptoms that worsened until he had difficulty breathing, at which point he took the advice of a doctor who told him to drink a lot of water. "A week later, I'm better," he said. "I got sick as hell, but I didn't die."
The speedy recovery did not stop his employer from taking preventative action. "March come, they laid everybody off," he said.
While earning COVID relief funds "on top of" unemployment, Smith continued life as usual and even made a couple trips to California. But he said that he would have preferred to be working instead. He also disagrees with authorities "shutting the whole world down" because the closures are based on a situation that is "fake."
"The people who are dying … they were going to die any damn way," he said. "These masks are not going to save you."
Still, he respects the wishes of people who take the virus seriously. Especially those of his mother, who he "didn't see for a while."
"My opinions are my opinions, but I'm still not going to be around my mom," he said. "I don't want to be all 'now-I-killed-my-mom.' You know what I'm saying?"
Even though he believes that everything is "just weird right now," he said that the family will be together on Thanksgiving. "I'm going to be with my family, man, hell yeah," he said. "We're all going to get around each other. We're all going to, you know, do the normal stuff."
Natalia Holguin and Joshua Hampton, Chicago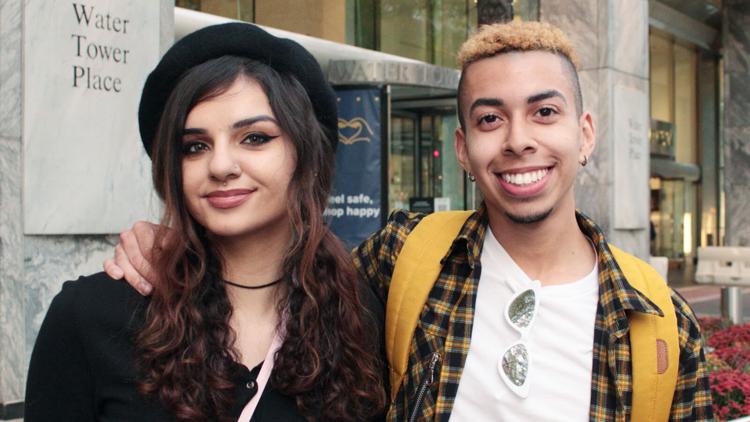 Lack of traditional entertainment has left big holes in the lives of Natalia, who is searching for a job, and Joshua, a sales representative. "We like to go to Lollapalooza, and they were supposed to have Warped Tour again this year, Riot Fest, all that," said Natalia. "I miss the movie theaters," said Joshua.
Natalia prefers to hang out with a "close group of friends and that's it" because "they're safe." Joshua has stayed in touch with friends through "a lot of social media." He's also learned to accept an aspect of the pandemic that has become part of his daily routine. "I've gotten used to wearing the mask. It's attached to my mouth at this point."
Natalia said that she is looking forward to enjoying "a giant apple pie with my family" on Thanksgiving. Joshua, who stays away from meat, said he will most likely "eat, like, macaroni" with "no one else" besides his mom and dad. "Sorry grandma, you're not invited," he said.