Giuseppe Tentori. Every time I say or pen his name, I get visions of him on a Vespa racing down narrow Italian streets, passing streetside trattorie that are serving today's handmade specials. But make no mistake ... Giuseppe might be a native Italian, but he is a true Chicagoan at heart!
If you ask him where his favorite place to be is in Chicago, he smiles and quips back without hesitation, Soldier's Field at a Bears game." When you ask him his favorite season, he responds with "late fall through winter." He has no problem with the 20-below wind chill and finds the city charming and at her best, all dressed up for the season.
"Chicago is an amazing city, so resilient with so many wonderful people that help each other too," he said. "That's why I like to stay in Chicago, I have been here for almost 30 years…it is my home."
His inherent Midwestern work ethic ensured that he would be the top in his field. A student of his trade, he ground away tirelessly, refining not only his craft, but the places he graced with his presence. His focus has earned him Michelin Stars and secured him nine amazing years at Charlie Trotter's, with two of those as the Chef De Cuisine.
He has the respect of his peers, but most importantly, he has won the hearts, minds and palates of the countless Chicago diners he considers family.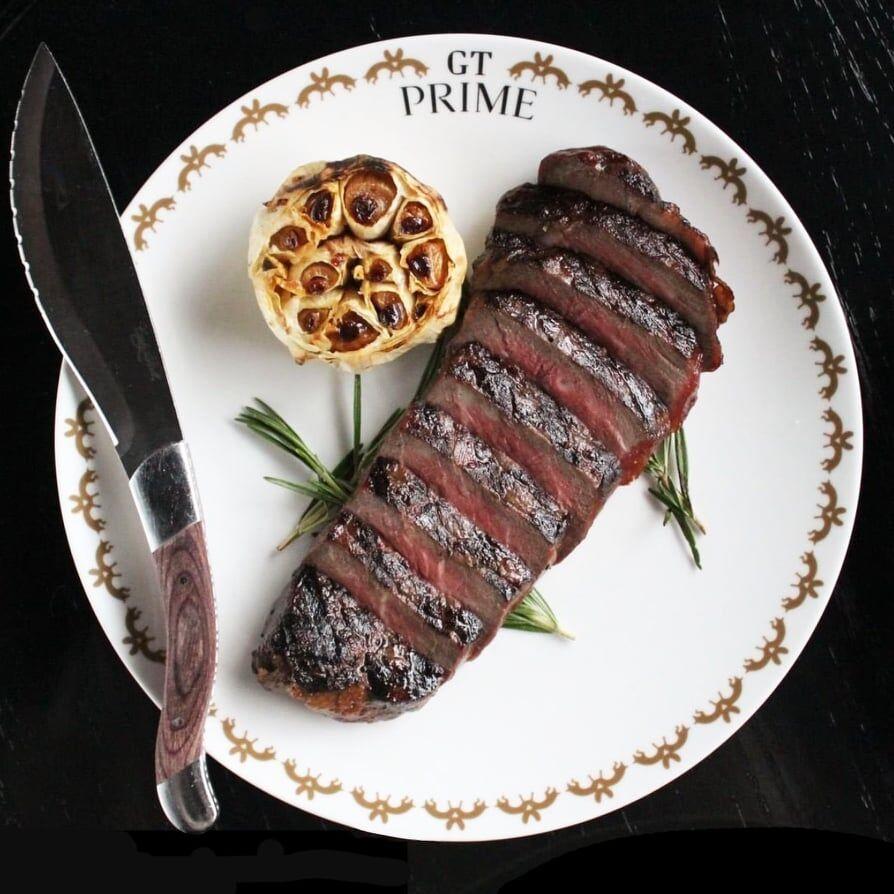 Standing up a restaurant in the City of Chicago is not for the faint of heart, and I am pretty sure GT has the heart of a lion combined with the hubris of a saint. He has stood up two that have great reputations and long-standing tenure: GT Fish & Oyster, a fresh seafood concept that still shucks oysters right in front of you at the bar and GT Prime, the quintessential Chicago Steakhouse.
"Opening a Steakhouse in Chicago has been one of the hardest things for me, harder than fine dining," he said. "People's expectations of a Steakhouse in Chicago are beyond compare. You better bring it and you must remain true to the traditions and preparations Chicagoans expect. They are purists and love clean, unadulterated cuts. Deliver that at the requested temperature, and you will keep your customers very happy."
When asked about the long-term success of GT Fish & Oyster, as well as GT Prime, he regales you with stories about teamwork and camaraderie that give the sense that he would never ask his staff to do anything he was not prepared to do himself.
Typically, that is exactly what you can find him doing: dressed in all black, not to stand out, and pitching in where needed to help the staff prepare for service, as well as mentor a few handpicked employees. GT laments about the good old days of restaurant lifers and the difference between an order taker and a legitimate, bonified server. Serving properly is an artform, something that must be worked at, something that takes education, combined with je ne sais quoi.
During the pandemic, GT had to shut down both restaurants twice, meaning he had to reopen them twice as well. Trust me, the restauranteurs reading this will understand that this is a herculean effort that involves finding staff, ordering inventory, punching up the menu based upon what ingredients are available, managing and mitigating COVID compliancy and keeping customers comfortable and safe.
But GT did not bat an eye when he says he would do it all over again just for that feeling of placing food on a plate and not putting it into a to-go container. You can really tell that GT loves his dining room and the people that fill it. When he talks about his regulars, he does so from the heart.
He does not talk about what they order when they come into the restaurant or what they drove up in, but instead discusses their accomplishments and why he admires them. He describes their involvement in charitable organizations, holding court with their mothers, and how he takes their reservations on his cell phone, even while he is on vacation. BTW, he was talking about a beloved 'Chicago Cubby' and his mom, he's a Cubs fan at heart as well.
While reading this, some of you are skeptical that this guy Giuseppe is so good, so wholesome, and so tied into Chicago and her people. Put GT to the test…make your way out to see him, make a reservation at GT Fish & Oyster or GT Prime, and take in the vibe at both locations. Keep an eye open for GT, and when you see him ask for a second of his time, don't be surprised if he gives you hours instead of seconds. That's just the type of Chicagoan he is.
Shirt off his back or never-ending surprises on the plate, he is warm, giving, and ultra-talented. Truly one of Chicago's finest … Chicago Famous!
Chef Tentori Recommendations:
John Shields – The Smyth
Curtis Duffy – Ever
Tony Priolo – Piccolo Sogno
Gene Kato - Momotaro