For Streeterville resident Anita Balodis, some new feathered friends at the park have become a source of unexpected hope and joy at a challenging time.
When COVID-19 shut everything down in the spring, Balodis, a retired family physician who lives in Lake Point Tower, began taking strolls around Skyline Park, an outdoor garden located on the tower's third floor. The 2.5-acre park was designed by architect Alfred Caldwell and features a pond, native plants and a waterfall.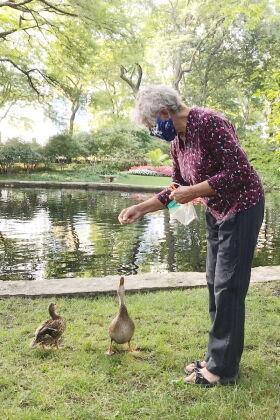 "I started walking around the pond, around the park, and I noticed that a lady duck had landed in our pond and was swimming around," Balodis said. "And then, all of a sudden, I noticed there were two suitors, and they both pursued her."
The female duck chose one of the males as her mate before leaving for two weeks and returning with nine ducklings in tow. One of the ducklings unfortunately disappeared, but Balodis developed a relationship with the others.
"It was so cute," Balodis said. "I started feeding them healthy food, and so they got to know me. Every time they heard me or saw me, they would jump in the pond, swim across and be right next to me."
Five of the ducklings flew away after reaching maturity, and the mother duck and one more duckling eventually followed suit. But the last two ducklings, now grown, have taken up permanent residence at the Skyline Park pond and still greet Balodis during her visits to the park.
"They jump out of the pond and actually follow me," she said.
For Balodis, having the opportunity to walk around the pond and befriend the ducks has been "a life-saver." She continues to focus on her health with regular walks around the neighborhood.
"Being in nature is healing anyway, and I've always recommended all my patients go walking in nature, and nature's been right here," she said. "I'm so lucky to live in Lake Point Tower. It's really saved my life and my mentality."