Chicago is often known as a glitzy and glamorous city, and here to take you around some of the most fabulous places in the Windy City is Brazilian influencer Stefanny Luz. 
Although she has lived around the world and also in Arizona, Stefanny has fallen in love with Chicago and all it has to offer. Becoming an influencer has not only helped her enjoy the finer things in life, but it's also helped her learn so much about herself and finding true happiness. These are lessons she enjoys sharing with her audience. 
Get to know Stefanny in our interview below and follow her on Instagram to keep up with all the exciting places she's exploring — they're sure to be a treat!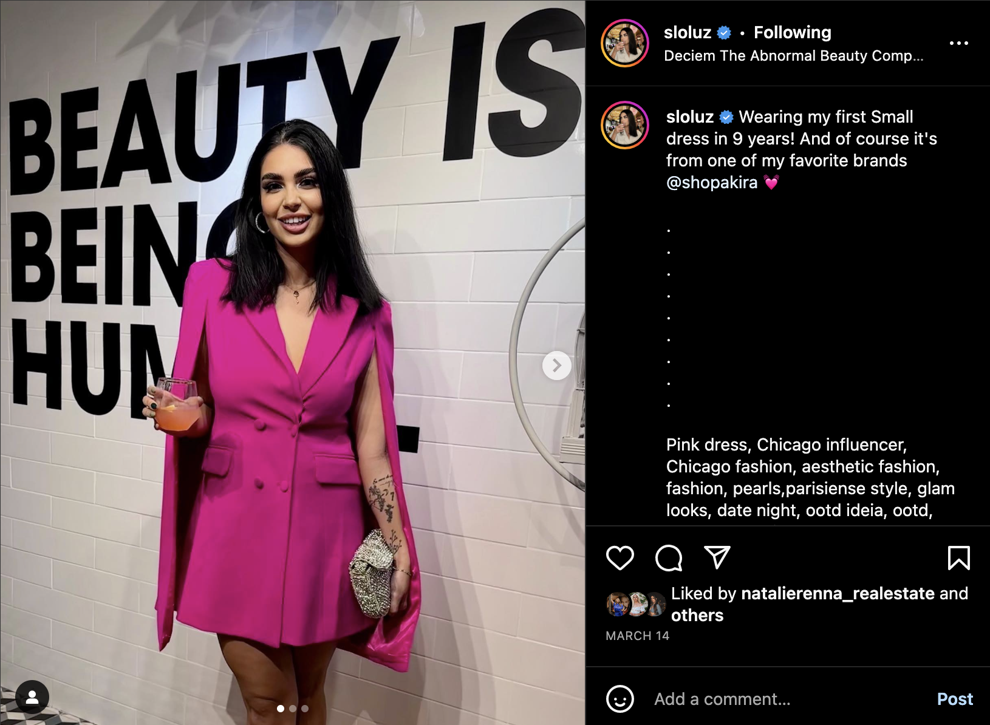 1. Tell us about your platform and its content — what topics do you focus on? What's your favorite to cover?
"Hi, I'm Stefanny! I'm 28 years old and I'm from Brazil. As an influencer, my mission is to positively impact people's lives by showing my own lifestyle. I like to highlight restaurants, events, beauty, activities, wellness — basically everything that I love doing and that I think my followers might like. I try not to limit myself to one topic since it makes me feel trapped in a box. I definitely love to highlight restaurants the best with video. I've always thought having a career as a food critic is incredible, which I relate to when I am tasting food."
2. Tell us about your background — what prompted you to start your social page?
"Would you think it's crazy if I said it was the universe that told me I should be an influencer? I had a blog as a teenager, but in 2021 I felt a call to focus on my Instagram. When I decided to become an influencer, it happened before I moved to Chicago, which at the time was the city of my dreams. I wanted to show the restaurants and things to do, and have people explore a place I love so much with me. For a while, I focused more on fashion, posting about stores, news, what I bought and received. 
Today, being 100 percent focused on my career and determined to influence people's lives by the way I live my life, I decided not to have a niche and post about everything I like. My whole life becomes content and every day I am more willing to open up and let people get to know me. 
What I want is for everyone to be happy like me — this is the mission of my social media, to show that you create your world and it can be magical because you decide it is.
I took a few breaks during the start of my influencer career, as I am a very holistic person and I wanted space to explore myself more spiritually. During one period of my life, I completely revamped myself — I had been very depressed and unhappy, weighing 220 pounds. Nowadays I live a positive lifestyle, where I've learned to love myself, accept myself, and be truly happy."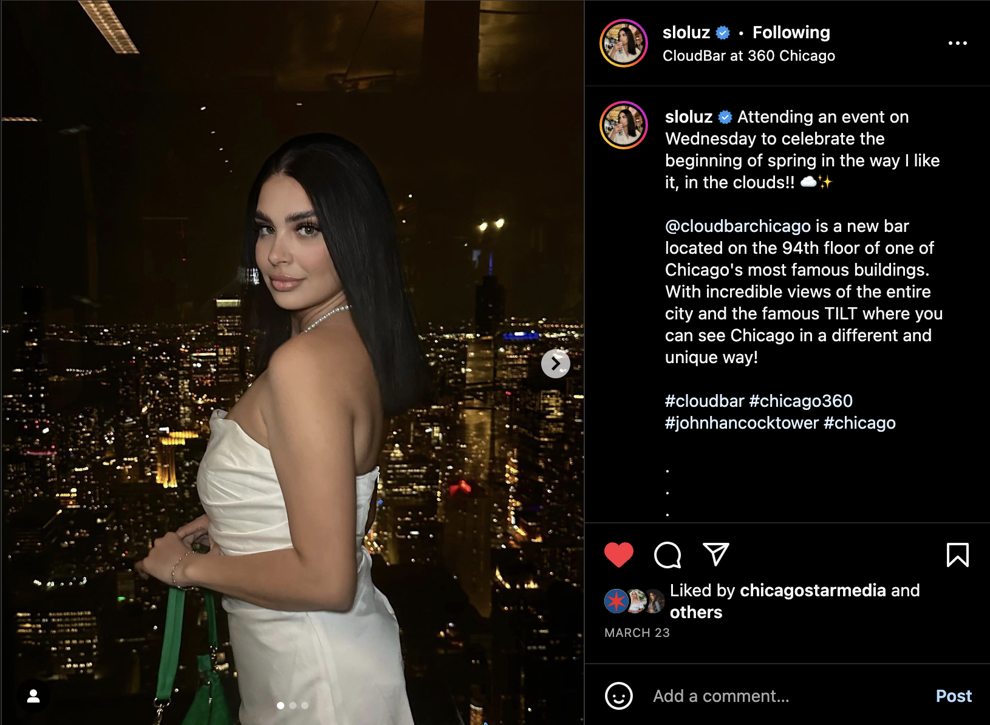 3. What's been the most fulfilling part about running your platform?
"I'm always posting my life experiences in my stories, so I'm always in contact with my followers exchanging lessons and experiences.  I love when I get messages of how what I've been talking about has helped them change something about their lives or helps them love themselves more.  Talking about the spiritual world and how I transformed my life has helped other people start to live the same."
4. What has been your favorite part about your career?
"Besides the food and restaurants I'm paid and invited to eat at, definitely going to events! I always imagined myself as a socialite who goes to charity events, art galleries and socializes with various people (a girl whose favorite series is Gossip Girl can dream). I love meeting new people, having great experiences, and getting to open for new businesses around the city."
5. If an out-of-town visitor wanted to know the best places to visit to get to know The Windy City, which places would you recommend and why?
"First I would recommend waking up early and going around 8 or 9 a.m. to Millennium Park to take a photo at The Bean — that's if you want a photo without thousands of people around. Be sure to walk around the entire park, then go to Cindy's Rooftop — which opens at 10 a.m. on the weekend or 11 a.m. during the week — to take a look at the view, record a video, take some photos, and have a drink. Reservations can be very difficult there, but you can visit the rooftop freely.  
Then walk to the Riverwalk; on the way there is Nutella Cafe and Garrett Popcorn, which is very famous here, along with the pizzeria Giordano's for deep-dish pizza. Stop at the LondonHouse Rooftop and have a view of the entire Riverwalk from above (it's super worth it). Then take an Uber to Navy Pier to walk around and ride the Ferris Wheel. Navy Pier also has a restaurant called Offshore Rooftop, which is the largest rooftop venue in the country, and their brunch is wonderful. It has bottomless mimosas and the view is incredible.  
Head to the John Hancock building, which is super famous and has the Tilt Ride (an attraction that leans you on a glass wall to see the city in a different way), Cloud Bar, and The Signature Room which is a restaurant on the 95th floor."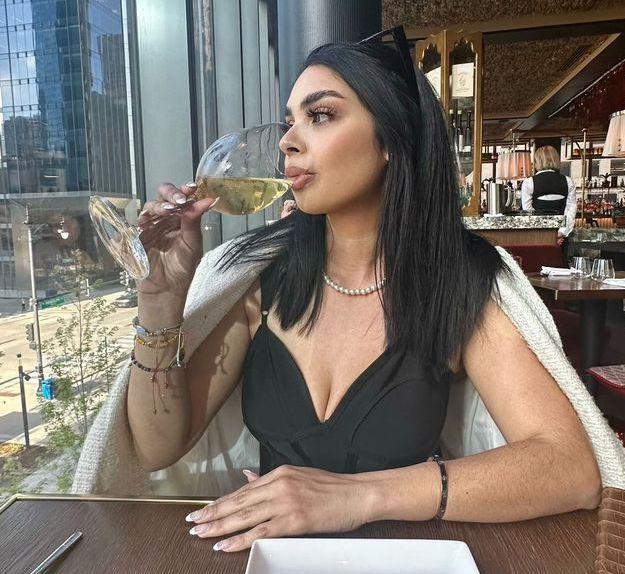 6. What has been the biggest challenge you've undergone in your career, and how did you overcome it?
"Comparing myself with other people certainly was and still is one of them. I'm quite a perfectionist, so I'm always thinking that what I do is not good enough and that what other people do might be better. With perfectionism, I always ended up sabotaging myself thinking that it was never the right time to post something or make content because I didn't have a good light, or a space to record, anything that came into my comparison with other influencers. Today when I do this, I stop looking at other people's social media and tell myself that everyone is different and that I just need to be me for people to like me!
Early in my career, I couldn't enjoy what I was doing because I was super nervous to make my videos. I felt pressured internally (from childhood traumas). Nowadays, I do a few shots of everything, I've learned to have fun and because of that my videos have gotten much better! I had to learn to put aside the desire to make things perfect. In the end, I learned that sometimes people who do less are more successful because they don't push themselves so much and they know how to have fun. I forgot about that at first, but now I enjoy everything I do because I can be me."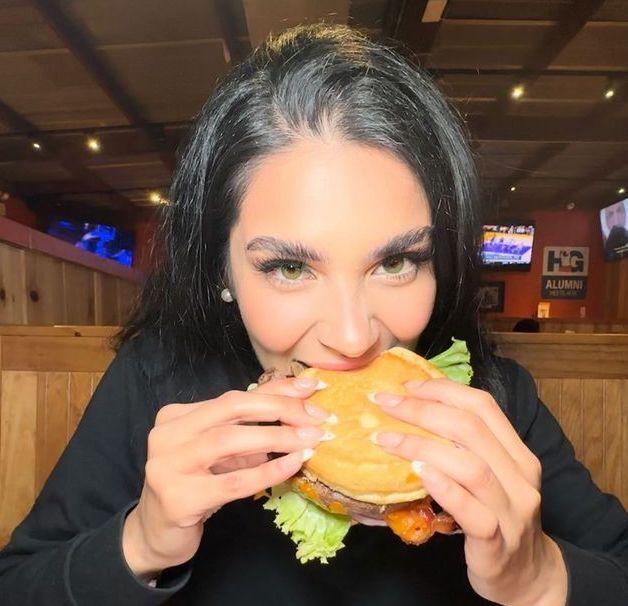 7. The Chicago food scene can be incredibly overwhelming — how do you choose places to try and highlight?
"Chicago definitely has it all. Now that I've been posting more and more about restaurants, a new universe of possibilities is opening up for me. Some of the places I post are because I wanted to try them and show them to my followers, others I was invited to or hired to make a video. This year, I let go of my limited childhood taste buds and am trying everything, so for me it's more about exploring all kinds of cuisines in the city — from elevated restaurants to street food."
8. How would you compare Chicago to other cities? Is there any city you love even more?
"No, this city is unique and I love Chicago. The first time I came here, in October 2019, I fell in love and told myself I would live here one day. After living in a few places, I moved to Chicago in 2021. This place is magical and I discovered myself so much as a person here. My soul chose this city. But before coming to Chicago, I lived in Arizona and I miss the energy that Scottsdale and Sedona have. In a perfect world, I would live in both states and be happy here in the summer and happy there in the winter."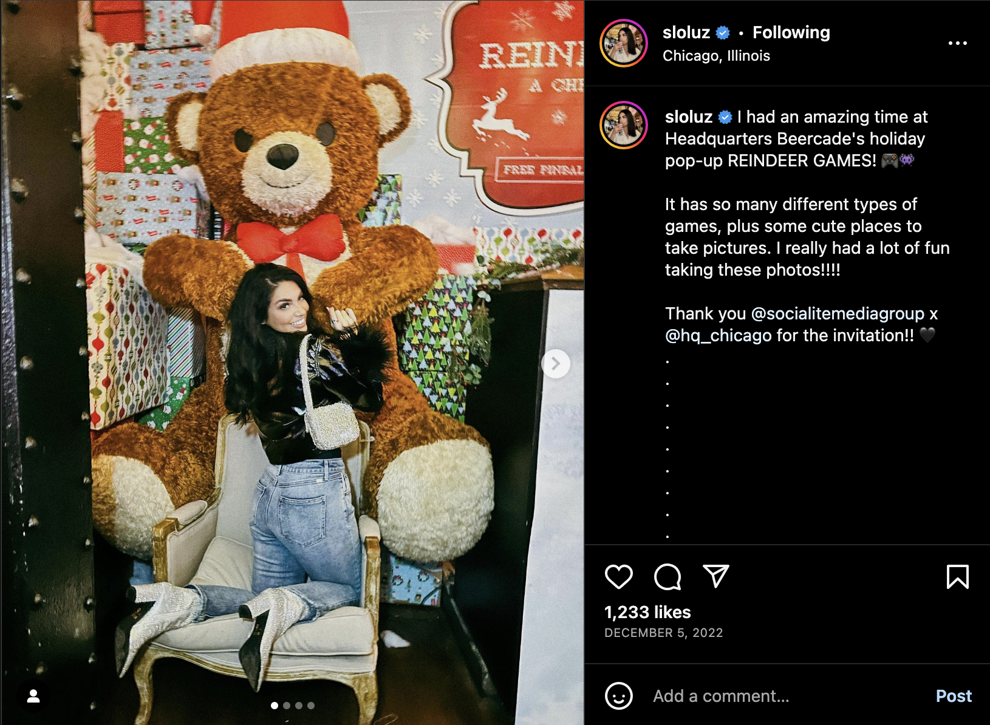 9. What are your top favorite places in Chicago that you would recommend? 
10. What advice would you give to other young girls who want to become an influencer?
"Everything that is done with love flourishes. Don't listen to other people's advice on how to move on with your life or live your dream. Most people live scared and without the courage to fight for them — don't let anyone try to diminish your dream. You alone have within you the answers you need. The universe, God, is always open to answer and guide you."
11. Anything else you want to add?
"I just want to end by saying something I always say: Life is good even when it's not. Everything happens for a reason and you have to trust that the best is being done in your life. You are the main character of your reality and you came to this earth to be happy and evolve as a soul. If you learn to control your mind and thoughts, that's when you start to take control of who you are. Don't wait another day to take ownership of your life, YOU DESERVE IT!"
You may also like:
Social influencer and passionate pescatarian Pooja Naik takes on Chicago seafood
Get to know Chicago food and lifestyle creator Janquel Jennings
Get to know Emmy Award winning travel expert Catie Keogh