The decade-long-plus battle of constructing the Chicago Spire tower at 400 N. Lake Shore Drive has resurrected and will pick back up sometime this year by developer Related Midwest — minus the spire. 
The updated 2021 plans include two elegant residential skyscrapers that will stand at 875 feet in the north tower and 765 feet in the south, with the north tower being slightly taller; both buildings will be set at a slight angle to one another, offering views along the lakefront and river corridors, according to a Related Midwest press release. The buildings will be constructed of glass and stone and will include terracotta accents and traditional bay windows.
A $1 billion project designed by architect David Childs of Skidmore, Owings & Merrill, the sister towers will offer 600 luxury apartments in the north tower and 500 rental units in the southern, offering 1,1000 residential units combined.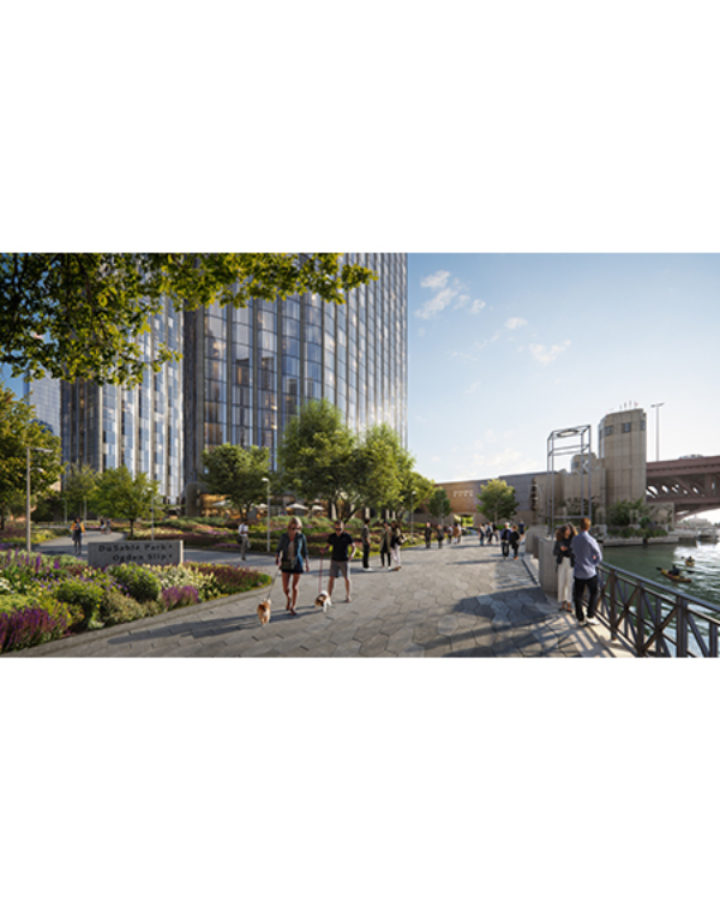 DuSable Park, the uncompleted 3.3-acre peninsula sitting adjacent to the residential towers, will also be completed this year. Related Midwest will contribute $10 million to the park project, while the city pledges $5 million. DuSable Park is in honor of John Baptiste DeSable, Chicago's first non-native American settler. 
The 2007 vision 
Originally a concept by Spanish architect Santiago Calatrava back in 2007, the "Fordham Spire" was envisioned as a hotel and condominium tower, topped with a twisted spire that resembled a "tall twisting tree" and "blade of grass," according to a 2007 Chicago Sun-Times article.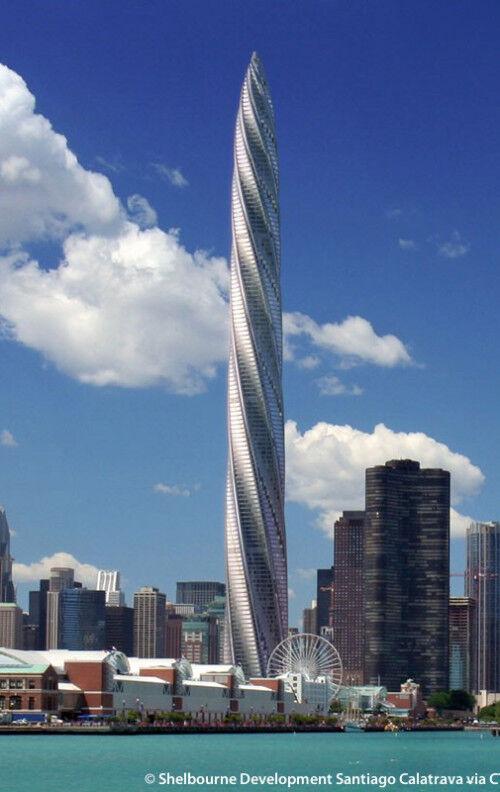 At 2,000 feet and 150 floors, Calatrava's tower would have been the tallest building in the Western Hemisphere. However, due to the global financial crisis, the grand project came to a halt. 
After many lawsuits, back-and-forth canceled plans, and a giant, abandoned 76-foot-deep hole later, the developers anticipate a three- to three-and-a-half year construction timeline of the newly-envisioned residential towers, tossing out the preceding idea of a hotel altogether.