Living in a dynamic city like Chicago, in a social media age where information is interpreted instantaneously, many past stories are often forgotten or not shared from one generation to the next in this fast-paced and ever-changing world. In my recently-released 245+ page book, "Chicago's West Loop, Then and Now," I share a collection of stories of the people, businesses, and buildings of this iconic historic neighborhood once known as The Near West Side of Chicago. And it's all based on my 5+ years of research, including 100+ interviews I conducted for my book. There are so many stories to learn from and reflect upon, so I am excited to share a few excerpts of my book from this Chicago neighborhood. In this article, I will share some details of the many West Loop buildings that have been repurposed over time. While these days we see tall cranes and skyscrapers peering into the sky in this neighborhood amongst the new and old buildings, many brick structures remain. In some cases, 100+ year old structures continue to grace the streets of the West Loop as repurposed condo buildings.
Let's delve into some of these stories! One of the early developers in The West Loop was Anne Properties, owned by Anne and Lewis Kostiner. When they looked around the area, they didn't see the decay of this Near West Side area. Instead, they saw "solid as a rock" warehouses that needed love and attention. The Kostiners purchased 1327 West Washington in 1988 and then purchased a dozen more properties, including 1017 West Washington, the Acorn Lofts building (that once housed the Hoops Gym where many Bulls players scrimmaged). Also, this property was the original West Loop location for the Wishbone Restaurant that hosted many of Oprah Winfrey's Harpo Studio guests and mayoral election parties. The warehouse buildings were empty when the Kostiners purchased them, and they were developed into rental units.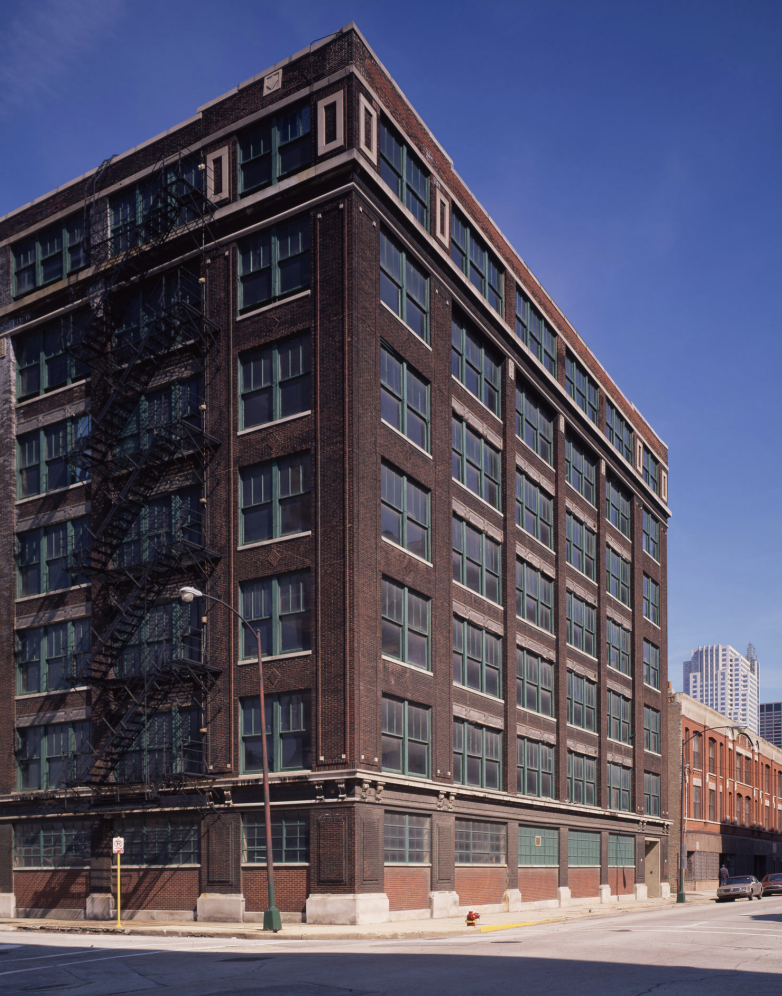 Eventually, the Kostiners purchased the Schoenbrun & Co. warehouse building at 850 West Adams, built in 1910 for the tailors of the trade for the nearby Garment District. The architectural significance is also worth noting. This industrial building was designed by Alfred S. Alschuler, who also designed the London Guarantee Building. The Manufacturing Building was constructed with 12 inches of concrete between the seven floors. In 1996, The Kostiners repurposed it into one of the first luxury condo buildings in The West Loop that is in existence today. In 2005, the Kostiners sold all their rental properties, which were converted into condos.
Today the apartments at 1313 West Randolph have a beautiful view of downtown Chicago from their rooftop deck. Before it was apartments, it was built for The Wholesale Florists Building in 1927. At that time, Chicago was the center of the wholesale florist trade! Architects Fox and Fox designed the fireproof building in a classic style at that time. Upon closer view, one will notice the distinctive white, cast-in-place concrete façade decorated with prominent ribbed-concrete piers and Art Deco-style floral motifs, including concrete flower petals. Today the building has been repurposed into 13thirteen Randolph Street Lofts. This apartment building was added to the National Register of Historic Places in 2011.
The Church of The Epiphany at Adams and Ashland was built in 1885 on the once fashionable Ashland Avenue. Architects Edward Burling and Francis Whitehouse designed it in the Richardson-Romanesque style. The church's ruddy, rich sandstone exterior is made of irregular rough-faced blocks imported from Lake Superior. The church was also added to the National Register of Historic Places in 1998. Many of the area's wealthy families supported this place of worship, including titans of finance and industry. The former Chicago Mayor Carter Harrison lived nearby, and at the end of his life, his funeral took place at the church in 1893. And the Memorial services for Black Panther leader Fred Hampton were also held at this church in 1969. As time passed, the number of active church members dwindled, and in 2011, there were only six remaining active members, so the church was decommissioned.
There is more to the story, as some residents had the vision to bring this special historic structure back into use. David Chase, wife Kimberly, and other real estate partners decided to purchase the building in 2017. (David and Kimberly had a special connection to the building since they were married there in 1996 and live in the area.) They transformed the former church into The Epiphany Center for the Arts, a picturesque and historic 42,000 square foot entertainment and events space. These days, one can listen to jazz, house, blues, classical music, etc., and view art exhibitions on any given night. Also, one can enjoy a cocktail on the outside terrace or swing dance on the original floors in the main sanctuary while enjoying the stunning stained-glass windows. Orlando Murden and Flo Ziegfeld of Ziegfield's Follies fame, former residents of the area, would be pleased that music continues to flourish in this Near West Side/West Loop neighborhood. In 2021, The Epiphany Center for the Arts was recognized with a Landmarks Illinois Richard H. Driehaus Foundation Preservation Award for adaptive reuse.
In 2023, many other industrial buildings remain in The West Loop of Chicago. Did you know that the equipment for our favorite powdered sugar donuts was perfected at 110 N. Peoria Street, and gears were made in Foote Bros. Gear and Machine Company at 215 N. Aberdeen? Both buildings have been repurposed into condos and businesses such as the local favorite jewelry store, Takohl Custom Jewelry, a leader in jewelry design.
To learn more about other businesses on The Near West Side of Chicago, read Chicago's West Loop, Then and Now (people, businesses, buildings), and learn more about Fairbanks' upcoming book events and where to purchase the book, please visit www.conniefairbanks.com.