Even in the era of social distancing, area restaurants haven't stopped finding innovative ways to connect with their customers—including helping guests shape the future of their menus.
To bring diners into the creative process, Robert's Pizza and Dough Company recently launched an online "test kitchen" series that allows customers to sample potential pizzas and share their thoughts with chef and owner Robert Garvey.
Chicago residents can enter the contest by "liking" a designated photo on the restaurant's Facebook page, following the restaurant's Twitter account and tagging a fellow pizza-loving friend. A free test kitchen pizza is delivered to the three winners and their friends, who then join Garvey virtually on the restaurant's Facebook livestream to discuss the dish.
During the livestream, Garvey and his guests spend half an hour talking "food and pizza and whatever else may come up." Garvey discusses his inspiration for the dishes and the flavor profiles and occasionally brings another guest onboard. Smoking Goose Meatery was invited to one event to weigh in on how duck prosciutto is made.
"I'm finding that the response has been great ... I get real, sort of live feedback from them," Garvey said. "I'm not looking for them to compliment me; I'm looking for them to tell me what they genuinely think about the pizzas. And I've gotten some good ideas from some of our guests. It's been nice."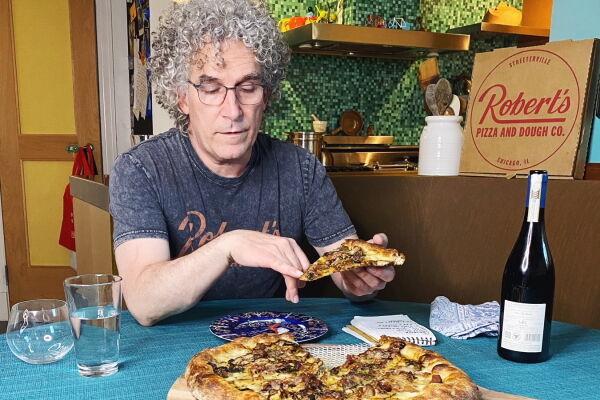 Two of the restaurant's newest dishes, "Roasted Brussels Sprouts & Pancetta" and "Magnificent Moulard," were developed in the test kitchen. The "Magnificent Moulard" pizza features duck prosciutto, roasted mushrooms, tomatoes, Foxglove cheese, mozzarella and evoo, as well as a finishing suggested by one of the test kitchen participants: freshly cracked pepper.
During the shutdown in the spring, Robert's Pizza and Dough stayed connected with guests by inviting them to submit ideas for pizzas. The two main standouts — "Where's Ruby?" and "Real Camo" — made an appearance on the menu, Garvey said.
"It's kind of fun to engage your guests — not just in the restaurant, but online and at home," he said.
Bucktown resident Lisa Hermann, one of the winners selected to participate in the restaurant's first test kitchen, said she thoroughly enjoyed the opportunity.
"It was a lot of fun," she said. "[Garvey] is definitely a hands-on owner ... we go down there every so often because we really enjoy the atmosphere, and he's always there and he's always super friendly."
West Town resident Sophia Lin Kanno, another past test kitchen participant, had never eaten at Robert's Pizza and Dough Company prior to stumbling upon the restaurant's contest on Instagram. Getting to meet Garvey and talk about the pizza was a great experience, she said.
"I wasn't sure what to expect, but he's so down to earth," she said. "He's such a chill guy. It's kind of funny — people think chefs have these big egos, but he's really cool, just like a neighbor ... It felt like he was inviting us into his home and eating pizza together."
Since she took part in the test kitchen, Robert's Pizza and Dough Company has become Lin Kanno's go-to pizza place.
"It's nice that they like to include the opinions of people who are interested, their followers and everything," she said. "But it was also really great for me to get exposure to them. Now, I feel like I have a much better pizza option."
Yolk, a chain of eateries specializing in creative versions of breakfast, brunch and lunch dishes, follows a similar philosophy of interacting with customers. The company's test kitchen, based out of Bucktown, introduces new dishes to the community and takes diners' feedback into consideration.
According to Yolk's website, the test kitchen also offers an "elevated, multi-roaster coffee bar," a variety of beans and a coffee program with drinks "brewed with methods that are both classic and cutting-edge."
"Usually, the test kitchen has a different menu each week," said Michelle Ocampo, a manager at Yolk's Streeterville location. "They'll change certain items on the menu, and depending on how those menus do within that week, sometimes they're incorporated into our menu."
One such dish is the avocado toast, a savory item made with smoked salmon, tomato, red onions, fried capers and dill cream cheese on rustic panini. Many of the seasonal drinks start off in the test kitchen as well, Ocampo said.
Ultimately, the vision behind Yolk is to provide diners with a quality experience, Ocampo said.
"We're always trying to keep it family-oriented, trying to give the best service we can to customers and to make people feel like they're at home," she said.