Labriola Chicago will host a farmer's market in the cozy pedestrian thoroughfare at its 535 N. Michigan Ave. location from 8-11 a.m. on Saturday, September 19.
In addition to the artisan bread, pastries, sauces, dressings, pizza, and pasta that has helped make the venue a Streeterville favorite, the offerings will include Stan's Donuts and made-to-order breakfast sandwiches and cocktails.
With temperatures expected to range in the mid-50s and the sky predicted to be full of sunshine, the market is an excellent opportunity to embrace the autumn while supporting a true Chicago original.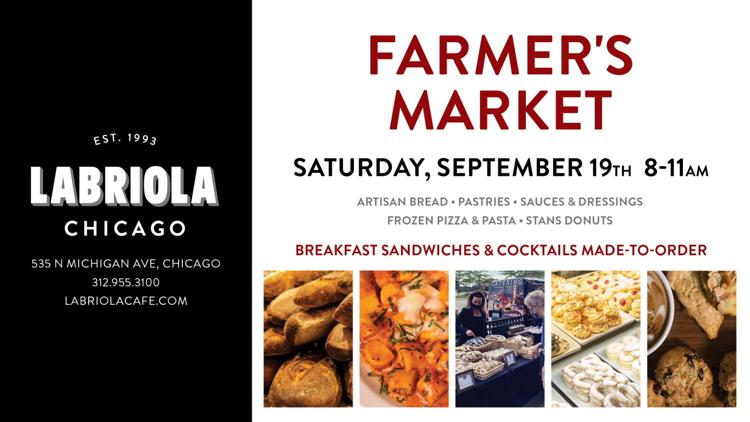 Labriola was founded by Blue Island native Rich Labriola, who got into the business when he started the Labriola Baking Company in 1993.
In 2008, after growing the bread company into a $30 million enterprise and selling it to strategic partners, Labriola moved into the restaurant industry and opened the Labriola Bakery Café & Neapolitan Pizzeria in Oak Brook.
That was just the beginning.
Since then, Labriola has built the Doughboy Restaurant Group, which includes Labriola Chicago as well as LaBarra Ristorante in Oak Brook as well and Riverside. He owns and operates 12 Stan's Donuts & Coffee locations in Chicago.
For more information, click here.