International travel may be on hold, but thanks to the diversity of brunch offerings at Streeterville and New Eastside restaurants, residents can embark on a culinary tour of the world right in their neighborhood.
Cuban Creativity
Cafecito in Streeterville has been bringing bold Cuban flavors to its menu since the restaurant opened at 215 E. Chestnut St. four years ago. Brunch is served 7-11 a.m. Monday through Friday and 7 a.m.-2 p.m. Saturday and Sunday. Dine-in and take-out options are available.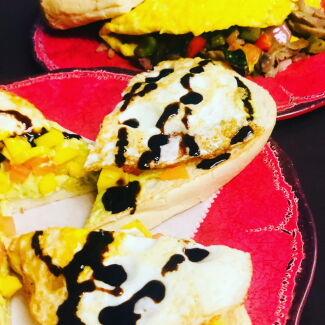 The restaurant's standout brunch dishes include tres leches pancakes, served with berries and a three-milk glaze, and the pan de Havana, a version of avocado toast paired with two fried eggs, mango, tomato and balsamic glaze.
"We are known for our café con leche, so it was nice to do a twist and turn it into a pancake," Cafecito owner Michael Ghantous said. "We have a ropa vieja with hash browns and eggs plate, as well as a lechón omelette. These are signature Cuban dishes that we turned into brunch items."
The Streeterville and Lincoln Park locations both have vegan menus, and Cafecito is looking into experimenting with some additional vegan brunch options down the line, Ghantous said.
"Everything is fresh and made to order, and we do our best to include something that caters to everyone and every dietary restriction," he said.
Italian Inspiration
As a member of Francesca's Restaurants Group, Francesca's on Chestnut in Streeterville is known for its Rome-inspired cuisine, and brunch is no exception. From 11 a.m.-3 p.m. Saturday and Sunday, the 200 E. Chestnut St. restaurant serves up hearty meals that incorporate Italian flavors, available via outdoor and indoor dining and carry-out.
"The whole restaurant is based off of traditional Italian fare, but obviously, being brunch, we're trying to give people things that they like," general manager Hobert Whitworth said. "It's a little bit of traditional American with a little bit of Italian seasoning."
Whitworth said the signature dishes at Francesca's include the avocado mashup, made with smashed avocado, lime, chili flakes, roasted tomatoes, grana padano and a sunny side-up egg; the Italian croque-madame, which combines fontina cheese fondue, prosciutto, spinach and truffle oil; and his personal favorite, the Italian BLT, a sandwich that comes with maple-glazed pepper bacon, sliced tomato, arugula, avocado, garlic aioli and French fries.
"Everything we do here is fresh, it's made everyday," he said. "So, I think that's what really stands out—it's homestyle, like you would at home, out of your garden."
Francesca's on Chestnut is offering a "Smashing Peaches" cocktail this fall, a concoction that includes vodka, crème de pêche, peach preserves and ginger beer.
Greek Gastronomy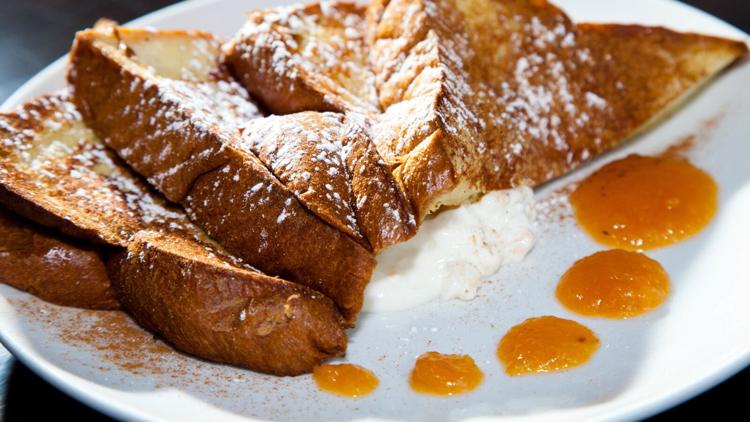 The Kanela Breakfast Club restaurant in Streeterville, 502 E. Illinois St., has been serving up Greek-inspired dishes since it opened in 2014. Brunch is served 8 a.m.-3 p.m. daily, and diners can enjoy classic dishes such as French toast and omelettes at the restaurant's large outdoor patio, indoors at 25 percent capacity or via delivery and pickup.
Kayla Lardakis, director and CFO of the Kanela Breakfast Club, said the restaurant's most popular dishes include the fried chicken and waffles, which combines sweet and savory flavors with a honey sriracha sauce, and the California benedict — a healthy vegetarian option that comes with a sriracha hollandaise sauce and can be customized with bacon or vegetarian bacon.
"Certain dishes have a bit of Greek inspiration, such as the spicy feta omelet, and loukoumades (Greek donuts)," Lardakis added. "And many of the menu items have cinnamon in them, or 'kanela' in Greek."
The family-owned restaurant is open every day of the year except Christmas Day and offers a 10% discount to residents of 500 N. Lake Shore Drive and One Bennett Park.
American Appetites
New Eastside's Sweetwater Tavern and Grille has offered modern twists on classic American brunch options for more than a decade. The restaurant, 225 Michigan Ave., underwent renovations last year in celebration of its 10-year anniversary. Brunch is available 10 a.m.-3 p.m. on Saturdays and Sundays.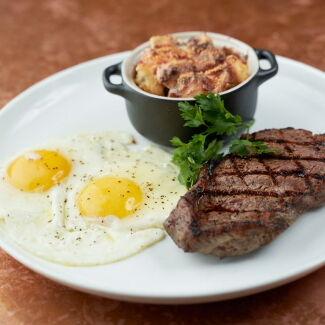 Sweetwater spokeswoman Colleen Rooney said the restaurant's breakfast items are not available for takeout and delivery, as they don't tend to travel well, but Sweetwater's "classics," including burgers, tacos and salads, can still be ordered this way.
According to Rooney, the most commonly-ordered dishes at Sweetwater are 2 Eggs Your Way, which are paired with two house-smoked bacon strips, two breakfast sausage links, toasted challah bread and a cheesy potato casserole; the Steak and Eggs, which includes an 8-ounce New York strip steak, any style of eggs and a cheesy potato casserole; and the Breakfast Sandwich, made with a sausage patty, scrambled eggs, cheddar cheese, a green onion and aged cheddar biscuit and breakfast potatoes.
"For people who want to be a little more indulgent, our stuffed French toast and the cinnamon roll are fairly newcomers to the menu," Rooney said. "The Breakfast Tacos and Hangover Bowl are crowd favorites as well and unique to Sweetwater, for those looking for something not as sweet."