The Streeterville Organization of Active Residents (SOAR) hosted a Virtual Town Hall with 2nd Ward Alderman Brian Hopkins on May 12.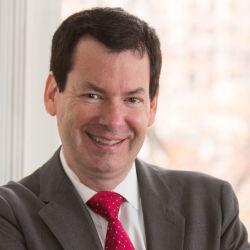 For nearly an hour and a half, the alderman responded to questions read by SOAR Vice President Brian Butler, who prepared the interview with enquiries submitted by residents prior to the event. Hopkins covered topics ranging from the census and sanitation to face masks and parks, with several in between.
Below is a summary Alderman Hopkins' remarks, which include his enthusiasm for converting St. Clair into a pedestrian-only street full of outdoor cafes.
The importance of the census
The results of the census will determine the amount of federal funding that Chicago receives and the number of seats that Illinois holds in congress. The response rates for the 2nd and 42nd Wards are above average, but Chicago's participation ranks below that of other major cities. "I think it's likely that we lose one or two Congressional seats," said the alderman, who worked as a door-to-door census-taker at the start of his career. "If someone says it's not important, take a minute to tell them."
Donating and volunteering during the COVID-19 crisis
Alderman Hopkins' office has witnessed "an outpouring of volunteerism" during the crisis. "It reminds me of the days after 9/11," he added. "People have a compulsion to help." In addition to the NextDoor app and volunteermatch.org, which guide volunteers and donors, the 2nd Ward office has become "a clearinghouse for people who have offered assistance." Still, Ald. Hopkins said, "making a financial contribution" is probably the best "bang for the buck."
Enforcing the facemask order
Although Governor Pritzker has ordered most people to wear masks in public, the law is "so far from a mandate that it puts us in the position of making admonishments: please wear a mask." Ald. Hopkins explained that the six-foot social distancing guideline is based on "an arbitrary number" that could change with further studies. Still, he continued, people should continue to wear masks at all times, even while exercising. Although an infected person may not show any symptoms, placing a barrier between them and the rest of the public "could literally save a life."
Keeping the city clean
Ald. Hopkins declared that the Department of Streets and Sanitation is "working as hard as they ever have." Then he noted that an abundance of rubber gloves are being discarded in the street. Describing people who litter as "inconsiderate," he added, "please, don't do it."
Sanitizing the CTA
"Every night, all CTA equipment is basically sterilized," said Ald. Hopkins. "It's given a deep-cleaning, which used to happen only twice a month." This is especially effective because "one of the early revelations from scientists was that stainless steel happens to be one of the more perfect surfaces for this virus to linger." After remarking that ridership is down "about 90% right now," he insisted that, "it's very important that we continue having the CTA be viewed as something safe to ride.
Helping the homeless during the COVID-19 crisis
At the start of the crisis, the percentage of people experiencing homeless who accepted help was "significantly higher than they expected." Their participation was bolstered by a "fairly aggressive outreach because we knew in the shelter environments that you're basically shoulder-to-shoulder." Since "the rate of positive tests among homeless people is about double the regular population," he indicated that, "we're still conducting a very aggressive outreach program."
Increased COVID-19 testing
"I believe we set a record for testing in Illinois yesterday," said the alderman. "It's just one benchmark in being able to reopen." Estimating that the city is "about a month away" from recording a decline in cases, he reiterated, "we're not quite ready to reopen." In preparation, some businesses are installing plexiglass barriers to add a barrier between customers and employees, and UV lights, which are "known to kill (the) virus." He added that, "polls are showing that not everyone is going to rush out to a restaurant when things reopen."
Supporting restuaurants through the crisis
The alderman explained that he and his staff have been "really responsive to restaurants," particularly in helping to identify and pursue grant funding. "It's important to help them through this closure period," he said. "But the next step is finding state and federal money to get funds to businesses when they reopen." After explaining that, "right now we don't have an answer," he emphasized the urgency of providing assistance "as quickly as we can" before phase 5, when restaurants may generate only  20-30% of their former sales after reopening.
Re-opening the parks
The park district is currently scheduled to resume limited summer activities in July, but the mayor is also adamant about safety precautions. On May 12, all Chicago aldermen whose wards touch the lakefront convened and learned that, when it comes to reopening, "there really isn't a full consensus among us." Ald. Hopkins agreed that closing the lakefront does not prevent people from running and biking, it just prompts them to pursue those activities elsewhere. But the attractiveness of the lakefront may cause people to gather if it becomes accessible. He described how officials in Seattle have trained "social distance ambassadors" to intervene when they see "dangerous amounts of congregation" and said that the aldermen discussed the idea of starting a similar program in Chicago, but it would require training hundreds of people.
Caring for the lawns of the lakefront parks
The condition of the grass has "been such a source of frustration," according to Ald. Hopkins. "Everything that has been attempted has fallen short," he added. The soil has degraded into "nutrient deficient clay," and "last time they put down sod, they did not put down topsoil." The problem occurs partly because "the park has been loved to death" by people who enjoy going there, which is what it's for. "It's something we'll continue to push for during this time of respite," he concluded.
Enhancing the lights on Person St.
The project is running "a little behind," but will probably begin in July. "There are so many projects happening simultaneously," the alderman added. "Water main replacement will be proceeding as well."
Addressing traffic safety and vehicle noise
The number of automobile collisions are below normal for this time of year are below normal, "but the types we're seeing are increasingly destructive," said the alderman. He also remarked that noise control monitors are being installed in various locations and, "for the first time in several years, we started impounding illegal motorcycles" that violate noise standards. "Hopefully that will start spreading the word that Chicago is not a place where you (don't face consequences)." 
Dedicating streets for pedestrian-only usage
"I'm a big proponent of that," said Ald. Hopkins, "but the Mayor doesn't want people to get used to a temporarily closed street." When the city dedicated State St. for pedestrian usage years ago, "it took motorists a while to get accustomed to not driving on the street," he recalled, adding that it involved a risk to pedestrians. "We can't do it without taking extra steps: police, barricades, whatever," he concluded. "But I love the idea of having outdoor cafes rather than sidewalk cafes. I actually think St. Clair in Streeterville would be the perfect street for a closure. I've been pushing for the Mayor to come around, and we're going to have to keep pushing, because there's a reluctance from the 5th floor."