The crowd multiplied as the weather improved Wednesday for Navy Pier's grand reopening, the first time that the historic Chicago attraction has welcomed the public since it was closed for pandemic reasons in March.
Chicagoans and out-of-towners came to see what they could see and do what they could do. Although some of the attractions and areas remain closed, most seemed satisfied with the effort.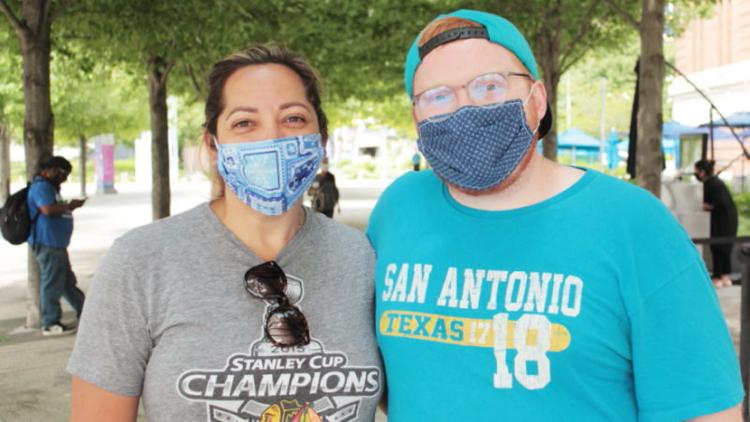 High school Spanish teacher Jeremy Hunding and sales professional Jessica Barajas traveled from Lansing, Ill., and Crown Point, Ind., to visit the pier.
"We just came on a spontaneous trip," Hunding said. "We heard that it was open again and we kind of wanted to check it out and do something with the day we had."
"Something outdoors," Barajas added.
Hunding, who has always been drawn to Navy Pier because "it's just so beautiful," likes the culture it offers. "Definitely my favorite thing is the Chicago Shakespeare Theater," he said. A fan of the award-winning acting company since high school, he describes their venue as "the best place at Navy Pier."
Barajas, who has been visiting the pier since she was a kid, prefers the recreation. "My favorite is getting drinks on the rooftop bars," she said.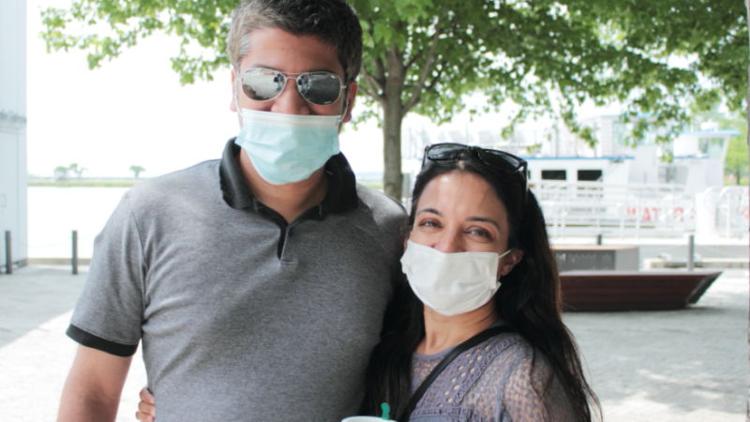 Hoffman Estates husband and wife Ayesha and Neil Shah transformed a pandemic distraction into a downtown field trip for their five-year-old daughter and two-year-old son.
"Our babysitter actually needed to go back to training because the daycares are opening up in July," said Neil, who works as a Finance Director at PepsiCo. "This is just a random day off that we have."
Neil, who has done "pretty much everything there is to do" on Navy Pier, said his favorite activity is "getting on one of these boats — Shoreline Sightseeing, Odyssey." Ayesha, who works in product management for Vyaire Medical, described the pier as "a staple," adding, "we usually come down in the winter for the Winter Fest." They've passed this appreciation for Navy Pier down to their kids as well. "The Children's Museum, they love," Ayesha said.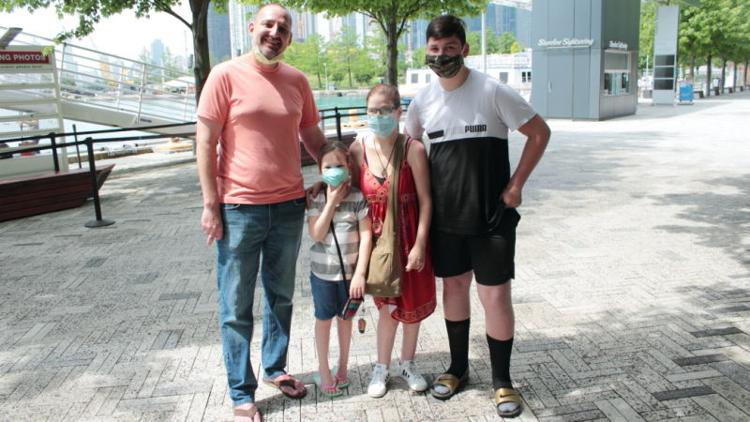 Muncie, Ind., natives Monica and Rob Croucher booked a room at the Loft on Ontario Street for a quick vacation with seven-year-old Autumn and fourteen-year-old Caleb Tuesday night. They learned that Navy Pier had reopened from the hotel concierge.
"So we thought, I mean, sure, why not come down here and see if anything's open at all," Monica said. "I think we're going to grab lunch and just walk around."
A frequent traveler who likes to visit "major tourist attractions," Monica said Navy Pier is worth all the hype. "It's really beautiful as far as the water and the views are awesome and, with it not being crowded, the kids can kind of walk at their own pace."
Rob, a painter making his first trip to the pier, agreed.
"It's really beautiful," he said. "I do enjoy the waterfront and there seem to be good restaurants."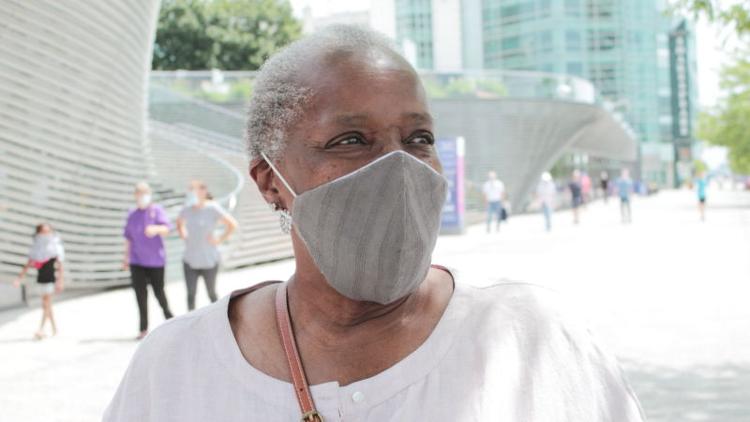 Retired South Loop resident Rose Lathan journeyed to Navy Pier on a mission to "go to Starbucks," something that would not have been possible the first time she visited the pier. "That was when Roosevelt University was over here," she said. "My husband used to go to Roosevelt. There was nothing over here but the school."
Since then, Rose has experienced a number of Navy Pier's incarnations, including the years it was the site of ChicagoFest. "After a while they got kind of crazy," she recalled. "I like (Taste of Chicago) better over at Grant Park."
She still likes to dine at the pier and lists Riva or any of the tour boats among her favorite places. "I did the Odyssey, the Spirit of Chicago," she said. "I think I've just about done them all, lunch and dinner."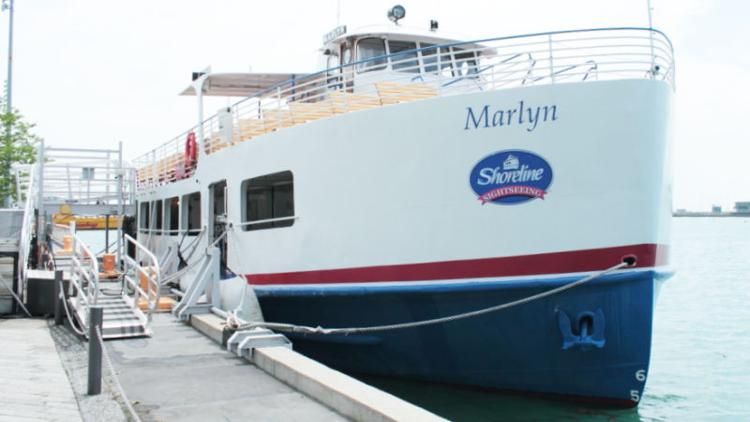 Shoreline Sightseeing boats Marlyn and Shoreline II were preparing to sail for the first time in 2020 on the day Navy Pier reopened.
"Today we are launching our classic lake tours, which are 40 minutes on Lake Michigan starting at 1 o'clock through 7 o'clock," said Amy Hartnett, Director of Sales and Marketing. "On Friday, we'll launch our Architectural River Tours on the Chicago River, which are 75 minutes long."
Besides reducing capacity by more than a third on the vessels, the 81-year-old company has instituted a number of cleaning and safety procedures across its entire fleet, which includes double-decker riverboats and water taxis.
The extra measures also apply to employees. "Our crew members get their temperature checked and fill out a questionnaire to make sure they're safe before they start working," Hartnett said. "Every day, every shift." Facemasks are also required.
"We're excited to show off Chicago again," said Hartnett, who advises customers to purchase tickets online and print them from home to enjoy "touchless entry" at Navy Pier. "We're excited to bring back staff who have been waiting to come back to work."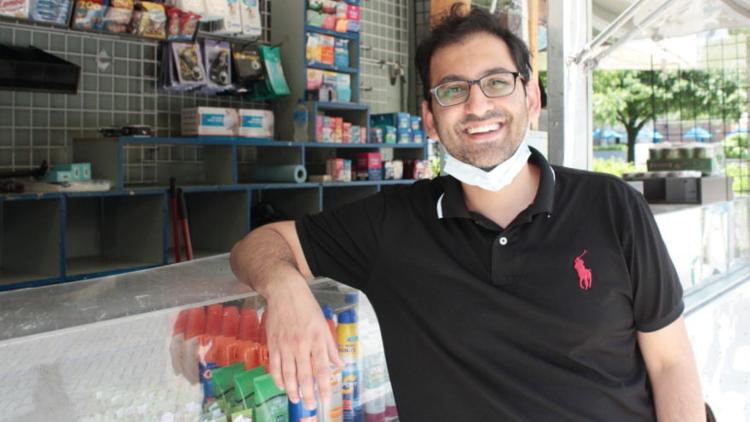 Karim Malick, who operates the souvenir stand outside of Navy Pier and the Municipal general store inside, described the reopening as "the best feeling in the world."
"We were closed for so many months, so just to even get a chance to be out working, I'll take that," he said. "That's a blessing."
The enterprises have been in the Malick family for 30 years.
"My father, Jaffer Malick, was the one who started the business," he said. "He just got an opportunity and he said, 'well we'll take our chance.' And you know, lo and behold, they opened Navy Pier up to the public, and the Ferris wheel came, and the grand ballroom and the boat cruises, all of that has come since we've opened up."
Although he is pleased with the physical attractions that the pier has gained over the years, his favorite part of the job is "the people, the customers, the guests" that they bring.
"You know, we get visitors from all over the country, and a lot of them are international, too," he said. "We're exposed to so many different personalities, cultures. Just talking to them, seeing where they're from, hearing their thoughts, that's what I thrive on."
As far as the customers are concerned, their favorite souvenirs are "anything with Chicago on there."
"A lot of the Al Capone shot glasses are very, very popular; they love Al Capone," he said. "They've got this little handgun type of shot glass that people love. Those are really good sellers."