Chicago artist Marco Rios transformed his passion for diversity into a symbol of progress on Michigan Avenue. Combining blue skies, green leaves, and a pair of fists holding an "equality" banner underneath the words "Black Lives Matter," he painted a message of unity that will remain on display at AT&T's flagship location for weeks.  
"It's like cultivating solidarity," he said. "Something that has to be grown and learned."
The artwork is featured on particleboards installed to protect windows and doorways from recent protests sparked by the murder of George Floyd. Although the illustration decorates a physical barrier, it is meant to strengthen community and raise inclusivity. 
"It's like a bridge between two communities, because I'm Puerto Rican, and we have African heritage," Rios said. "It's something that has to be discussed, because there's racism everywhere."
Born and raised on Chicago's northwest side, Rios has been immersed in diversity since he entered the Franklin Fine Arts Center in Old Town in third grade, which differed greatly from the Catholic school where he had spent the previous two years. 
"To see that many different cultures, it was like a shock," he recalled. He eventually earned a degree in Industrial Design from UIC.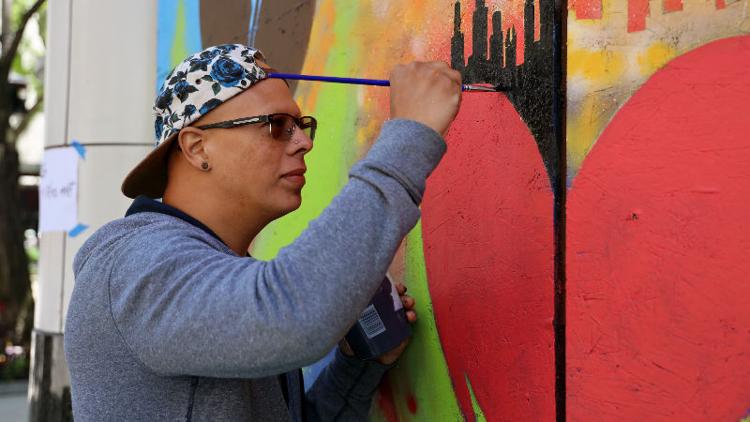 AT&T was one of several Michigan Avenue retailers that began boarding up their shops on May 31, the day after the first demonstration against police brutality erupted in sparse but undeniable destruction along the Magnificent Mile.
"Our windows were broken, but a lot of the company's leaders got together and decided to cover up the boards with messages about Black Lives Matter and solidarity," said Marketing Communications Media Manager Kat Cruz. "We wanted to emphasize people over property." 
In sharing this message of unity, AT&T would reinforce its commitment to "embrace and participate in the struggle for equality," which Cruz explained to Rios when she contacted him. She had been a fan of his style since viewing it at a Humboldt Park gallery opening last year, and knew that his "bold use of color and depictions of people of color" would make a fitting complement to AT&T's message.  
ALSO READ: Neighbors clean up after protests on Michigan Ave.
The managers at AT&T were not the only people working to realize a vision of hope on Michigan Avenue. Dozens of volunteers joined emergency crews to repair the thoroughfare on May 31, the day after the initial demonstration. Among them were Mikala Thompkins and Pedro Guerrero, who had biked downtown from Buena Park with a group of like-minded friends and a load of cleaning supplies.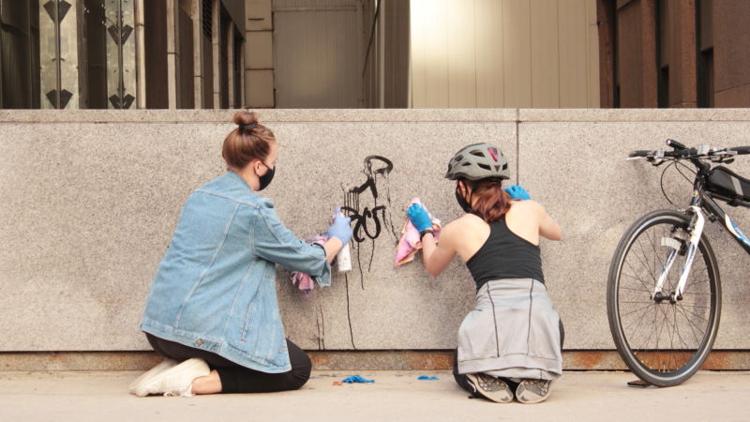 "It's our duty to be here," said Thompkins, who teaches high school in Blue Island. "We were here for the protests, and we were empowered by everyone uniting and fighting the injustice."
At least two members of the community expressed similar views. Retired Streeterville resident Mark Blasingam, who was taking his dog on a dinnertime stroll near the John Hancock Tower, explained that the destruction and the protests were "two different issues."
"Smash and grabs take place here all the time," he said. "This is a broader issue. This is a culmination of lots of things that are going on for our entire society right now. The protests, I support. I don't support the vandalism."
Senese Hamilton, a Streeterville resident who works in retail sales, described the issue in larger terms.
"I respect the law," she said. "I respect people who are put in authority to serve and protect, whether you are a police officer, fireman, priest, pastor, preacher. But the way that they handle minorities and people who don't look like the majority … it's a problem that's been happening, and they wanted to turn it into the norm, but the people are tired."
Rios, who resides in Humboldt Park, recalled having "heavy conversations" about Floyd's fatal encounter with Minneapolis police officer Derek Chauvin, but he was unable to view the entire video of the incident. 
"I just listened to it, and it was disgusting," he said. "This is 400 years of pent-up frustration and injustice. Slavery and segregation are not really that long ago."  
He began posting sketches on Instagram while working his maintenance job at a Chicago school, but otherwise remained quiet about the issue. 
"I didn't want to react out of emotion," he said. When presented with the opportunity to collaborate with AT&T, he initially hesitated because "they are a corporation." But after talking to Cruz and visiting the store, he realized "they were real people" and he got onboard.
His work is on display to residents, visitors and tourists from around the world.
"I thought it was a shame that someone had to die to spark change," he said. "But what came out of it, I thought, was beautiful."